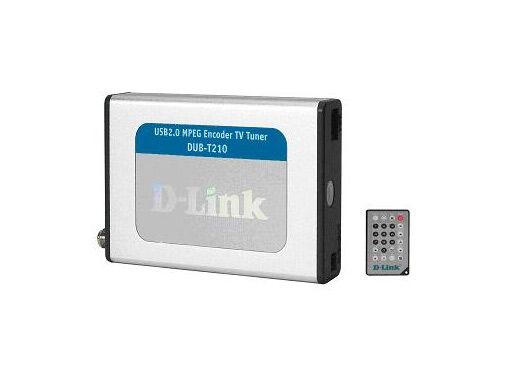 Description
TV Viewing
The DUB-T210 MPEG Encoder/TV Tuner connects to your cable TV line through a coaxial port and displays TV images on your PC screen. TV channels can be selected using a remote control. You can record as the TV show that you are watching, or use the built-in scheduler to capture an upcoming program. A time-shift function allows you to instantly replay specific TV scenes. The DUB-T210 converts TV images to MPEG1/2/4 or other formats, so you can save it on your hard disk. Audio sound is captured along with video. Program editing can be made using the MPEG editor, and saved on a CD or DVD.
Camera/Camcorder/VCR Interface to PC
The device also provides a powerful interface between your PC and your analog camera/camcorder/VCR. It converts analog images and sounds from your camera or VCR and compresses them to MPEG or other digital data formats so you can edit and save on CD or attach to emails for sending. The DUB-T210 connects to your VHS camcorder or VCR through an S-video connector or RCA audio/video connectors.
Easy and Fast Connection to PC
The DUB-T210 comes with a high-speed USB 2.0 port for fast interface to your PC's USB 2.0 port. This port can also connect to a downstream USB hub, if your PC is connected to such a device.

Video Recording and Frame Capture
Necessary software is provided for you to begin making digital video from traditional analog video stream immediately. The software allows you to record digital video directly to a PC's hard drive, record digital video for attachment to an e-mail, and capture still frames.
High Quality Video
The DUB-T210 allows you to capture 30 frames per second, 720 x 480 resolution (NTSC) high quality image on your PC's hard disk via the USB bus. The DUB-T210 captures CD quality stereo audio by 16 bits, 24KHz sampling rate with A/V synchronization feature. The snapshot function lets you catch 720 x 480 still images from your video source.
Format Conversion, Video Editing and DVD Burner
With the user-friendly program TV Plus included, you can easily transfer the captured bit stream into other standard formats as your wish, such as AVI, MPEG4, SVCD, VCD, DVD and so on. MPEG Editor video editing software and DVD Maker software for family movies is bundled with this device to allow you to edit and save digital video on your PC's hard disk or CD. You can attach the recorded digital video to your e-mail, capture still frames and set up motion-sensing video recording.