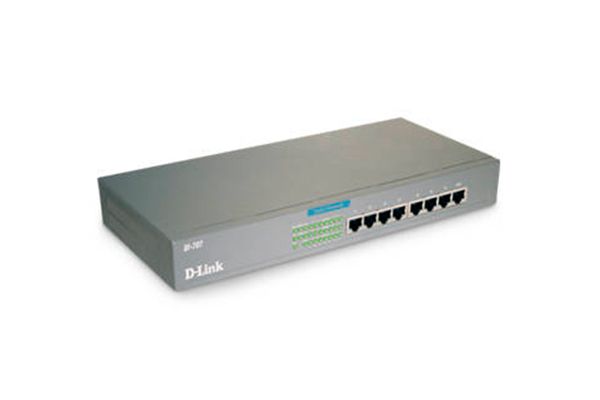 DI-707
EOL
Broadband Internet Gateway Router With 7 Built-in Switch Ports + Print Server
Where to buy
Description
Versatile Functions
Static address, integrated DHCP, PPPoE, and device name support allows the DI-707P to connect to a vast number of broadband Internet Service Providers (ISP). Dynamic Host Configuration Protocol (DHCP) provides dynamic allocation of IP addresses for multiple clients (computers) on the local network. Built-in printer software allows clients to print to the network printer attached to the DI-707P's print server port. The 7 Fast Ethernet switch ports auto-sense the LAN speeds and auto-detect cable MDI-II/MDI-X, eliminating the need touse the correct type of cable (straight-through or crossover) when connecting to different Ethernet devices.

Enhanced Security
The DI-707P provides 2 levels of security support. First, it masks the IP addresses of computers within the local network from the Internet, thus making it more difficult for hackers to target a specific computer within the local network. Secondly, it can block and redirect certain ports to limit the services that outside users can access. To ensure that games and other Internet applications will run properly, the DI-707P provides the capability to open specific ports.

VPN & Public Domains
The DI-707P provides special pass-through function for common VPN implementations including PPTP (Point to Point Tunneling Protocol), L2TP (Layer 2 Tunneling Protocol) and IPSec*. The Virtual Server feature allows users to expose HTTP, FTP, Game Servers and other local services to be accessible to Internet users located outside the LAN. To allow any application to work even without
knowing the ports to be opened, the DI-707P allows a single client to be specified in the DMZ zone located on the web configuration utility.