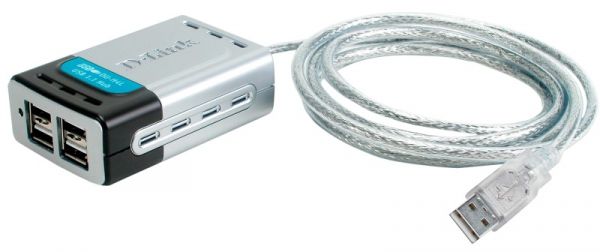 Description
Expanding Your PC or iMac
This 4-port USB mini hub allows you to connect up to 4 USB peripherals or devices to your USB ready PC or iMac. This hub provides an out-of-the-box industry-standard USB bus for PC and iMac users to expand the number of USB ports available on their systems.
Seamless Connections
The DU-H4L is designed to provide quick and easy access to the 4 type "A" downstream ports for connecting peripherals with USB support, other USB hubs and devices. A USB cable (Type"A") upstream port is provided for connecting to the host computer, or to another USB hub. Configured directly by the operating system, the DU-H4L operates seamlessly with both Microsoft's Open HCI and Intel's Universal HCI.

Low and High Speeds Support with Data Buffering
As a standard USB hub, the DU-H4L buffers USB data from any attached peripherals or devices in compliance with USB specification version 1.1 to provide an invisible extension of the USB bus. Supporting both low-speed 1.5 Mbps devices and fill-speed 12 Mbps devices, each port creates a bridge between the peripheral and the host computer.
No External Power Adapter Required
Power for the DU-H4L is provided directly from the USB bus for connection of up to 4 USB peripherals devices. You do not need any external power adapter to connect the hub to an external power source.