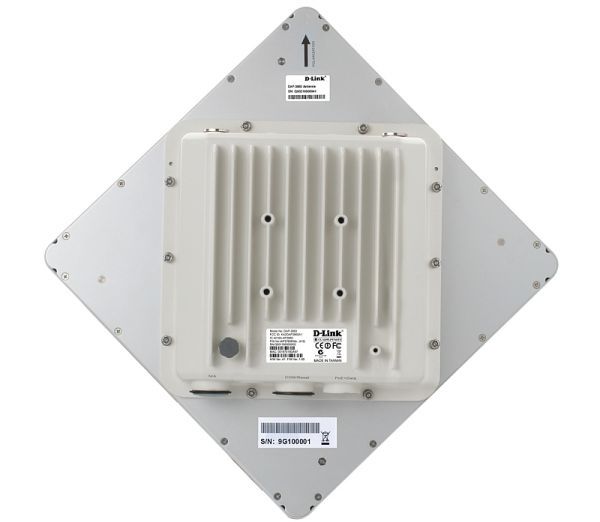 DAP-3760
Project
Long Distance Wireless Outdoor Bridge
Where to buy
Description
The D-Link Long Distance Wireless Outdoor Bridge is designed to provide long distance wireless connectivity in areas where a wired network infrastructure is prohibitive. The integrated Intel® IXP Networking Processor operates on non-licensed spectrums, offering low cost, durable, and reliable outdoor wireless broadband connectivity. When operating with an unobstructed line-of-sight, the D-Link wireless backhaul solution is able to achieve connections at distances of up to 40km. These impressive ranges are possible through the application of a TDMA modification to the MAC layer of standard 802.11.
Extend your network
The DAP-3760 and DAP-3860 Outdoor Bridges are designed for harsh outdoor environments, providing highly reliable, stable transmissions, and excellent performance in almost any setting. A 23dBi antenna ensures transmission quality while Intel TDMA allows the bridges to attain speeds of up to 8Mbps at distances of up to 100km (using relay). The DAP-3860 uses two radio cards with link aggregation technology to double throughput for point to point operation.
An affordable backhaul solution
The D-Link Long Distance Wireless Outdoor Bridge offers a reliable alternative to backhaul solutions such as WIMAX and GSM. When rugged terrain prevents the installation of a standard wired network backbone, a wireless outdoor bridge can be deployed. In fact, a 5GHz wireless solution is ideal in sparsely populated areas where electronic interference is minimal. An outdoor bridge can be installed with minimal additional cabling thanks to Power over Ethernet capabilities.
Connect rural areas to the Internet
The DAP-3760 and DAP-3860 Outdoor Bridges can be used to connect urban hubs with rural endpoints. Internet access is deliverable via one or many intermediate nodes as part of a flexible architecture that is simple to deploy, manage, and maintain. Security over these distances is assured through the use of WEP, TKIP, and AES encryption schemes.
Keep even the most remote users online
A wireless backhaul installation can provide network access for remote offices and academic buildings areas that cannot be reached by cable. For instance, rural medical clinics can use the system for telemedicine applications, to exchange vital patient data with city hospitals and health care centers.
General features
CPU
• IXP425, 533MHz
Memory
• 16MB Flash
• 32MB SDRAM (Upgradeable to 64MB)
Power
• Power over Ethernet (PoE injector output 19.3W)
RF module*
• FCC: XA-632AH
• CE: AG-623C
Operating frequency*
• FCC: 5.725~5.850GHz
• CE: 5.470~5.600GHz, 5.650~5.725GHz
RF modulation
• 802.11a: OFDM (BPSK, QPSK, 16-QAm, 64-QAm)
RF output power*
• 24dBm at Radio for FCC (Band 4)
• 30dBm EIRP for ETSI 301 893 (Band 3)
Sensitivity
• -90dBm at 6Mbps
• -73dBm at 54Mbps
Regulation certification
• FCC Class B
• CE
• IC
• C-Tick
• NCC
Operation mode
• Bridge
Security
• WE P64/128/152, WPA-PSK/WPA2-PSK, TKIP, AES
Radio bandwidth control
• 20MHz/40MHz
Super A/G
• Fast Frames, Bursting Compression
Intel TDMA
• For Long Distance Transmission
Distance in meters
• Auto ACK-Time Adjustment
Management statistics
• Wireless and Ethernet
Link test
• Self-Wireless Connection Test
Configuration and management
• Web-based management (Secure SSL)
• Command Line Interface (SSH or RS-232 (9600))
• Windows-based utility
• SNMPv2
Firmware upgrade
• Web/Windows management tool
Ethernet
• 10/100BaseT x 1 auto sense, negotiate
RS-232 (COM)
• RS-232 (UART) in RJ-45 form factor (for debugging)
Buzzer
• Signal indication
Reset Pin
• 2 Pin in COM port
Enclosure
• IP-67 (Die-Casting), Level "17" Beaufort Scale, Vented Design
Mounting
• Pole Mount (ADC - 12 Aluminum Alloy)
Operating temperature
• -30°~70°C
PCBA dimensions
• 160 x 135mm
Dimensions
• 320 x 320 x 27.5mm (L x W x H) (including antenna)
Weight
• 2.4kg (including antenna)
Operating humidity
• 10~95% RH (non-condensing)
Antenna type
• Internal high gain directional antenna
Gain
• 23dBi (default antenna)
Frequency range
• 5400~5850MHz
HPBW (horizontal)
• 10 degrees
HPBW (vertical)
• 10 degrees
* Programmable based on regional regulations.
Order info
DAP-3760 Long Distance Wireless Outdoor Bridge