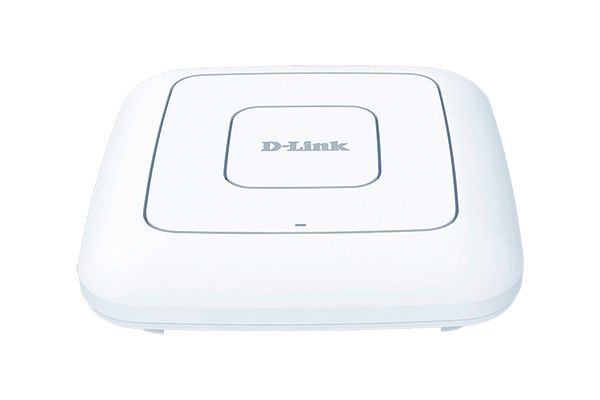 DAP-600P
Wireless AC2600 Wave 2 MU-MIMO Dual Band PoE Access Point / Router
Where to buy
Description
Wireless Interface
Using the DAP-600P device, you are able to quickly create a high-speed wireless network at home or in your office, which lets computers and mobile devices access it virtually anywhere (within the operational range of your wireless network). Simultaneous activity of 2.4GHz band and 5GHz band allows performing a wide range of tasks. The access point can operate as a base station for connecting wireless devices of the standards 802.11a, 802.11b, 802.11g, 802.11n, and 802.11ac.
DAP-600P delivers reliable, high-speed wireless performance up to 1732Mbps for 5GHz using the enhanced 802.11ac Wave 2 standard and up to 800Mbps for 2.4GHz.
Secure Wireless Connection
The device supports multiple functions for the wireless interface: several security standards (WEP, WPA/WPA2), MAC address filtering, different operation modes (access point, router, client), WPS, WMM.
Advanced Capabilities of Wireless Network
The Super MESH function is D-Link implementation of Mesh networks designed to quickly connect multiple devices into one transport network, for example, when it's required to provide high-quality Wi-Fi coverage without dead zones in living units of complicated planning or it's needed to create a large temporary Wi-Fi network for an outdoor event.
Multi-user MIMO technology allows to distribute the access point's resources to let multiple wireless clients use the Wi-Fi network efficiently, keeping high rates for HD media streaming, lag-free gaming, and fast transfer of large files.
Transmit Beamforming technology allows to flexibly change the antennas' radiation pattern and to redistribute the signal directly to wireless devices connected to the access point.
Smart adjustment of Wi-Fi clients is useful for networks based on several D-Link access points or routers – when the smart adjustment function is configured on each of them, a client always connects to the access point (router) with the highest signal level.
Support of guest Wi-Fi network in the router mode allows you to create a separate wireless network with individual security settings and maximum rate limitation. Devices connected to the guest network will be able to access the Internet, but will be isolated from the devices and resources of the access point's LAN.
WAN Port with PoE Support
The access point is equipped with a WAN port with Power over Ethernet (PoE) support which allows to use one Ethernet cable for data and power transfer. In the access point mode, the port with PoE support is used as a LAN port.
Several Operation Modes
In the access point mode, you are able to use DAP-600P to create a wireless network or to connect to a wired router. In the router mode, you are able to connect DAP-600P to a cable or DSL modem or to a private Ethernet line and use a high-speed Internet connection to successfully fulfill a wide range of professional tasks.
The "client" function is available in both modes and allows using DAP-600P as a wireless client and a wireless repeater in the access point mode and as a WISP repeater in the router mode.
Security
The SSH protocol support provides more secure remote configuration and management of the access point due to encryption of all transmitted traffic, including passwords.
Now the schedules are also implemented; they can be applied to the rules of various filters and used to reboot the access point at the specified time or every specified time period and to enable/disable the wireless network.
Easy configuration and update
You can configure the settings of the DAP-600P device via the user-friendly web-based interface (the interface is available in two languages – in Russian and in English).
The configuration wizard allows you to connect DAP-600P to a wired or wireless ISP (when switched to the router mode) in several simple steps or quickly set needed parameters for operation as an access point, repeater, or client (when switched to the access point mode).
You can simply update the firmware: when the Internet access is provided, the access point itself finds approved firmware on D Link update server and notifies when ready to install it.
Order info
DAP-600P Wireless AC2600 Wave 2 MU-MIMO Dual Band PoE Access Point / Router