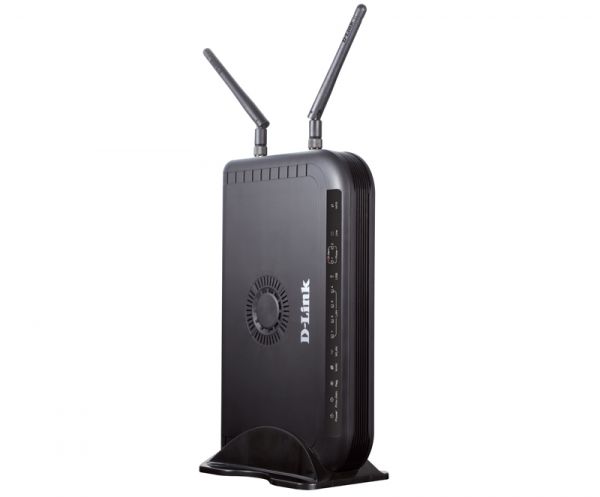 Description
The DVG-N5402SP is designed to carry both voice and facsimile over the IP network and wirelessly share Internet access. It uses the industry standard SIP call control protocol so as to be compatible with free registration services or VoIP service providers' systems. As a standard user agent, it is compatible with all common Soft Switches and SIP proxy servers. While running optional server software, the VoIP Router can be configured to establish a private VoIP network over the Internet without a third-party SIP Proxy Server.
The DVG-N5402SP can be seamlessly integrated into an existing network by connecting to a phone set and fax machine. With only a broadband connection such as an ADSL bridge/router, a Cable Modem or a leased-line router, the VoIP Router allows you to use voice and fax services over IP in order to reduce the cost of all long distance calls.
The DVG-N5402SP is also an 802.11b/g/n wireless access point. Allow wireless clients to connect to it and share your broadband Internet connection. A built-in 4-port switch makes it possible to connect up to 4 Ethernet-enabled computers or devices to also share your Internet connection.
The DVG-N5402SP can be configured a fixed IP address or it can have one dynamically assigned by DHCP or PPPoE. It adopts either the G.711, G.726, G.729A, G.723.1 or iLBC voice compression format to save network bandwidth while providing real-time, toll quality voice transmission and reception.
General features
Device interfaces
• 1 10/100BASE-TX WAN port
• 4 10/100BASE-TX WAN ports
• 1 PSTN lifeline port
• 2 FXS ports
• 1 USB 2.0 (optional)
LEDs
• Power
• Provision
• Register
• WAN
• WLAN
• LAN 1-4
• Line
• USB (optional)
SIP features
• Personal account for every port and common account for all ports
• Caller ID
• Direct IP-to-IP Call without SIP Proxy
• Digit Map and Phone book
- DNS SRV, SIP SRV
• Calling by using a E.164 number (the ENUM number)
• Group, Pick Up
- Hot Line, Warm Line
• Interactive Voice Response (IVR)
• Message Waiting Indication (subscription)
• Visual Message Waiting Indicator (subscription)
• Music on hold
• Outbound Proxy
• SIP INFO
• 3-way call conference (Ad Hoc mode, media server required)
• Call functions (optional):
- Built-in Local Mixer
- Anonymous call blocking
- Caller IP address blocking and filtering
- Call Forwarding (Busy, No answer, Unconditional)
- Call History (Call status)
- Call Hold
- Call Pickup
- Call park and Call Retrieve (Proxy support)
- Call Transfer (Proxy support)
- Call waiting
- Caller name and call time (FSK)
- Do Not Disturb
- Caller ID Blocking
Voice features
• Adaptive jitter buffer
• Echo cancellation
- Voice/fax/data automatic detection and switch
• Auto Gain Control (AGC)
• Codecs: G.711 a / μ-law, G.729A/B/AB, G.723 (6.3/5.3 Kbps), G.726, ILBC (13.33/15.2 Kbps)
• Broad Voice (16 Kbps), G.722
• Comfort Noise Generation (CNG)
• DTMF detection and generation
• Inband or Out of Band DTMF event
• Packet Loss Concealment
• Voice/fax/modem support over IP (up to 33.6 Kbps)
• T.30 FAX bypass thought G.711
• T.38 real time FAX up to 14.4 Kbps
• Voice Activity Detection (VAD)
• Caller ID detection and generation: DTMF, FSK-BellCore, FSK-ETSI
• IGMP V1/V2/V3, Support Snooping и Proxy
Wireless
• 802.11 b/g/n access point, Wi-Fi, up to 64 client associations
• Auto channel select
• Multi SSID (4 SSID)
• Default SSID - dlink
• STA Mutual isolation
• SES
• WDS
• Hidden SSID
• Support for the Prohibited List and the list of MAC addresses
• WMM support
• Control wireless access based on MAC address (deny or allow)
• Supports wireless security using encryption WEP (64/128 bit), WPA TKIP and WPA2
• WPA/WPA2 TLS client
• Complies with IEEE 802.11n Draft 2.0 (2x2)
• Complies with IEEE 802.11g
• Complies with IEEE 802.11b
• Transfer of 2 HD streams over Wi-Fi
• WPS (Wi-Fi Protected Setup)
Management
• Automatic Provisioning (optional TR069/TR104)
• Web management interface
• TELNET interface
• Save and restore the configuration file through the web-interface
• Call history (received, missed, blocked calls)
• Flat Call Detail Record output (CDR)
• Time synchronization in accordance with NTP (by default D-Link NTP server)
• Password security (Web interface and TELNET)
• Ping Test
• Reset
• SNMP v2 (optional TR069/TR104)
• Static routes and default routes
• System status
• TFTP/FTP/HTTP client for software upgrade
• Universal Plug and Play (UPnP) Internet Gateway Device (IGDv1.0)
• SNMP v1/v2c agent, SNMP MIBs
• PSI configuration file upload and download
• TR-69 with TR-98, TR-104
WAN connection
• DHCP client
• PAP/CHAP authentication
• PPTP client
• Static IP address
• 3.5G USB HSDPA modem
• USB 2.0 (optional)
QoS
• DiffServ (DSCP) or ToS IP Precedence tagging (WAN)
• Speed limit on the LAN port
• Speed limit on the WAN port (the granularity is 64 Kbps ~ 32 Mbps)
• Priority queue of WAN port: RTP first
• 802.1Q and 802.1P tagging (1 VID for VoIP traffic, 4 VID for LAN traffic)
NAT Traversal
• STUN client
• DDNS client
• Set up of port range for SIP and RTP
• Static route
Security
• Built-in firewall
• IP address filtering
• Port filtering
• MAC address filtering
• Virtual server
• DMZ
• Protection against DoS attacks
• MD5 authentication for SIP
• 2 types of privilege: Administrator и User
• VPN Pass-through with Multiple Sessions (IPSec, PPTP)
Dimensions (without antennas)
224 x 171 x 50 mm
Power
• Input: 100-240 VAC, 50/60 Hz
• Output: 12 V/ 2A
Power consumption
14 W
Temperature
• Operating: -10° to 40°C
• Storage: -20° to 60°C
Humidity
• Operating: 10 ~ 90 %
• Storage: 5 ~ 95%
EMI
FCC class B, CE mark class B
Telecom certifications
• FCC / PART 68
• CE / TBR21
Order info
DVG-N5402SP VoIP Wireless Router