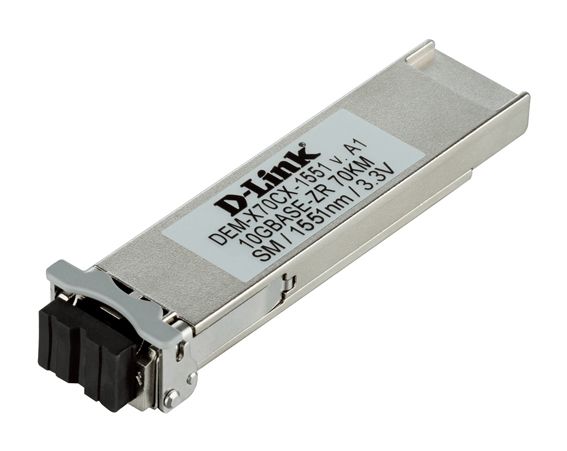 DEM-X70CX-1551
Proje
10G XFP CWDM transceiver for single-mode fiber optic cable (wavelength 1551nm, up to 70 km)
Nereden Alınır
Tanımlama
Series 10G CWDM SFP + / XFP Module D-Link - it transceivers, hot swappable, which are installed in the ports of SFP + or XFP switch and provide job Ethernet networks at 10 Gb / s. These transceivers can be used with CWDM optical multiplexer to combine signals from multiple Ethernet ports on the switch for transmission over a single fiber, which significantly reduces the cost of the infrastructure used for fiber optic data transmission over long distances. This line includes transceivers to operate at different wavelengths (wavelength used is determined by the model), which is ideal for problem solving and application providers on campus.
Speed ​​10 Gb / s
The transceivers are designed to work in networks of 10-Gigabit Ethernet, which allows for very fast data transfers. A ten-fold increase compared with 1 Gbit / s allows the switch to faster and in greater volume to handle data streams.
Hot Plug
All D-Link transceivers support hot-plug capability. Connect the transceiver to a powered device will not cause any problems.This allows you to connect or disconnect the transceiver without disrupting the rest of the network.
Genel Özellikler
Fiziksel Özellikler
Standard
• Compliant with: IEEE-802.3ae, 10GBASE-SR
• Transceiver type: XFP
• The standard for Fibre Channel FC-PI: 1200-SM-LL-L
• Support for fiber-optic cable: Single Mode
• Transmission distance: 70 km
Capabilities
• Hot Plug
• Compatible with MSA
• Compliant with RoHS
Speed
10 Gbit / s
Interfaces
• Connector: Duplex LC Connector
• uni-/bidirectional: Uni-
• Wavelength: 1551 nm
• Output power (TX)
Max. 4 dBm
Min.: -1 DBm
• Optical input (RX)
Max.: -7 DBm
Min.: -24 DBm
• Sensitivity: -24 dBm
• Cable type: single-mode optical 9/125 micron
Compatibility with switches and modules
DGS-3424, DGS-3426P, DGS-3427, DGS-3450, DGS-3426G, DGS-3612, DGS-3612G, DGS-3627, DGS-3627G, DGS-3650, DGS-6600-8XG, DES-7200- 2XG, DES-7200-4XG, DES-7200-24G2XG

Fiziksel Özellikler
Nutrition
5V / 3.3V
Max. input current
• 5 V: 300 mA
• 3,3 V: 750 mA
Min. power budget
23 dB
Max. power budget
28 dB
Heat release
14.31 kJ / h
MTBF (Hours)
818,000
Operating temperature
From 0 to 70C
Storage temperature
-40 To 85C
Operating Humidity
From 0% to 85%
Humidity
From 0% to 85%
Dimensions (W x D x H)
18.32 x 77.92 x 11.42 mm
Weight
50 grams
EMI
CE
Safety
UL, TUV, FDA / CDRH