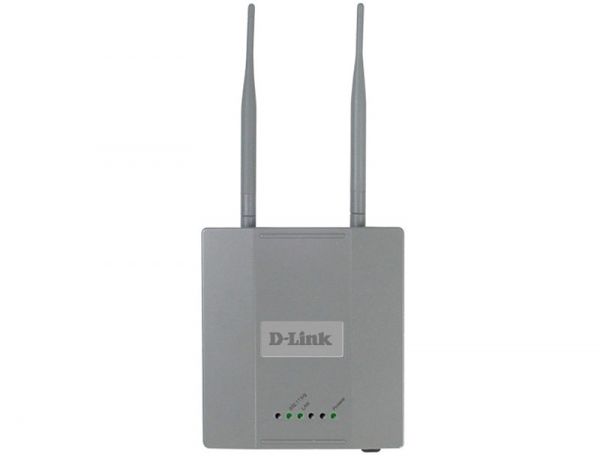 DWL-3500AP
EOL EOS
AirPremier 2.4 GHz (802.11b/g) hallatav pääsupunkt PoE toetusega, kuni 108 Мbit/s
Kust osta
Kirjeldus
The DWL-3500AP Wireless Unified 108G Access Point is a high-performance wireless access device that provides up to 108Mbps transmission rates1. Versatile and powerful, this device can be flexibly deployed as a stand-alone "fit" wireless access point or as a "thin" managed access point (AP) manageable from a wireless switch. Businesses can start with an intelligent DWL-3500AP that provides many advanced wireless LAN functions, then migrate to a centrally managed system anytime later by integrating the same DWL-3500AP to a D-Link unified wired/wireless switch.

Intelligent "Fit" Access Point
The DWL-3500AP has everything on-board that enables network administrators to set up a secure wireless network and to connect to any Ethernet-compliant switch and router. Advanced wireless functions that the DWL-3500AP supports include: WEP data encryption, WPA/WPA2 security, client MAC address filtering, AP load balancing, QoS/WMM (Wireless Multimedia), and Rouge AP Detection. Security configuration settings can be locally stored in the DWL-3500AP itself. Wireless connections can easily be expanded by adding more DWL-3500AP or other 802.11g compliant APs to the site. Businesses without complicated network requirements can use the DWL-3500AP to get a wireless network set up and run without the need for any additional special hardware.

"Thin" AP Centrally Managed From Unified Wired/Wireless Switch
Alternatively, the DWL-3500AP can operate in conjunction with a D-Link DWS-3024 or DWS-3026 unified wired/wireless switch. In this mode, multiple DWL-3500AP access points can connect directly or indirectly to one of these switches to provide unparallel security and wireless mobility for wireless clients. Each DWL-3500AP access point will be continually tuned by theses switches to provide optimal RF channels and transmission power for all mobile clients, giving them the best wireless signals and uninterrupted wireless connectivity.

Adaptable Wireless
The architecture of most current wireless LAN controllers require wireless traffic to return to the controller for centralized processing, providing unnecessary traffic delay. The DWL-3500AP – when operating with either a DWS-3024 or DWS-3026 switch – offers administrators extra options. Depending on the wireless application, wireless traffic can either be tunneled back to the switch for better security control, or locally forwarded at the access point for optimal performance. This device offers administrators maximized flexibility with options to tunnel guest traffic to the switch for centralized security control, and forward VoIP traffic directly from the access point for optimal performance.
Up to 108Mbps Speed
With transmission speeds of up to 108Mbps (Turbo mode) on both frequency bands1, the DWL-3500AP is an ideal solution for bandwidth intensive WLAN application. In a typical working environment with multiple users accessing the network at the same time, the DWL-3500AP can operate at double times the throughput of regular 802.11g wireless LAN equipment.
Sensitive Information Not Stored Locally
When operating in conjunction with a DWS-3024 or DWS-3026 switch, individual DWL-3500AP access points do not store any user data locally. The DWS-3024/3026 switch is the hardware that keeps network and user information. The DWL-3500AP thus can be installed in an unsecured area, and users do not have to worry about hackers stealing data directly from the access points.
Self Configuration and Easy Installation
When operating in conjunction with a DWS-3024 or DWS-3026 switch, the switch automatically configures every connected "thin" DWL-3500AP access point, so no configuration is necessary during installation. If a DWL-3500AP needs to be replaced, the replacement DWL-3500AP automatically inherits the same configuration, making the replacement process as simple as a child's game.

PoE Facilitates Wireless Deployment
For maximum coverage, the DWL-3500AP can be placed at out-of-the-way locations such as on a ceiling or a high wall, where AC outlets are inaccessible and providing power to these locations is difficult and expensive. The DWL-3500AP can easily obtain power from a DWS-3024/3026 switch located as far as 100 meters away through the existing network cable, doing away with the need to install separate power wiring. With industrystandard 802.3af PoE support, this wireless access point does not even require a PoE injector.
Continuous Channel Scanning To Detect Rogue AP
DWL-3500AP continuously scans both frequency bands and their associated channels to detect rogues while simultaneously providing wireless connectivity to mobile clients. If a rogue is detected, it reports the result to the DWS-3024/3026 wireless switch that manages it. From a management console, administrators can identify the rouge AP and take appropriate action.

Total Security & Quality of Service
The DWL-3500AP supports 64/128/152-bit WEP data encryption, WPA/WPA2 security and multiple SSID. Connected to the DWS-3024/3026 switch, these  functions along with wireless user MAC Address Filtering and SSID Broadcast Disable can be used to set up security and limit outsiders' access to the internal network. The DWL-3500AP supports 802.1Q VLAN Tagging and WMM (Wi-Fi Multimedia) for important wireless transmissions such as VoIP and streaming media applications, delivering critical user-based services, such as prioritized delivery of voice traffic.
Põhiomadused
Standardid
IEEE 802.11b, 802.11g WLAN
Voojuhtimine IEEE 802.3x
IEEE 802.3, 802.3u Ethernet
IEEE 802.3af Power over Ethernet (PoE)

Andmeedastuskiirus1
802.11g:
108, 54, 48, 36, 24, 18, 12, 9 ja 6 Мbit/s
802.11b:
11, 5.5, 2 и 1 Мbit/s

Sagedusdiapasoon
2.4 GHz kuni 2.4835 GHz

Kanalid
802.11b:
13 kanalit
802.11g:
13 kanalit

Modulatsioon
802.11b (DSSS):
DBPSK @ 1 Mbit/s
DQPSK @ 2 Mbit/s
CCK @ 5.5 ja 11 Мbit/s
802.11g (OFDM):
BPSK @ 6 ja 9 Mbit/s
QPSK @ 12 ja 18 Mbit/s
16QAM @ 24 ja 36 Mbit/s
64QAM @ 48, 54 ja 108 Mbit/s
802.11g (DSSS):
DBPSK @ 1 Mbit/s
DQPSK @ 2 Mbit/s
CCK @ 5.5 ja 11 Mbit/s

Saatja väljundvõimsus 2
(Tüüpiline)
802.11b:
18 dBm 11, 5.5, 2 ja 1 Mbit/s
802.11g:
18 dBm 6, 9, 12 ja 18 Mbit/s
16 dBm 24 ja 36 Mbit/s
14 dBm 48, 54 ja 108 Mbit/s 

EIRP
Tüüpiline EIRP 5dBi võimendusteguriga antennide kasutamisel: 63mW (18 dBm)

Saaja tundlikkus
802.11b:
-83 dBm 11 Mbit/s
-88 dBm 5.5 Mbit/s
-89 dBm 2 Mbit/s
-92 dBm 1 Mbit/s
802.11g:
-87 dBm 6 Mbit/s
-86 dBm 9 Mbit/s
-85 dBm 12 Mbit/s
-83 dBm 18 Mbit/s
-80 dBm 24 Mbit/s
-76 dBm 36 Mbit/s
-71 dBm 48 Mbit/s
-66 dBm 54 Mbit/s

Antennid
Kaks eemaldatavat dipoolantenni 2,4 GHz võimendusteguriga 5dBi, pööratud SMA ühendusega

Ethernet liides
10/100BASE-TX 802.3af PoE port

Töörežiimid
Ainult «Access Point»

Turvalisus
Andmekrüpteerimine 64/128/152-bit WEP
MAC-aadressite filtreerimine
WPA/WPA2 EAP
WPA/WPA2 PSK
AES
802.11i-ready
802.1Q SSID broadcast keelamine
8 SSID
Isoleeritud turvalisus iga SSID jaoks (erinevad turvalisuse parameetrid)

Juhtimismeetod
Kasutab DWS-3024/3026 kommutaatoritega toetatavaid protokolle

Indikaatorid
Power (toide)
LAN
WLAN

Füüsilised parameetrid
Toide

Tööpinge: 48 V alalisvool +/- 10% PoE
Toiteallikas: Väline toiteadapter 48 V alalisvool, 0.4 A
Tarbitav võimsus: 9 W (max)

Mõõdud
277,7 (P) x 155 (L) x 45 (K) mm

Kaal
800 g

Töötemperatuur
0º kuni 40º C

Säilitamistemperatuur
-20º kuni 65º C

Tööniiskus
10% kuni 90% (ilma kondensatsioonita)

Säilitamisniiskus
5% kuni 95% (ilma kondensatsioonita)

Sertifikaadid
FCC Class B
CE
C-Tick
VCCI
TELEC
UL