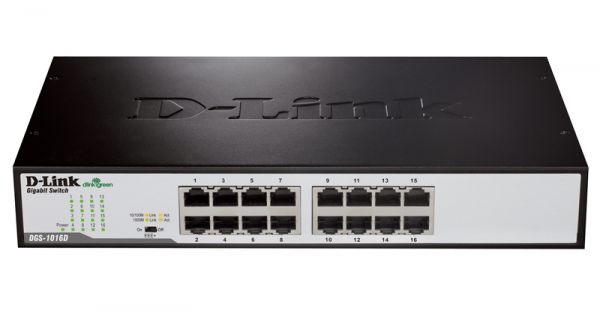 DGS-1016D/F2
EOL EOS
מתג שולחני עם 16 פורטים במהירות ג'יגהביט עם ספק כח מובנה (מארז מתכת)
היכן לקנות
תאור
Green Ethernet technology
Gigabit Switch D-Link DGS-1016D 16-Port is a new series of devices for networking SOHO / SMB. The switch support technology Green Ethernet, IEEE802.3az EEE and EEE + and provide energy savings and increase the life of the device without affecting the performance and functional characteristics. Thanks to the support IEEE802.3az EEE reduced energy consumption during low utilization . EEE + similar IEEE802.3az EEE. However , unlike EEE may use EEE + matter support device connected to the switch , EEE or not. The use of recyclable packaging reduces waste.
 
Saving energy
Thanks to the support of technology D-Link Green Ethernet Gigabit Switch with 16 ports provides automatic saving of electricity in several ways. If there is no connection to the ports , the power turns off automatically, which can significantly reduce the consumption of electricity by ports that do not have a physical connection , or ports connected to disconnected devices. In addition , the switch determines the length of cable connected and selects the appropriate diet, without compromising network performance.
 
Environmentally friendly
Gigabit Ethernet switch ports 16 is designed with consideration for the protection of the environment. The switch RoHS compliant restricting the use of hazardous substances. The use of recyclable packaging significantly reduces the amount of waste in accordance with directive WEEE.
מאפיינים כללים
Key Features
• Technology D-Link Green
  - Definition of the connection status and cable length
• Inexpensive Gigabit solution for home networks and SOHO / SMB
• passive cooling system ensures quiet operation
• Auto MDI / MDIX on all ports
• Switching Method : Store-and-forward
• Ethernet / Fast Ethernet: Full duplex / half duplex
• IEEE 802.3x Flow Control
• Jumbo- 9600 byte frames
• Supports IEEE 802.1p QoS ( 4 queues , Strict Mode)
• Cable Diagnostics
• Support for EEE +
• Compliance with the RoHS Directive
• Plug-and-play
• The button "ON / OFF" on the front panel to turn on / off the EEE + (Energy-Efficient Ethernet) mode
• Kensington Lock
• Fixing to the ground cable to the back of the unit
 
Number of ports
• 16-port Gigabit
 
Switching matrix
• 32 Gbit / s
 
Standards
• IEEE 802.3 10BASE-T Ethernet ( twisted-pair copper )
• IEEE 802.3u 100BASE-TX Fast Ethernet ( twisted-pair copper )
• IEEE 802.3ab 1000BASE-T Gigabit Ethernet ( twisted-pair copper )
• ANSI / IEEE 802.3 NWay auto-negotiation of speed and mode
• Flow Control IEEE 802.3h
• IEEE 802.1p QoS ( 4 queues , strict mode)
• IEEE802.3az EEE
 
Protocol
• CSMA / CD
 
Data rate
• Ethernet:
  10 Mbit / s (half duplex)
  20 Mbit / s (full duplex)
• Fast Ethernet:
  100 Mbit / s (half duplex)
  200 Mbit / s (full duplex)
• Gigabit Ethernet:
  2000 Mbit / s (full duplex)
 
Topology
• star
 
Network cables
• 10BASE-T:
  UTP Cat. 3,4,5,5 e ( 100m max . )
  EIA/TIA-586 100-ohm STP ( 100m max . )
• 100BASE-TX, 1000BASE-T:
  UTP Cat. 5/5e ( 100m max . )
  EIA/TIA-586 100-ohm STP ( 100m max . )
 
Interfaces transmission medium
• Automatic detection of MDI / MDIX on all ports
 
Indicators
• Per port : Link / Activity / Speed
• On the device : Power
 
Switching Method
• Store-and-forward
 
Table MAC- addresses
• 8K entries per device
 
Study of MAC- addresses
• Automatic updates
 
Speed ​​Packet Filtering / Forwarding (half duplex)
• Ethernet: 14,880 packets per second . the port
• Fast Ethernet: 148,800 packets per second . the port
• Gigabit Ethernet: 1488000 packets per second . the port
 
Buffer RAM
• 512 Kbytes to the device
נתונים פיזיים
Power consumption
• Standby mode: 3.8 W
• Max.: 11.0 W
 
Heat release
• Standby: 12,958 BTU / h
• Max.: 37,51 BTU / h
 
Noise level
• 0 dB
 
MTBF
• 1087450 h
 
Operating temperature
• From 0 º to 40 º C
 
Storage temperature
• From -10 ˚ to 70 ˚ C
 
Humidity
• From 5% to 90%, non-condensing
 
Measurements
• 280 x 180 x 44 mm
 
Weight
• 1.59 kg
 
Certifications
• FCC Class A
• ICES-003 Class A
• CE Class A
• C-Tick Class A
• cUL
• CB