DGS-1248T/GE
EOL EOS
מתג מנוהל WEB עם 48 פורטים ג'יגהביט + 4 יציאות חכמות (Combo SFP)
היכן לקנות
תאור
 The D-Link Web Smart DGS-1248T blends plug-&-play simplicity with exceptional performance and reliability to create a cost-effective solution for bandwidth-starved workgroups and departments. This 48 Port Gigabit Web Smart switch provides a solution for any size business with any size need. The DGS-1248T switch supports 4 Combo fiber SFP uplinks for uplinking to servers, storage, or other switching devices providing superior performance with exceptional value. The DGS-1248T delivers a high performance features set sufficient to monitor and secure an SMB network efficiently.

Watch episode on DGS-1200 Series Web Smart Gigabit Switches.
Advanced Management Features
The Web Smart DGS-1248T supports SNMP v1. SNMP is a useful tool in managing and controlling SNMP supported network devices. SNMP enables the Web Smart DGS-1248T to be polled to provide valuable information about the status of the unit and send traps on abnormal events. This sharing of vital management information saves time and money.
This Web Smart Switch also supports Spanning Tree, provides protection from unintentional cabling loops forming within a network infrastructure. 802.1D Spanning tree detects and breaks these loops ensuring network uptime.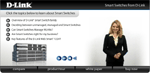 Click here to learn more topics about D-Link Smart Switches.
Advanced Security
The DGS-1248T provides a robust set of security features normally found only in fully managed switching solutions. The DGS-1248T is equipped with the D-Link Safeguard Engine to protect the CPU from malicious attack. When frames enter the switch, the D-Link Safeguard Engine detects and blocks broadcast/multicast/and unicast flooding which can overload a CPU and bring network traffic to a halt. In addition, The DGS-1248T also provides support for secure encrypted 802.1x port based user authentication, broadcast storm control, and up to 256 static MAC address entries.
IEEE 802.1Q VLAN Tagging
A VLAN or (Virtual LAN) is a collection of computers that are grouped together. VLANs allow the network to be segmented into groups (Departmental Groups / Hierarchical groups / Security Groups). 802.1Q is a standard that places a "tag" in a frame identifying which VLAN it belongs to. The advantage of this is that all 802.1Q compliant devices can work seamlessly together to manage VLAN traffic.
802.1p Priority Tagging
Like 802.1Q VLAN tagging, 802.1p places a tag in a frame to indicate the priority of the frame. This differs from port based QoS in that in Port Based QoS all traffic entering a specific port is prioritized the same way with the same value. In 802.1p a port can receive frames with varying priority tags and classify them based on these tags. For example a VoIP phone that supports 802.1p can assign a priority to its VoIP traffic. When it enters the switch, the switch can then prioritize it so that voice traffic is always clear and jitter free.
Link Aggregation
The DGS-1248T supports static link aggregation. Link aggregation provides a means of "trunking" multiple ports together to function as a single large bandwidth channel. When a high bandwidth channel is needed to uplink to another switch, link aggregation makes this process simple and hassle-free.
Jumbo Frame Support
Jumbo Frame support is designed to improve network throughput and significantly reduce the CPU utilization of large file transfers (such as multimedia files or large data files) by enabling more efficient larger payloads per packet. The DGS-1248T supports Jumbo Frames up to (9KB) in size.
Web Management Utility
The DGS-1248T includes the D-Link Web Management Utility. This utility provides a valuable tool in managing, planning, and troubleshooting network configurations. Managing a DGS-1248T Web Smart switch takes only minutes. With full color graphic pictures, diagrams, and easy to understand navigation menus, using the Web Smart DGS-1248T Management Utility is as easy as surfing the net. Some of the features include:
Discovery List – Every Smart DGS-1248T comes with auto-discovery software that automatically detects and displays up to 254 D-Link Web Smart switches running on your network along with a list of their MAC addresses.
Monitor List - The DGS-1248T can be monitored for status and trap messages sent to a designated station.
Trap View – When an abnormal event occurs on the switch, traps can be set to notify the system administrator.
Device Setting – The Device Setting feature of the Web Management Utility allows the network administrator to set the IP Address, Subnet Mask, Gateway, Send Trap To Address, System name, password, and Location of the DGS-1248T.
מאפיינים כללים
Product/Performance

DGS-1248T

| | |
| --- | --- |
| • | (48) Ports 10/100/1000Mbps with (4) Combo SFP Expansion Slots |

MAC Address Table Size

Switch Fabric

| | |
| --- | --- |
| • | 96Gbps Forwarding Capacity |

Transmission Method

Diagnostic LEDs

| | |
| --- | --- |
| • | Per Unit: Power |
| • | Per Port: Activity/Link & Speed |

Packet Buffer

Port Trunking

| | |
| --- | --- |
| • | 6 Groups/8 ports per group |

QoS

VLANs

Interface Options

RJ-45

| | |
| --- | --- |
| • | 10BASE-T, 100BASE-TX & 1000BASE-T Universal UTP Cable Recognition for Straight-Through or Crossover Cables (MDI/MDI-X) |

LC

| | |
| --- | --- |
| • | On optional SFP transceiver |

Network Protocol and Standards

IEEE

| | |
| --- | --- |
| • | 802.3 Ethernet, 802.3u Fast Ethernet, 802.3x Flow Control & 802.3ab Gigabit Ethernet, 802.1P QoS, 255 802.1Q VLANs, Link Aggregation, 802.1D Spanning Tree, SNMP v1, Port Mirroring (one-to-one/many-to-one), Jumbo Frames up to (9220Bytes), Port Setting on speed, flow control and on/off, central logging, Switch Discovery management utility, web based management, Password control access, 802.1x port based Access control, broadcast storm control, static MAC up to 256 entries), D-Link safeguard engine, DHCP client, IGMP Snooping |
נתונים פיזיים
Electrical & Emissions Summary

Emissions

Power Supply

| | |
| --- | --- |
| • | 100- 240VAC, 50/60Hz Internal Universal Power |

Power Consumptions

Safety Agency Certifications and Environmental

Safety

| | |
| --- | --- |
| • | CUL, RoHS compliant, VCCI |

Temperature

| | |
| --- | --- |
| • | Operating: 0° - 40 ° C (32° - 104° F) |
| • | Storage: -10° - 70° C (-14° - 158° F) |

Humidity

| | |
| --- | --- |
| • | Operating: 10% to 90% RH & Non-Condensing |

Heat Dissipation

Physical Specifications

Dimensions (W x D x H)

| | |
| --- | --- |
| • | 440 x 310 x 44mm 19-inch rack-mount width, 1.0U height |

Weight

Warranty Information

Warranty

| | |
| --- | --- |
| • | 3 Years Limited Warranty for as long as the original customer/end user owns the product. (Excludes Power Supply and Fan) |

Ordering Information

Part Number

DGS-1248T

| | |
| --- | --- |
| • | (Web Smart (48) Port 10/100/1000Mbps Switch with (4) Combo SFP Expansion Slots |

DEM-310GT

| | |
| --- | --- |
| • | 1000BASE-LX 3.3V Mini GBIC/SFP Transceiver Up to 550m (Multimode) Up to 10km (Singlemode) |

DEM-311GT

| | |
| --- | --- |
| • | 1000BASE-SX 3.3V Mini GBIC/SFP Transceiver Up to 220m/550m (Multimode) |