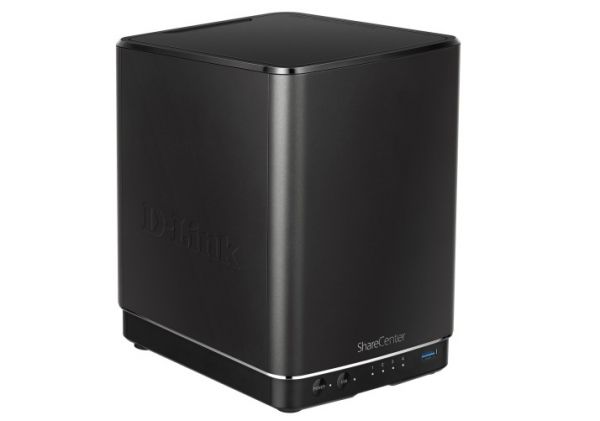 DNS-340L
EOL EOS
שרת אחסון ShareCenter ל 4 דיסקים, עם תמיכה ב - mydlink
היכן לקנות
תאור
Network drive DNS-340L 4-bay hard disk drive is a convenient solution for sharing and backup of the important data, including through the creation of a personal 'cloud'. Thanks to the high-performance disk drive DNS-340L All your data will be stored and protected.
 
High performance and versatility
Disk drive DNS-340L supports hard drives in various configurations (Standard, JBOD, RAID 0, RAID 1, 5, 10), you can choose the most appropriate one depending on the user's requirements. Standard mode creates up to two separate sections. JBOD combines the drives into one volume. RAID 0 combines the disks in the array data striping to provide maximum performance. In RAID 1, the contents of one hard disk is duplicated on the other, to ensure maximum reliability. RAID 5 uses the space of three discs set, and the fourth disk is used as a backup. RAID 10 - RAID 0 is made ​​up of several RAID1 arrays. RAID 10 is a mirrored array, wherein the data is written sequentially on multiple disks, which provides protection and high data transfer rate. DNS-340L supports "hot" replacement, thus allowing the replaced hard drive without powering down or rebooting the device.
 
Remote sharing
Network drive DNS-340L is equipped with a Web-server file that lets you download documents, photos and other media files, regardless of your location. After setting up access to the drive, use the user-friendly Web-based to view a list of available files.
 
After registration, DNS-340L mydlink when you can use the app mydlink Access - NAS to connect to the device and play music, video and photos directly on your mobile device. With mydlink service can easily gain remote access to media content, without complicated network configuration.
 
Easy Installation and Setup
In the NAS DNS-340L can be set for 3.5-inch SATA hard drives up to 4 TB1. Installing drives is straightforward - simply remove the top cover, and insert the hard drive into the bay. USB-ports are conveniently located on the front and back of the drive, you can use either for sharing USB-printer, or to connect an external USB-drive with the purpose of the backup at the touch of a button. You can also connect an uninterruptible power supply (UPS) to ensure data integrity in case of power failure.
 
When sharing the DNS-340L and router D-Link Cloud technology can be applied Zero Configuration, which greatly simplifies the setup DNS-340L. Simply select the type of RAID, as Zero Configuration mechanism performs the rest.
 
Built-in media server for streaming digital media content
Make backup copies of digital media files for secure storage on a disk drive and take advantage of the built-in media server UPnP AV, received certificates DLNA®. Through the use of DNS-340L can transmit streaming digital media content to compatible media players like PlayStation® 3, Microsoft Xbox 360 ™, or directly on the Smart TV. You can also view streaming video, photos or listen to music remotely via mobile devices.
מאפיינים כללים
Standards
• IEEE 802.3
• IEEE 802.3ab
• IEEE 802.3u
• TCP / IP
• CIFS / SMB
• NFS
• AFP
• DHCP-client
• DDNS
• NTP
• FTP over SSL / TLS, FXP
• HTTP / HTTPS
• LLTD
• PnP-X
• UPnP AV
• USB 3.0
• Bonjour
• WebDAV
 
Supported types of hard drives
• Internal 3.5-inch SATA I / II hard drives up to 4 TB1
 
Ports
• 2-Port 10/100/1000 Gigabit Ethernet
• 1 USB 3.0 port
• 2 USB 2.0 ports
• Food
 
Indicators
• Food
• USB
• LAN (on port LAN)
• HDD 1, 2, 3, 4
 
Disk management
• Multiple hard drive configurations:
  + Standard
  + JBOD
  + RAID 0, 1, 5, 10
• Migration of RAID:
  + From Standard Mode to RAID 1
  + C Standard mode to RAID 5
  + With RAID 1 mode to RAID 5
• The format of the file system: EXT4
• Scan Disk
• S.M.A.R.T.
• Support for Advanced Format drives (Advanced Format)
• AES media encryption
• The "hot" replacement discs
 
Account management
• User Account Control
• Manage user and group accounts
• Quota Management User / Group
• Network Access Control
• Management of mounting disk images
• Account Management mydlink
 
Manage downloads
• Schedule downloads on HTTP / FTP
• Downloads Peer to peer (P2P)
 
Backup management
• Schedule a backup from PC to NAS (D-Link ShareCenter Sync)
• Reliable local backup
• Reliable remote backup
• Supports Apple Time Machine
• Backup USB
• Cloud backup (Amazon S3, Google Drive, Dropbox, D-Link Vault)
 
Device management
• Browser support:
  + Internet Explorer 7 or higher
  + Mozilla Firefox 3 or higher
  + Apple Safari 4 or higher
• The Wizard system (Win / Mac)
• Utility D-Link Storage (Win / Mac)
• Notification by e-mail
• SMS-notification
• Journal of the system / FTP
• Function Print Server
• Display of system resources used
• Syslog-server / client
 
Power Management
• Power Save Mode
• Automatic power recovery
• Turning the power off schedule
• Fan speed control
• D-Link Green Ethernet
 
Remote file sharing
• File Web-server
• FTP-server
• WebDAV
• Access to your mobile device
• Access to the mydlink portal
 
File Sharing
• Max. number of user accounts: 256
• Max. Groups: 32
• Max. number of shared folders: 128
• Max. the number of simultaneous connections Samba-64
• Max. number of simultaneous FTP-connections: 10
נתונים פיזיים
Dimensions
• 185 x 146 x 217,4 mm
 
Weight
• 1.57 kg
 
Power
• External power supply 12 V DC / 3 A
 
Power consumption
• Normal: 57.3 W
• Sleep Mode: 23.2 W
 
Temperature
• Operating: 0 to 40 C
• Storage: -20 to 70 C
 
Humidity
• From 0% to 90% (non-condensing)
 
Certificates
• CE
• FCC
• IC
• DLNA