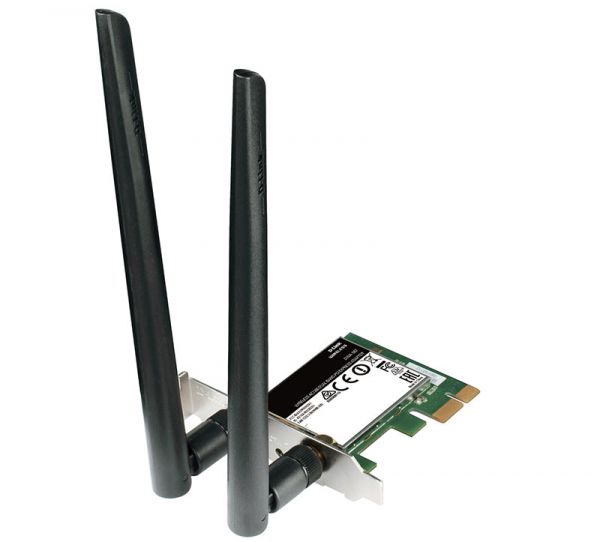 DWA-582
EOL
מתאם אלחוטי PCI Express בתקן אלחוטי AC1200
היכן לקנות
תאור
Dual Band Wireless PCI Express Adapter AC1200 DWA-582 provides a high-speed connection to the wireless network with improved quality of signal reception by connecting to that, you can get a secure share photos, files, music, videos, printers, and storage.
 
Increased speed and enhanced wireless range
DWA-582 adapter allows you to connect to a wireless network at a higher speed and longer distances. Extended range and increased speed guarantees fast and reliable connection anywhere in your home. DWA-582 provides for a home network performance through the use of technology to work in two frequency bands. Check mail and visit Web-sites can be in the 2.4 GHz band, and play games online, use the IP-telephony and watch streaming HD-video - in an interference-free 5 GHz band.
 
Benefits of PCI Express
PCI Express offers higher bandwidth, increased productivity and allows you to connect the adapter DWA-582 to any computer PCIe slot - x1, x4, x8 or x16. Through the installation of the adapter inside the system space savings, and the antennas are safely tucked away at the back of the unit.
 
Connecting to the network
DWA-582 provides very high performance. This adapter is designed for use in bigger homes and for users that demand higher networking performance. Using this adapter in conjunction with a wireless router Wireless AC provides maximum performance and allows you to stay connected anywhere in the house. DWA-582 is backward compatible with devices 802.11n / g / b / a.
 
Reliable protection
DWA-582 supports data encryption WEP, WPA and WPA2, which provides a secure connection to the wireless network of its intrusion. Technology WPS (Wi-Fi Protected Setup) allows you to establish a secure wireless connection with one push of a button in the utility to connect to.
 
Ease of setup
Quick Setup Wizard provides step by step instructions for installing an adapter that allows you to configure the device without professional assistance. Due to the high performance, reception, signal and security, this adapter is an excellent choice for creating or improving connectivity desktop computers to a wireless network.
מאפיינים כללים
Interfaces
• PCI Express (PCIe)

Slot installation
• PCI Express x1 / x4 / x8 / x16
• Activity Indicators
• Two external antenna dipole antenna with a gain of 4,5 dBi

Supported Features
• Advanced functionality Quality of Service (QoS)
• WMM
• RoHS Compliance

Standards
• IEEE 802.11ac
• IEEE 802.11n
• IEEE 802.11g
• IEEE 802.11b
• IEEE 802.11a

Frequency band
• 802.11a: from 5.15 GHz to 5.35 GHz
• 802.11b: from 2.4 GHz to 2.483 GHz
• 802.11g: from 2.4 GHz to 2.483 GHz
• 802.11n: from 5.15 GHz to 5.35 GHz
• 802.11ac: from 5.15 GHz to 5.35 GHz

Wireless security
• WPA / WPA2
• WEP (64/128 bit)
• WPS (PBC / PIN)

Wireless speed
• IEEE 802.11a: 6, 9, 12, 18, 24, 36, 48 and 54 Mbit / s
• IEEE 802.11b: 1, 2, 5.5 and 11 Mbit / s
• IEEE 802.11g: 6, 9, 12, 18, 24, 36, 48 and 54 Mbit / s
• IEEE 802.11n (5 GHz) is from 6.5 to 300 Mbit / s (MCS0 to MCS15)
• IEEE 802.11ac (5 GHz), from 29.3 to 866 Mbit / s (MCS0 to MCS9)

Transmitter output power
The maximum value of transmitter power will vary in accordance with the rules of radio frequency regulation in your country.
• IEEE 802.11a:
  16 dBm at 6 ~ 54 Mbit / s
• IEEE 802.11b:
  18 ± 2 dBm at 1, 2, 5.5, 11 Mbit / s
• IEEE 802.11g:
  18 dBm at 6 ~ 24 Mbit / s
  17 dBm at 36 Mbit / s
  16 dBm at 48 Mbit / s
  15 dBm at 54 Mbit / s
• IEEE 802.11n (5 GHz):
  HT-20:
  16 dBm at MCS0 / 1/2/3
  15 dBm at MCS4
  14 dBm at MCS5
  13 dBm at MCS6
  12 dBm at MCS7
  HT-40:
  16 dBm at MCS0 / 1/2/3
  15 dBm at MCS4
  14 dBm at MCS5
  13 dBm at MCS6
  12 dBm at MCS7
• IEEE 802.11ac (5 GHz):
  VHT-20:
  15 dBm at MCS0 / 1/2/3/4
  14 dBm at MCS5
  13 dBm at MCS6
  12 dBm at MCS7
  11 dBm at MCS8
  VHT-40:
  14 dBm at MCS0 / 1/2/3/4/5
  13 dBm at MCS6
  12 dBm at MCS7
  11 dBm at MCS8
  9 dBm at MCS9
  VHT-80:
  14 dBm at MCS0 / 1/2/3/4/5
  13 dBm at MCS6
  12 dBm at MCS7
  11 dBm at MCS8
  9 dBm at MCS9

Receiver Sensitivity
• IEEE 802.11a:
  -82 DBm at 6 Mbit / s
  -81 DBm at 9 Mbit / s
  -79 DBm at 12 Mbit / s
  -77 DBm at 18 Mbit / s
  -74 DBm at 24 Mbit / s
  -70 DBm at 36 Mbit / s
  -66 DBm at 48 Mbit / s
  -65 DBm at 54 Mbit / s
• IEEE 802.11b:
  -80 DBm at 1, 2, 5.5 Mbit / s
  -76 DBm at 11 Mbit / s
• IEEE 802.11g:
  -82 DBm at 6 Mbit / s
  -81 DBm at 9 Mbit / s
  -79 DBm at 12 Mbit / s
  -77 DBm at 18 Mbit / s
  -74 DBm at 24 Mbit / s
  -70 DBm at 36 Mbit / s
  -66 DBm at 48 Mbit / s
  -65 DBm at 54 Mbit / s
• IEEE 802.11n (5 GHz):
  HT-20:
  -82 DBm at MCS0 / 8
  -79 DBm at MCS1 / 9
  -77 DBm at MCS2 / 10
  -74 DBm at MCS3 / 11
  -70 DBm at MCS4 / 12
  -66 DBm at MCS5 / 13
  -65 DBm at MCS6 / 14
  -64 DBm at MCS7 / 15
  HT-40:
  -79 DBm at MCS0 / 8
  -76 DBm at MCS1 / 9
  -74 DBm at MCS2 / 10
  -74 DBm at MCS3 / 11
  -67 DBm at MCS4 / 12
  -63 DBm at MCS5 / 13
  -62 DBm at MCS6 / 14
  -61 DBm at MCS7 / 15
• IEEE 802.11ac (5 GHz):
  VHT-20:
  -82 DBm at MCS0
  -79 DBm at MCS1
  -77 DBm at MCS2
  -74 DBm at MCS3
  -70 DBm at MCS4
  -66 DBm at MCS5
  -65 DBm at MCS6
  -64 DBm at MCS7
  -59 DBm at MCS8
  VHT-40:
  -79 DBm at MCS0
  -76 DBm at MCS1
  -74 DBm at MCS2
  -71 DBm at MCS3
  -67 DBm at MCS4
  -63 DBm at MCS5
  -62 DBm at MCS6
  -61 DBm at MCS7
  -56 DBm at MCS8
  -54 DBm at MCS9
  VHT-80:
  -76 DBm at MCS0
  -73 DBm at MCS1
  -71 DBm at MCS2
  -68 DBm at MCS3
  -64 DBm at MCS4
  -60 DBm at MCS5
  -59 DBm at MCS6
  -58 DBm at MCS7
  -53 DBm at MCS8
  -51 DBm at MCS9

Driver Support
• Windows XP 32/64 bit
• Windows Vista 32/64 bit
• Windows 7 32/64 bit
• Windows 8 32/64 bit
• Mac OS
• Linux
נתונים פיזיים
Weight
• 48,8 g

Dimensions
• 121 x 79 x 25 mm

Power
• Operating voltage: 3.3 V DC ± 10%

Temperature
• Operating: 0 to 40 ° C
• Storage: -20 to 75 C

Humidity
• Operating: 10% to 90% non-condensing
• Storage: 5% to 95% non-condensing

Certifications
• CE
• FCC
• IC
• C-Tick
• NCC
• Wi-Fi Certified