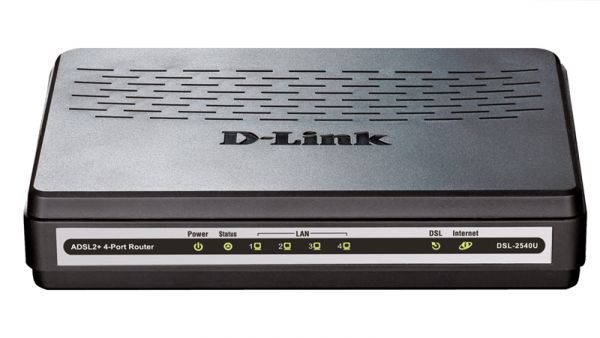 DSL-2540U
EOL EOS
מודם-נתב +ADSL/ADSL2/ADSL2 עם 4 יציאות רשת במהירות 10/100Mbps
היכן לקנות
תאור
Affordable high-speed connectivity for home and office
Router ADSL DSL-2540U/BRU/T1 - an affordable, high-performance device for home and small office. Through the use of standard ADSL2/ADSL2 + speeds downstream and 24 Mbit / s, means Quality of Service (QoS), advanced features of the firewall and integrated 4-port switch, this router allows you to organize safe and high-speed Internet connection for your home or small office .

Advanced firewall features to ensure safe operation of the Internet
DSL-2540U/BRU/T1 provides firewall security using Stateful Packet Inspection SPI, keep the minutes of hacker attacks such as Denial of Service - DoS. Before sending data to the internal SPI inspects the contents of all incoming packet headers. Access control is provided with packet filtering based on MAC / IP-address of the source and receiver.

Functional QoS to ensure good transmission quality
The router supports multiple priority queues for groups of home and office users, providing a reliable connection for data transmission and providing an opportunity to avoid problems with traffic congestion. QoS support allows more efficient transfer of applications, delay-sensitive, such as VoIP, streaming multimedia and on-line games on the Internet.
מאפיינים כללים
Interfaces
• ADSL: 1 port with RJ-11
• LAN: an Ethernet-port 10/100BASE-TX with RJ-45 connector with auto MDI / MDIX cross

ADSL standards
• ADSL: multi-mode, ANSI T1.413 Issue 2, ITU-T G.992.1 (G.dmt) Annex A, ITU-T G.992.2 (G.lite) Annex A, ITU-T G.994.1 (G . hs)
• ADSL2: ITU-T G.992.3 (G.dmt.bis) Annex A / L / M, ITU-T G.992.4 (G.lite.bis) Annex A
• ADSL2 +: ITU-T G.992.5 Annex A / L / M

Types of WAN-connection
• ADSL: PPPoA, PPPoE, IPoE, IPoA, Bridge
• Ethernet: IPoE, PPPoE, Bridge

Minutes of ATM / PPP
• Encapsulation of Ethernet in bridge and router
• Multiplexing-based VC / LLC
• ATM Forum UNI3.1/4.0 PVC (up to 8 PVC)
• ATM Adaptation Layer Type 5 (AAL5)
• The principles and functions of OAM ITU-T I.610, including F4/F5 loopback
• ATM QoS
• PPP over ATM (RFC 2,364)
• PPP over Ethernet (PPPoE)
• Support for Keep-alive for PPP-protocol

Network Protocols and Features
• Static IP-routing
• The mechanism of NAT
• DHCP-server/klient/relay
• DNS Relay
• Dynamic DNS (DDNS)
• UPnP
• VLAN support
• IGMP Proxy

Firewall and Access Control
• NAT firewall
• Monitor status of network connections (SPI)
• Filtering by MAC-addresses from the time of day and day of the week
• URL-filter
• Packet filtering (IP / ICMP / TCP / UDP)
• Virtual Servers
• Prevent DoS-attacks
• Intrusion detection and logging
• Technology to protect DMZ
• Supports Port Triggering

QoS
• Grouping interfaces
• 3 priority queues

Configuring and Managing
• Web-based configuration and management in multiple languages
• Access to TELNET
• Update the router's internal software via web-interface
• Save and load configuration
• Support for remote logging
• Automatic synchronization of system time from NTP-server
נתונים פיזיים
Power
• External Power Adapter 12V DC / 0.5 A
• The power switch is ON / OFF
• Reset button to restore factory default settings