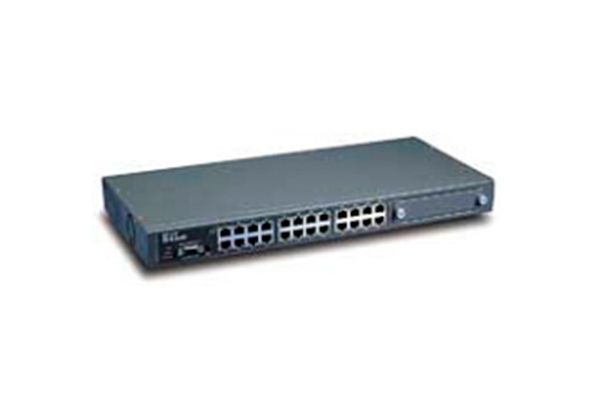 Description
24 10/100Mbps Ports
The switch comes with 24 auto-sensing 10/100Mbps ports for direct connection to desktops.  With this high port density, you can easily group workstations together for intra-domain Layer 2 packet switching, or inter-domain Layer 3 local packet routing. 
 
2 Optional Gigabit Ports
An expansion slot allows for installation of 2 optional Gigabit ports, which are useful for Layer 3 switching.  These ports inter-connect the domains, routing packets to/from servers or other switches connected to the Gigabit backbone. Gigabit options installable include the fiber and twisted-pair copper Gigabit ports.  
 
Wire-speed IP Routing
The switch is designed for basic IP routing, with instant support for Windows, Unix and Internet environments. It provides wire-speed non-blocking switch fabrics with hardware-based packet filtering/forwarding.  Packet routing is performed by on-board ASICs at speeds many times faster than CPU-based routers.  
 
Ready for Voice, Video Applications
With Priority Queues and  IP multicast (IGMP snooping) support, Quality of Services (QoS) can be guaranteed for successful execution of delay-sensitive applications like videoconference and IP telephony. 
Easy Integration
With this switch, you can start with Layer 2 switching, then upgrade to Layer 3 routing anytime by simply re-configuring the ports.  The switch can be seamlessly integrated into any existing Ethernet network.  To filter extraneous traffic, your network can be segmented into (1) VLANs (Layer 2) with custom filters based on users' physical MAC addresses, or (2) domains (Layer 3) using subnet IDs and user IP numbers for packet routing.
 
Port Trunking
Port trunking provides an easy and economical alternative solution for server connection to attain near-Gigabit bandwidth.  Up to 8 10/100Mbps ports can be combined together to create a multi-link load-sharing trunk.  With low cost per port, domain servers can be cost-effectively connected on Fast Ethernet port trunks for wire-speed Layer 3 routing.  
 
Redundant Power Supply
The switch can operate with or without a redundant power supply.  For mission-critical applications, an optional RPS can be connected to the back of the switch to provide added reliability against power interruption risks. 
General features
Standards
- IEEE 802.3 10BASE-T Ethernet (twisted-pair copper)
- IEEE 802.3u 100BASE-TX Fast Ethernet (twisted-pair copper)
- ANSI/IEEE 802.3 NWay auto-negotiation
- IEEE 802.3x Flow Control
- IEEE 802.1p Priority Queues
- IEEE 802.1Q VLAN
- IEEE 802.1D Spanning Tree

Protocol
CSMA/CD

Data Transfer Rates
- Ethernet:
10Mbps (half duplex)
20Mbps (full duplex)
- Fast Ethernet:
100Mbps (half duplex)
200Mbps (full duplex)
- Gigabit Ethernet:
2000Mbps (full duplex)

Topology
Star

Network Cables
- 10BASE-T:
2-pair UTP Cat. 3, 4, 5 (100 m)
EIA/TIA-586 100-ohm STP (100 m)
- 100BASE-TX, 1000BASE-T:
UTP Cat. 5 (100m max.)
EIA/TIA-568 100-ohm STP (100m max.)

Full/half Duplex
- Full/half duplex for 10/100Mbps speeds
- Full duplex only for Gigabit speed

Media Interface Exchange
MDI-II/MDI-X uplink port (shared with 1 Fast Ethernet port)

Switch Fabric
8.8Gbps

Packet Forwarding Rate
6.6Mpps

Switching Method
Store-and-forward

Routing Protocols
RIP-1, RIP-2, OSPF*

MAC Address Table
8K entries per device

IP Address Routing Table
2K entries per device

RAM Buffer
16MB per device

IEEE 802.1p Priority Queues
4 queues

RMON Groups
1, 2, 3, 9

MIBs
- MIB-II (RFC 1213)
- Bridge MIBs (RFC 1493)
- RMON MIBs (RFC 1757)
- VLAN MIBs (RFC 2674)
- IF MIBs (RFC 2233)
- IF-Forward MIBs (RFC 2096)
- RIP-2 MIBs (RFC 1724)
- IGMP MIBs
- ID_REC MIBs
- IPMROUTE MIBs
- PIM MIBs
- DVMRP MIBs

IP Number Self-identification
Through DHCP client, Bootp client

Console Port
DB-9 RS-232

Diagnostic LEDs
- Link/Act (per port)
- 10/100Mbps (per 10/100Mbps port)
- Power (per device)
- Console (per device)

* OSPF routing protocol supported in next version

Ventilation
2 40 x 40 x 10 mm DC fans

Power Consumption
35 watts max.

Weight
2.8kg (6.2 lb.)

Dimensions
- 441 x 210 x 43 mm (17.3 x 53.3 x 1.7 inches)
- Standard 19-inch rack-mount width, 1 U height

Power Supply
- 100 - 240VAC 50/60Hz internal universal power supply
- Socket for connection to RPS

Operating Temperature
0 - 50 C

Storage Temperature
-25 - 55 C

Emission
- FCC Class A/ICES-003 (Canada)
- CE Class A (EN55022, EN50082-1)
- C-Tick (AS/NZS 3548)
- VCCI Class A ITE - BSMI (CNS 13438)

Safety
- IEC 950 (CB)
- UL 1950 (CB)
- TUV (EN60950)
Order info
10/100Mbps Multi-layer Routing Switch
DES-3326 24 10/100Mbps ports