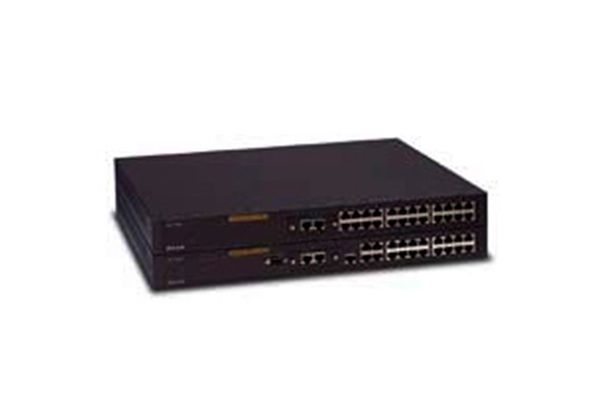 DES-3624
EOL EOS
24-Port Stackable Ethernet Switch - Client Unit for DES-3624I
Where to buy
Description
Up to 24 10/100Mbps Ports
Each slave switch in the stack can have from 20 to 24 10/100Mbps ports. These ports support the NWay standard, auto-sense and negotiate between 10BASE-T/100BASE-TX and full/half-duplex.

Scalable Expansion
Up to 4 switches can be stacked together. Users can add units to reach maximum 94 10/100Mbps ports per stack. Switches are stacked together through high-speed stack cables that provide multi-gigabit per second backplane, allowing the entire stack to perform as a single entity.

100Mbps Fiber Ports
Up to 2 100BASE-FX fiber ports can be configured in each switch to combine twisted-pair with fiber connections. Capable of running at full-duplex, these ports serve well in high electromagnatic interference environments, providing cable distances of up to 2 km.

1000Mbps Gigabit Ports
Up to 2 optional 1000BASE-SX Gigabit Ethernet ports can be installed in an expansion slot of the switch. With flow control and full-duplex support, these ports are capable of handling very large amounts of data in a secure topology. The Gigabit ports allow the switches to connect to a fiber backbone that links departments together, or to a high-power server providing simultaneous access to multiple clients.

Port Trunks for Aggregated Bandwidths
Up to 8 10/100Mbps ports can be combined into a trunk. Multiple trunks can be configured from a VLANs for Performance and Security switch or the stack. These trunks provide alternative high-bandwidth, full-duplex 1600Mbps switch-to-switch or switch-to-server connection.

VLANs for Performance and Security
The managed stack supports standard virtual LANs (VLANs) to extend the broadcast domain, segment network traffic and improve performance and manageability. This allows adds, moves and changes to be easily carried out. VLANs also provides security by limiting broadcast domains, traffic in different segments and subnets can be separated for maximum throughput and secure networking.

Flow Control Against Data Loss
In the full-duplex mode, the switches' embedded flow control provides a means to protect users against possible data loss during transmission on the network. When connected to a LAN adapter (in a server PC) that supports flow control, the switches send signals to the PC regarding buffer overrun during peak usage periods. The PC then delays transmission until the switch is ready again to accept new data.

SNMP Management, RMON Monitoring
A managed stack can be managed in-band from an SNMP management station, and on a LAN via an Internet web browser. SNMP and other MIBs are built-in, and the in-band station runs an SNMP standard network management program. Web-based management program is built into the switches. RMON monitoring is through built-in RMON MIBs.
General features
Standards
- IEEE 802.3 10BASE-T Ethernet
- IEEE 802.3u 100BASE-TX/FX Fast Ethernet
- IEEE 802.3z 1000BASE-SX Gigabit Ethernet
- ANSI/IEEE Std 802.3 NWay auto-negotiation

Protocol
CSMA/CD

Data Transfer Rates
- Ethernet: 10Mbps (half duplex) 20Mbps (full duplex)
- Fast Ethernet: 100Mbps (half duplex) 200Mbps (full duplex)
- Gigabit Ethernet: 1000Mbps (half duplex) 2000Mbps (full duplex)

Topology
Star

Network Cables
- 10BASE-T:
2-pair UTP Cat. 3, 4, 5 (100 m)
EIA/TIA-568 100-ohm STP (100 m)
- 100BASE-TX:
2-pair or 4-pair UTP Cat. 5 (100 m)
EIA/TIA-568B 100-ohm STP (100 m)
- 100BASE-FX:
50 micron and 62.5 micron multimode fiber
- 1000BASE-SX:
50 micron and 62.5 micron multimode fiber

Full/half Duplex
Supported by all LAN ports except Gigabit option

Media Interface Exchange
- DES-3624i, DES-3624iF: MDI RJ-45 x 1 (shared with 1 10/100Mbps port)
- DES-3624, DES-3624F: MDI RJ-45 x 2 (shared with 2 10/100Mbps ports)

Performance
Transmission Method
Store-and-forward

Filtering Address Table
12K entries per device

MAC Address Learning
Automatic update

Packet Filtering Rates
- 10BASE-T: 14,880 pps per port
- 100BASE-TX/FX: 148,810 pps per port
- 1000BASE-SX: 1,488,100 pps per port

Packet Forwarding Rates
- 10BASE-T: 14,880 pps per port
- 100BASE-TX/FX: 148,810 pps per port
- 1000BASE-SX: 1,488,100 pps per port

RAM Buffer
- 0.5 Mb per 10/100 port
- 2 Mb per Gigabit port

Flow Control
IEEE 802.3x flow control in full-duplex

Management
Standards
- Management: SNMP, web-based
- Spanning Tree Protocol: IEEE 802.1d
- RMON: groups 1, 2, 3, 9
- IEEE 802.1p

MIBs
- VLAN MIBs
- MIB-II RFC 1213
- Bridge MIBs RFC 1493
- RMON MIBs RFC 1757
- D-Link Enterprise MIBs

Console Port
DB-9 RS-232 DCE x 1 (DES-3624i, DES-3624iF only)
AC Input
100 - 240 VAC, 50 - 60 Hz
Internal universal power supply

Power Consumption
46 watts (max.)

Ventilation
40 x 40 mm DC fan x 2

Operating Temperature
0 - 50 C (32 - 122 F)

Storage Temperature
-25 - 50 C (-13 - 131 F)

Relative Humidity
5% - 95% non-condensing

Dimensions
441 x 367 x 44 mm (17.36 x 14.45 x 1.75 inches)
19-inch rack-mount width

Weights
DES-3624i, DES-3624iF: 6 kg (13.2 lb.)
DES-3624, DES-3624F: 5 kg (11 lb.)

Emission (EMI)
- FCC Class A
- CE Class A
- VCCI Class A
- C-Tick Class A
- BSMI Class A

Safety
- UL (UL 1950)
- CSA (CSA 950)
- TUV/GS (En60950)
Order info
Stackable Ethernet/Fast Ethernet Switches With Management Agents
DES-3624i 22 10/100Mbps ports, SNMP, RMON agents
DES-3624iF 20 10/100Mbps ports, 1 100BASE-FX fiber port (SC connector), SNMP, RMON agents

Without Management Agents
DES-3624 24 10/100Mbps ports
DES-3624F 22 10/100Mbps ports, 1 100BASE-FX fiber port (SC connector)

Optional Modules
DES-363S 3 SIO ports (for switch stacking)
DES-362FM 2 100BASE-FX fiber ports (MT-RJ connector)
DES-361G 1 1000BASE-SX Gigabit fiber port (SC connector)
DES-362G 2 1000BASE-SX Gigabit fiber ports (SC connectors)