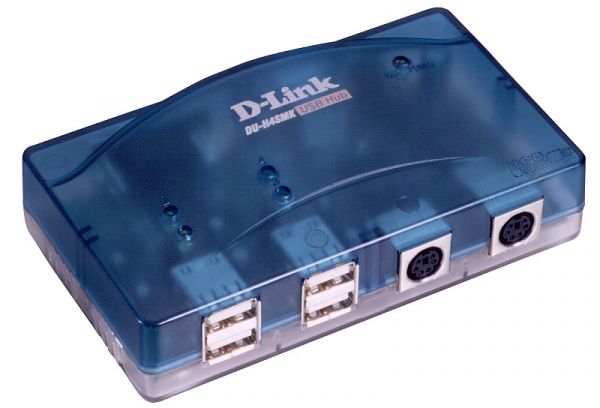 Description
Connect a PS/2 Keyboard and Mouse
The D-Link DU-H4SMK is a 4-port USB hub with two additional PS/2 ports for connection of a keyboard and mouse. It allows a user to connect up to four USB peripherals or devices, a PS/2 keyboard, and a PS/2 mouse to a Windows 98 PC. The DU-H4SMK is targeted at Windows 98 users that are expanding the number of USB ports on their systems and need to connect a PS/2 keyboard and a PS/2 mouse.
Expand USB Peripherals
The DU-H4SMK provides quick and easy access to the four type 'A' downstream ports for connecting peripherals with USB support. It also allows other USB hubs and devices to be connected. A single type "B" upstream port is provided for connecting to the host computer, or another USB hub. Two PS/2 ports are provided for easy connection of a keyboard and mouse. Serial port is provided for 56K Modem or ISDN TA.
Broad Support and Standards Compliant
As a standard compliant USB hub, the D-Link DU-H4SMK buffers USB data from any attached peripherals or devices in strict adherence with USB Specification version 1.1 to provide an invisible extension of the USB bus. Supporting both low speed 1.5Mb/s devices and high speed 12 Mb/s devices, each port creates a bridge between the peripheral and host computer. The two PS/2 ports allow a user to attach a legacy mouse and keyboard.
Feature Rich and Flexible
In self-powered mode, the DU-H4SMK can support up to four high-powered USB devices or up to four downstream bus-powered USB hubs. Diagnostic LED's are mounted on the top of the device to provide the user with power and port status. The DU-H4SMK is packaged with all necessary manuals, a 1.8m USB 'A' to 'B' cable, a driver diskette, and a switching power adapter.