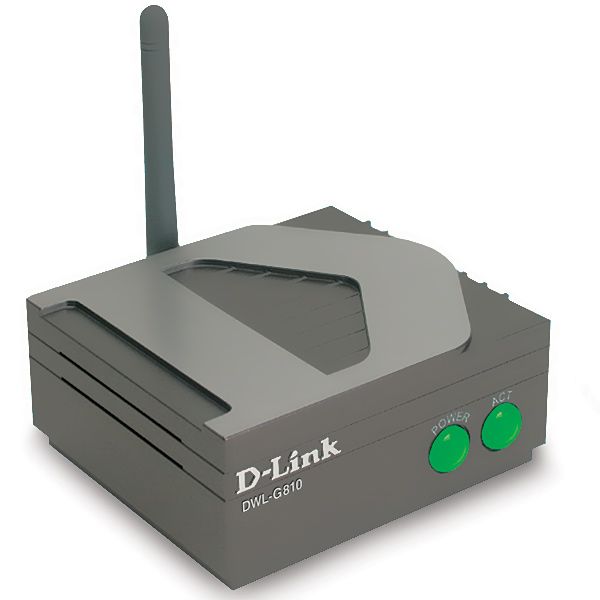 DWL-G810
EOL EOS
802.11g Ethernet to Wireless LAN Client Adapter
Where to buy
Description
Up to 54Mbps Transmission Speed
The DWL-G810 provides speeds of up to 108Mbps Super G Turbo mode when used with other D-Link AirPlusXtremeG  and other 802.11g products. This compares favorably with 802.11b devices that offer 11Mbps transmission. The DWL-G810 provides all the high speed using a single 2.4GHz wireless frequency, eliminating the complexity of dualband networking. This enhanced speed and adoption of 2.4GHz frequency, now available for public use in most countries, plus the mobility and convenience inherent in a wireless LAN, make this device an ideal solution for bandwidth intensive WLAN applications.
Plug and Play
Simply plug this compact device to an Ethernet interface, and your computer, print server, game console and other equipment will instantly become a wireless LAN device. No configuration is necessary. Your device can transparently operate on a D-LinkAirPlusXtremeG , 802.11g or any 802.11b wireless network.
Easy Settings
With its Web-based configuration interface, more advanced settings can be applied in the DWL-G810. When connecting to another DWL-G810, this Ethernet to Wireless LAN Client Adapter requires no configuration at all. Y ou can use the convenient Setup Wizard for the easy installation of  your DWL-G810. Whether you are using it in Ad-Hoc mode or Infrastructure mode, you can begin with the Setup
Wizard.
Interoperable With Wireless LAN Equipment
DWL-G810 interoperates with all 802.11b and 802.11g wireless equipment. This Ethernet-to-Wireless LAN Client Adapter offers multiple non-overlapping channels to minimize interference from other wireless networks.
Security
The DWL-G810 provides choices of 64-bit, 128-bit and 152-bit WEP (Wired Equivalent Privacy) encryption, giving you an increased level of protection for sensitive data transmission and prevention of intruders from gaining access to your network connection. WPA is supported.
Cost-effective
The DWL-G810's low cost allows you to convert any Ethernet device or network adapter to a wireless device. In the ad-hoc mode, the DWL-G810 even lets your wired network device operate with other wireless devices without the need for any Access Point
General features
Standards
- IEEE 802.11g wireless LAN
- IEEE 802.3/802.3u 10BASE-T/100BASE-TX Fast Ethernet

Adapter Type
Fast Ethernet to 802.11g Wireless LAN

Device Port
10/100BASE-TX Ethernet port with auto MDI/MDIX

Media Access Control Protocol
CSMA/CA with ACK

Network Architecture Types
Supports ad-hoc and infrastructure modes

Operating Mode
Wireless client

Network Transfer Rate/Modulation Technique
- 802.11b:
11Mbps, 5.5Mbps: CCK
2Mbps: DQPSK
1Mbps: DBPSK
- 802.11g:
108Mbps Super G, 54Mbps, 48Mbps, 36Mbps, 24Mbps, 18Mbps, 12Mbps, 9Mbps, 6Mbps: OFDM (Orthogonal Frequency Division Multiplexing)

Frequency Range
2.4 to 2.4835 GHz

Operating Channels
- 1 to 11 channels (FCC)
- 1 to 13 channels (ETSI)

Antenna
2dBi Gain detachable external dipole antenna (reverse SMA connector)

Operating Range *
- Indoor: up to 100 meters (328 feet)
- Outdoor: up to 400 meters (1,312 feet)

* Environmental factors may adversely affect range

Transmitter Output Power
15dBm (32mW) +/- 2dB

Data Security
- WEP 64/128/152-bit data encryption (user-selectable)
- Wi-Fi Protected Access with TKIP , MIC, IV Expansion, Shared Key Authentication

Configuration/Management
Web-based (Internet Explorer v .6 or later, Netscape Navigator v.7 or later, or other Java-enabled browsers)
Diagnostic LEDs
- Power
- WLAN

DC Input
5V 2.0A

Power Supply
Through external power adapter

Dimensions
90 (L) x 82 (W) x 40 (H) mm

Weight
153 grams

Operating Temperature
0 to 55 C

Storage Temperature
-20 to 75 C

Humidity
Up to 95% non-condensing

Emission Certification
- FCC Class B
- CE Class B

Safety Certification
UL
Order info
DWL-G810 802.11g Ethernet-to-Wireless LAN Client Adapter