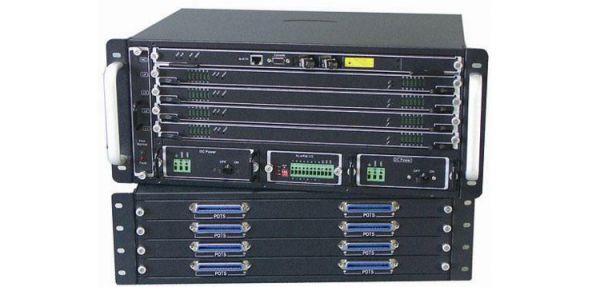 Description

The DAS-4192 system is the IP-DSLAM most suitable for Internet Service Providers with access network such as hotels, motels, multi-tenant apartment/multi-tenant commercial buildings, student dorms, campuses, and local loops. The DAS-4192 can accommodate up to 4 line cards. With the high bandwidth flexible backplane design, the system combines variety technologies to meet with various kinds of market requirements.

The DAS-4192 IP-DSLAM also provides the Gigabit Ethernet network control cards with network management for the end-to-end operation, network administration, maintenance, and provisioning of the xDSL access concentration. Apair of redundant power supply modules especially designed for the DAS-4192 enables operation directly from AC power source or -48VDC. The wide AC voltage operating range supports worldwide operation.

The DAS-4192 IP-DSLAM is an extremely cost-effective application delivery solution ideal for numerous network topologies. It enables traditional services including email, Internet access, file transfer, and VoIP telephony. It provides an ideal platform for launching new IPbased services and application bundles. Triple play service delivery, combining a variety of video and entertainment services with broadband access and IP voice becomes possible in an all-IP deployment scenario based on the IP-DSLAM, this latest generation IP-DSLAM. It represents a strategic investment in application delivery today and well into the future.


General features

SOFTWARE
MANAGEMENT
• SNMP Manageable
• AMS LCT
• CLI through the RS-232 console and Telnet
• In-Band Management
• Out of Band Management

MIBs
• SNMP v1, v2c
• RFC 1213 MIB-II
• RFC 1493 Bridge MIB
• RFC 2233 IF-MIB
• RFC 2674 802.1Q MIB
• RFC 2662/RFC 3440 ADSL line MIB
• Enterprise AM0031 MIB

HARDWARE
SYSTEM CHASSIS
Dimensions
• 7.88" (4.5U) x 19" or 23" x 11.8" (H x W x D)
• External Splitter Chassis (Optional): 5.25" (3U) x 19" or 23" x 10.8" (H x W x D)

Power Supply
• VDC: -39V to -72V
• VAC: 100V to 230V

OPERATING REQUIREMENTS
Temperature
• 32 to 149 F (0 to 65 C) Operating
• 32 to 149 F (0 to 65 C) Short-term Operating
• 5 to 158 F (-15 to 70 C) Storage

Relative Humidity
• 5% to 95% (non-condensing)

FRONT PANEL
Interface
• 1 Network Control Slot
• 4 Line card slots
• 2 Redundant power module AC/DC inputs
• 1 Fan module
• 1 Alarm I/O module

REAR PANEL
• TELCO-50 connectors on backplane

STANDARDS AND COMPLIANCES
• CE
• VCCI Class A
• EN55022 Class A/CISPR 22
• EN61000-4-5

INTERFACE & PROTOCOLS
BACKPLANE
• Architecture: Star
• Bandwidth per Subscriber Slot: 1 Gbps
• Total Backplane Capacity: 12 Gbps

SUBSCRIBER INTERFACE
xDSL
• 48 port ADSL/ADSL2/ADSL2+
• 48 port SHDSL

NETWORK INTERFACE
• 2 SFP

STANDARDS, PROTOCOLS & FEATURES
Line Standards
• G.992.1 Annex A, Annex B, T1.413
• G.992.2, G.992.3 (ADSL2, Annex M, Annex L)
• G.992.5 (ADSL2+)
• G.991.2 (SHDSL) 2-wire

ATM Support
• Up to 8 PVCs per port
• OAM loop back

Encapsulation
• RFC 2684 bridged and routed modes
• RFC 2516 PPPoE

Subscriber Control
• Traffic isolation among line ports
• MAC limit per VC base

SWITCHING & SUPPORT SERVICE
L2 switching
• Up to 16K MAC address learning
• Ethernet CoS per IEEE 802.1p
• RSTP (Rapid Spanning Tree Protocol)
• Link Aggregation per IEEE 802.3ad

VLAN
• 4K active VLAN
• VLAN Tagging pass-through
• VC-to-VLAN in one-to-one or multiple to one mapping

Multicast
• 256 concurrent Multicast Groups forwarding
• IGMP Snooping and IGMP Proxy

QoS Classification
• IEEE 802.1p priority queues (8 queues)
• Traffic classification
• Rate limiting in VC level

Service Access Control
• Ethertype-based traffic filtering
• MAC address filtering
• PPPoE, DHCP, and Static IP access methods management per VC
• DHCP relay agent with option 82



Order info

DAS-4192-20 ADSL2+ Line Card, 48 ports