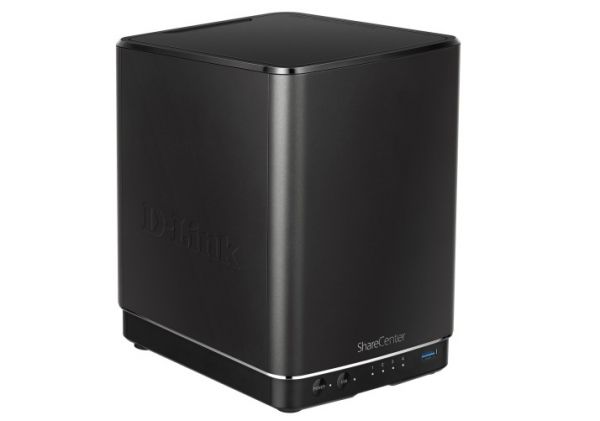 DNS-340L
EOL EOS
ShareCenter™+ 4-Bay Cloud Network Storage Enclosure
Nereden Alınır
Tanımlama
Create your own personal cloud with the DNS-340L ShareCenter+ 4-Bay Cloud Network Storage Enclosure - an easy-to-use solution for accessing, sharing and backing up your important data. Multiple RAID options allow you to keep all of your business or personal data safely stored and protected, and still have it at your fingertips with this sleek, high-performance network storage enclosure.
Product Highlights
Create your personal cloud storage
Access your files from anywhere on any computer or on iOS and Android smartphones and tablets with the free mydlink™ Access-NAS app
Stream, store, and backup
watch HD entertainment, manage your files, and back up your most important data securely
Built-in smart library
allows you to effortlessly organise your music and photos. Surveillance Center allows you to create a surveillance network with mydlink-enabled cameras without complicated setup
Easy to setup and access
Simply open the top, insert up to 4 hard drives and follow the step-by-step setup wizard
Share Your Files from Anywhere
The ShareCenter+ 4-Bay Cloud Network Storage Enclosure includes a web enabled file server which allows you to download your documents, photos, and other multimedia files from wherever you are.
Once configured, simply log into your ShareCenter+ using the friendly web user interface to view a list of available files.
Stream Digital Media With a Built-in Media Server
Back up your digital media files to the ShareCenter+ for safekeeping, and enjoy the benefits of the built-in DLNA Certified UPnP AV media server. Stream digital content to compatible media players such as the PlayStation 3, Microsoft Xbox 360/One or directly to a smart TV. You can also enjoy photo, music and video streaming remotely through mobile devices.
More Than Just a Network Attached Storage
The DNS-340L includes smart library applications that allow you to organise your music and photos effortlessly. Music Center allows you to manage your music collection with integrated music player and Apple AirPlay support whilst Photo Center lets you create albums and manage photos, and share through social networks such as Facebook, Picasa and Flickr. Surveillance Center gives you the ability to set up a comprehensive surveillance system with mydlink-enabled cameras without complicated setup. Additional third party add-on applications are available to allow you to do even more with the DNS-340L.
Easy Installation and Setup
The DNS-340L can accept 3.5" internal SATA hard drives up to 6 TB1, and installing drives is as simple as popping the top, attaching the hard drive holders and then sliding them into place. Remove the top to access the drive bays, then just slide in your storage drives into place and you're ready. USB ports on the front and back of the ShareCenter+ can be used to attach a multifunction USB printer, an Uninterruptible Power Supply (UPS), or an external USB storage drive to use with the one-touch backup function.
Combined with a D-Link Cloud Router, the DNS-340L can also take advantage of Zero Configuration Setup. Zero Configuration technology greatly simplifies the configuration of your DNS-340L. Simply choose the RAID type you need and Zero Configuration will do the rest for you.
Flexible, Versatile and Reliable Network
With an extensive range of hard drive modes (Standard, JBOD, RAID 0, 1, 5, 10, 1+0), users can choose the configuration best suited to their needs. Standard mode creates two separately accessible hard drives. JBOD combines both drives to create a single, easy to use volume. RAID 0 combines both drives in a "striped" configuration, which provides maximum performance. RAID 1 creates a copy of your data on both drives, providing maximum protection. RAID 5 combines space from three of your hard drives and uses the fourth drive as a parity drive. RAID 10 protects data against loss of non-adjacent disks and uses the disk striping technique to speed up operation when retrieving data from disk storage. The DNS-340L is hot swap enabled meaning you can easily replace a failed drive and your data will automatically be copied to the new drive, allowing the ShareCenter+ to return to its full level of protection and ensuring your files remain safe.
The DNS-340L supports the iSCSI protocol for data transfer over local networks. Have high-speed, secure access to your ShareCenter+ across multiple servers and virtual machines, with redundancy protection to keep your shared data available even when unexpected failures occur. The iSCSI protocol provides a fast, secure, low-cost alternative to traditional fibre channels by utilising existing IP network infrastructure. Ideal for networks running multiple application servers which require centralised storage, the DNS-340L's iSCSI feature helps you manage your business storage needs more effectively and efficiently, while saving costs on dedicated network infrastructure.
Genel Özellikler
Fiziksel Özellikler
General

Standards

IEEE 802.3
IEEE 802.3ab
IEEE 802.3u
TCP/IP
CIFS/SMB
iSCSI
NFS
AFP
DHCP Client
DDNS
NTP
FTP over SSL/TLS, FXP
HTTP/HTTPS
LLTD
PnP-X
UPnP AV
USB 3.0
Bonjour
WebDAV
Supported Hard Drive Types

3.5" Internal SATA I/II – Supports hard drives with capacities up to of 6 TB
Ports

Two 10/100/1000 Gigabit Ethernet ports
One USB 3.0 host port
Two USB 2.0 host ports
Power
LEDs

Power
USB
LAN (on LAN port)
HDD 1, 2, 3 , 4
Management

Disk Management

Multiple hard drive configurations:

Standard
JBOD
RAID 0, 1, 5, 10
RAID migration from:

Standard to RAID 1
Standard to RAID 5
Raid 1 to RAID 5
Hard drive format: EXT4
Scandisk
S.M.A.R.T.
Supports Advanced Format HDDs
Supports AES based volume encryption
Support HDD hot swappable
Account Management

User account management
Group account management
User/Group quota management
Network access management
ISO mount management
mydlink Account management
Download Management

HTTP/FTP scheduled downloads
Peer-to-peer (P2P) downloader
Backup Management

Scheduled backup from PC to NAS (D-Link ShareCenter+ Sync)
Scheduled local backups
Scheduled remote backup
Apple Time Machine support
USB backup
Cloud backups (Amazon S3, Google Drive, Dropbox, D-Link Vault)
Device Management

Browser support:

Internet Explorer 7 or higher
Mozilla Firefox 3 or higher
Apple Safari 4 or higher
System Setup Wizard (Win / Mac)
D-Link Storage Utility (Win / Mac)
E-mail notifications
SMS notifications
System/FTP log
Print Server Functionality
System Service Management
Syslog Server/Syslog Client
Power Management

Power saving mode
Auto power recovery
Scheduled power off
Smart Fan control
D-Link Green Ethernet
Remote File Sharing

Web file server
FTP server
WebDAV
Mobile device access
mydlink portal access
File Sharing

Max. User accounts: 256 users
Max. Group accounts: 32 groups
Max. shared folders: 128 folders
Max. concurrent Samba connections: 64 connections
Max. concurrent FTP connections: 10 connections
Functionality

USB Port Support

Print Server
UPS monitoring
External storage device
MTP/PTP
Media Streaming

UPnP AV Server
Support PS3 / XBOX 360/One
Support UPnP AV > 4GB
Comply with DLNA HNv1.5
Supports Logitech Squeeze Center
Support Sonos Digital Music System via Samba
iTunes Server
Audio Streamer (icestation)
My Music (Music Center)
My Photos (Photo Center)
Cloud Service-mydlink Portal Web Access

Remote Files Access through Web Browser
Browse, Upload/Download, and Manage File/Folders
Redirect to NAS Device UI for the Access of NAS Applications
Email Notification to Registered mydlink Account
Supports Zero Configuration (requires mydlink-enabled router)
Cloud Service through mydlink Access-NAS App

Ability to Access Content from Mobile Devices
Browse, Upload/Download, Open, and Manage File/Folders
View Photo and Playback Multimedia Files
Access to Media: Streaming for Music, Photo Galleries
Content Classification : Classify Contents by "Photo, Music, Video, and Document"
Supports iOS, Android
Built-in Applications

My Files (Web File Server)
My Photos (Photo Center) My Music (Music Center)
My Surveillance (Surveillance Center)
My Files

Access, and Manage (Copy, Move, Delete, Rename, zip/unzip) Files through Web Browser
Share Files to Social Network (Facebook, Picasa, Flickr)
Open Files on Web Browser or from PC's Default Program
Shows File Properties
My Photos

Generates Photo Library, and Sort by All Photos, and by Timeline
Creates Albums and Manage Photos
Share Photos to Social Networks (Facebook, Picasa, Flickr)
Views Photos through Cooliris
Slideshows
Supports AirPlay
Shows and Adds GPS information of Photos
My Music

Generates Music Library, and Sort by All Tracks, Albums, Artists, and Genres
Supports Playlist
Integrates Music Player
Supports AirPlay
My Surveillance

Camera Auto Installation
4-Channel Motion JPEG, MPEG4 or H.264 Recording
Audio & Video recording in Synchronization
Auto Recycling Recording
4-channel Live Video
4-channel Synchronous Playback
Recording Type : Record by Schedule, Manual Record
E-map Support
Backup Recorded Video
Add-ons Applications

Multilingual Language Package
Photo Center (Gallery2)
Blog (Wordpress)
Audio Streamer (icestation)
Logitech Squeeze Center
AjaXplorer
aMule
phpMyAdmin
phpBB
Joomla
Transmission
Physical

Dimensions

185 x 146 x 217.4 mm (7.28 x 5.74 x 8.5 inches)
Weight

Power

External DC 12 V / 3 A switching power supply
Power Consumption

Normal Mode: 57.3 W
Sleep Mode: 23.2 W
Temperature

Operating: 0 to 40 ˚C (32 to 104 ˚F)
Storage: -20 to 70 ˚C (-4 to 158 ˚F)
Operating Humidity

Certifications

1 Maximum capacity may change as hard drive technology develops. Please refer to www.dlink.com for the latest hard drive compatibility information.