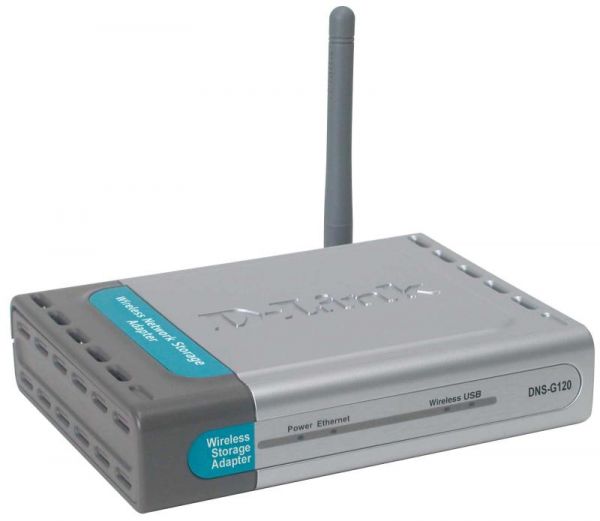 Tanımlama
D-Link®, an industry leader in networking, introduces the DNS-G120 Wireless G Network Storage Adapter. By attaching up to two USB drives to the DNS-G120, create access to storage devices that are available for everyone on the network.
The DNS-G120 is an 802.11g wireless device, capable of delivering a maximum wireless signal rate of up to 54Mbps***. You can simplify configuration of your wireless settings using Windows® Connect Now. Security features such as WPA-PSK make the DNS-G120 compatible with secure wireless networks.
You can attach either USB hard drives* or flash drives* of any capacity to the DNS-G120. Unlike other Network Storage Adapters, the DNS-G120 preserves all existing files on your USB drives and does not require you to reformat your USB drive. If you want to eject your USB drive, simply press the disconnect button and safely remove it from the port.
The DNS-G120 Wireless G Network Storage Adapter includes a built-in FTP server**, allowing you to access content stored on the network while you're away. You can also create users and set password protection for your FTP server, giving you a secure storage location over the Internet.
Schedule complete or incremental backups using automated backup functionality of the DNS-G120. The DNS-G120 includes software for backing up and restoring data.
Additional setup options can be configured using the built-in web-based admin utility, including firmware upgrades, user management and network settings. You can create multiple access accounts so that multiple users can use the DNS-G120 while retaining their privacy.
Increase network storage space with the DNS-G120, resulting in additional network functionality and convenience. The DNS-G120 is a fully featured wireless network storage adapter, suitable for your home or office network.
* USB drives not included.
** Unless additional precautions are taken, use of an FTP Server to access files over the Internet does not provide for secure or encrypted transmissions. It is recommended that the end-user utilize a Virtual Private Network (VPN) to establish a secure FTP session.
*** Maximum wireless signal rate based on IEEE Standard 802.11g specifications. Actual data throughput will vary. Network conditions and environmental factors, including volume of network traffic, building materials and construction, and network overhead, lower actual data throughput rate.
Genel Özellikler
Standards
- I EEE 802.3/802.3u Ethernet
- IEEE 802.11b/g wireless LAN
- USB 1.1, 2.0
- Samba 2.2.8a

Device Interfaces
- 10/100BASE-TX Ethernet port
- 802.11g wireless LAN supporting up to 54Mbps speed)
- 2 USB 2.0 ports

Buttons
- Disconnect button
- Reset button

DHCP Client
Get IP address from DHCP server, Auto-IP

Device Management
- Windows-based utility
- Network settings
- Auto IP capability
- User account management
- Folder and drive management
- FTP server
- Schedule download
- Backup function

Security Features
- Folder permissions
- Account-based access to FTP
- Account-based access to scheduled downloads

Security Methods
- IP address filtering for Ethernet access with either
- Deny or Allow setting
- In account mode, via username/password to access the assigned directory

System Monitoring
System log

File System Type
FAT 16/F AT 32

LED Indicators
- Power
- Ethernet
- WLAN
- USB

Diagnostics Capability
- Power-on self test of flash memory, DRAM, Ethernet and USB ports
- Syslog: 256 items

Firmware Download
Through Ethernet (error recovery mechanism must be in place)
Fiziksel Özellikler
Power Requirement
5V DC, 2.5 A

Power Supply
Through external power adapter

Dimensions
141 x 108 x 30 mm

Weight
194 grams

Operating Temperature
5 to 50 C

Storage Temperature
-20 to 50 C

Operating Humidity
10% to 90%, non-condensing

Storage Humidity
5% to 95%, non-condensing

EMI
- FCC Class B
- CE
- C-Tick

Box Includes
- DNS-G120 wireless network storage adapter
- Cat. 5 Ethernet cable
- External power adapter
- CD-ROM containing software and User's Manual
- Quick Installation Guide
- Detachable antenna
- 4 rubber feet
Sipariş Bilgisi
DNS-G120 Wireless Network Storage Adapter