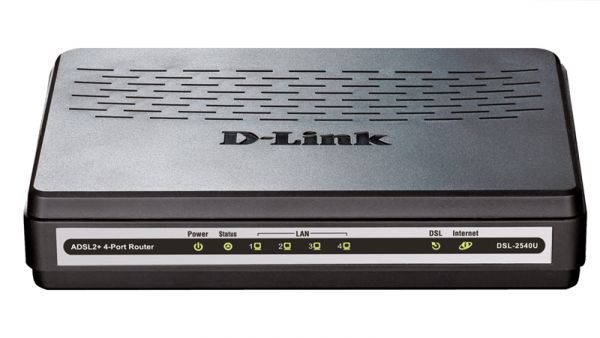 DSL-2540U
EOL EOS
ADSL/ADSL2/ADSL2 + Router with Built-in 4-port 10/100 Mbit / s
Nereden Alınır
Tanımlama
Affordable high-speed connectivity for home and office
Router ADSL DSL-2540U/BRU/T1 - it's affordable, high-performance device for home and small office. Through the use of standard ADSL2/ADSL2 + with speed downstream and 24 Mbit / s, means Quality of Service (QoS), firewall, advanced features and built-in 4-port switch, this router allows you to organize safe and high-speed Internet connection for your home or small office .
Advanced firewall features to ensure safe operation of the Internet
DSL-2540U/BRU/T1 provides firewall security using Stateful Packet Inspection SPI, keep the minutes of hacker attacks, such as denial of service - DoS. Before transferring data to the internal SPI inspects the contents of all incoming packet headers. Access control is provided with packet filtering based on MAC / IP-addresses of the source and the receiver.
QoS functionality to ensure a good quality of transmission
The router supports multiple priority queues for group home and office users, providing reliable data connection and providing the ability to avoid problems with traffic congestion. QoS support provides a more efficient transfer of applications that are sensitive to delay, such as VoIP, streaming multimedia and on-line games on the Internet.
Genel Özellikler
Fiziksel Özellikler
Interfaces
• ADSL: 1 port with RJ-11
• LAN: 1 Ethernet-port 10/100BASE-TX with RJ-45 auto-sensing polarity of MDI / MDIX
ADSL standards
• ADSL: multi-mode, ANSI T1.413 Issue 2, ITU-T G.992.1 (G.dmt) Annex A, ITU-T G.992.2 (G.lite) Annex A, ITU-T G.994.1 (G . hs)
• ADSL2: ITU-T G.992.3 (G.dmt.bis) Annex A / L / M, ITU-T G.992.4 (G.lite.bis) Annex A
• ADSL2 +: ITU-T G.992.5 Annex A / L / M
Types of WAN-connection
• ADSL: PPPoA, PPPoE, IPoE, IPoA, Bridge
• Ethernet: IPoE, PPPoE, Bridge
Protocols ATM / PPP
• Ethernet encapsulation bridging and routing
• Multiplexing based on VC / LLC
• ATM Forum UNI3.1/4.0 PVC (up to 8 PVC)
• ATM adaptation layer type 5 (AAL5)
• The principles and functions of the OAM ITU-T I.610, including F4/F5 loopback
• ATM QoS
• PPP over ATM (RFC 2,364)
• PPP over Ethernet (PPPoE)
• Support for Keep-alive for PPP-protocol
Network Protocols and Features
• Static IP-routing
• The mechanism of NAT
• DHCP-server/klient/relay
• DNS Relay
• Dynamic DNS (DDNS)
• UPnP
• VLAN support
• IGMP Proxy
Firewall and Access Control
• NAT firewall
• Stateful Packet Inspection (SPI)
• Filtering by MAC-address-to the time of day and day of week
• URL-Filter
• Packet filtering (IP / ICMP / TCP / UDP)
• Virtual Servers
• Prevent DoS-attacks
• Intrusion detection and event logging
• The technology to protect DMZ
• Supports Port Triggering
QoS
• grouping interfaces
• 3 priority queues
Configuration and Management
• Web-based interface for configuration and management of multiple languages
• Access via TELNET
• Upgrade the firmware of the router through the web-interface
• Save and load configuration
• Support for remote logging
• Automatic synchronization of system time with a NTP-server

Fiziksel Özellikler
Nutrition
• External DC power adapter 12V / 0.5A
• The power switch ON / OFF
• The Reset button to restore factory default settings