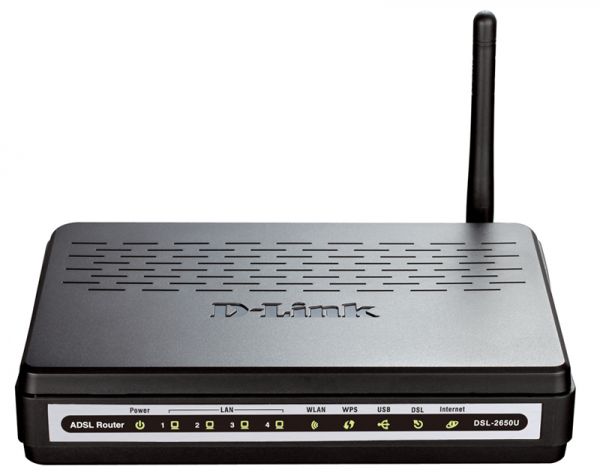 Tanımlama
DSL-2650U/NRU/C - is a versatile 3G/ADSL/Ethernet router with Wi-Fi and built-in switch. The router allows you to connect to the Internet via 3G GSM network (using a 3G GSM modem 1.2 ). In addition, the device allows you to access the Internet or using ADSL and Ethernet technologies.
The router has one ADSL port for ADSL line connection and 4 Ethernet ports to connect job. Therefore DSL-2650U/NRU/C is cost effective solution to a wired network without the need for a separate switch purchase. In addition, any device Ethernet port to use a router to connect to a separate Ethernet line. The device even has a USB port which can be connected to the USB modem, printer or data collector.
The router works with 802.11n 3 standard wireless devices and is compatible with 802.11b / g standard equipment. DSL-2650U/NRU/C supports supports security standards WEP, WPA/WPA2, carry-enabled devices MAC address filtering, and allows you to use WPS technology. DSL-2650U/NRU/C has an integrated firewall. Enhanced security features reduce hackers hacking into the network and enables the possibility to restrict access to some web pages of your local network users. Device deployment and management is simple and user-friendly Web user interface (supports Russian and English languages).
1 USB modem with the device is sold. D-Link does not guarantee compatibility with all USB modems. List of supported USB modems available on our website .
2 For information on prices and services operating range please contact your operator.
3 Maximum wireless connection speed is limited to 65 Mbps.
Genel Özellikler
Fiziksel Özellikler
Device Interfaces:
ADSL: ADSL 1 port with RJ-11 connector
LAN: 4 10/100BASE-TX Ethernet ports with RJ-45 connector and auto MDI / MDIX
WLAN: Integrated Wireless 802.11b/g/n draft user interface
USB: Type A USB 2.0 port
Wireless network:
Standard IEEE 802.11n * compatibility with IEEE 802.11b / g standard equipment
Wireless Guest Network Support
WEP encryption
WPA/WPA2 encryption technology with TKIP, AES and TKIP + AES mechanisms
Access to the wireless network by MAC address
WPS function approaches PIN and PBC
Advanced Settings
ADSL standards:
ADSL: The multi-mode, ANSI T1.413 Issue 2, ITU-T G.992.1 (G.dmt) Annex A, ITU-T G.992.2 (G.lite) Annex A, ITU-T G.994.1 (G. hs)
ADSL2: ITU-T G.992.3 (G.dmt.bis) Annex A / L / M, ITU-T G.992.4 (G.lite.bis) Annex A
ADSL2 +: ITU-T G.992.5 Annex A / L / M
WAN connection types:
3G
ADSL: PPPoA, PPPoE, IPoE, IPOA, Bridge
Ethernet: Static IP, PPPoE, DHCP
ATM / PPP Protocols:
ATM Adaptation Layer Type 5 (AAL5)
Bridged and routed Ethernet encapsulation
LLC (Logical Link Control) and VC-based multiplexing
ATM Forum UNI3.1/4.0 PVC (up to 8 PVC)
ITU-T I.610 OAM F4/F5 loopback
ATM QoS
PPP over Ethernet (PPPoE)
PPP over ATM (RFC 2364)
Features Keep-alive support PPP protocol
Network Protocols and Features:
Static IP Routing
NAT mechanism
DHCP server / client / relay
DNS Relay
Dynamic DNS (DDNS)
UPnP
VLAN Support
IGMP proxy
Firewall / Access Control:
NAT Firewall
MAC address filtering according to time of day and days of the week
Packet filtering (IP / ICMP / TCP / UDP)
Stateful Packet Inspection (SPI)
URL Filter
Virtual Servers
Protection against DoS attacks
Intrusion Detection System and Event Logging
DMZ
Functions Port Triggering Support
QoS:
Interface with the user clustering
3 priority queues
USB modem:
PIN verification on / off
PIN code change
Installation and management:
Web user interface in English and Russian languages
Software upgrade via Web user interface
Configuration maintenance and commissioning
Remote Event Log Support
SNMP Agent
Automatic system time synchronization with NTP server

Physical parameters
Meals:
External power supply
On / off button
Wireless connection on / off button
Reset Button factory settings return
WPS Button
* Maximum wireless connection speed is limited to 65 Mbps.