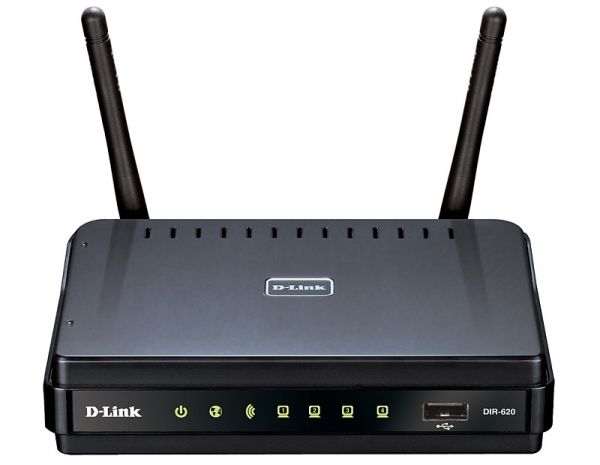 DIR-620
EOL EOS
802.11n Wireless Router with built-in 4-port switch and a port USB, with network support 3G/CDMA/WiMAX
Nereden Alınır
Tanımlama
Creating a wireless network and access to network 3G/CDMA/WiMAX
Wireless Router 802.11n DIR-620 allows you to create a wireless network at home and office. By connecting a wireless router to a leased line or a broadband modem, users can share a high-speed connection to the Internet to find information on the Web, check e-mail and communicate with friends and family in online, as well as use the built-torrent client to download various files. DIR-620 is equipped with a USB port for connecting 3G/CDMA/WiMAX * adapter that allows users to access anywhere there 3G/CDMA / WiMAX network. The device supports wireless connection at speeds up to 300 Mbit / s 802.11n standard and is backward compatible with the devices standard 802.11b / g. 
Securing Your 
Wireless Router DIR-620 has a built-in firewall that safeguards your network from harmful attacks. It minimizes the threats of hackers and prevents unwanted intruders from entering the network. Additional security features, such as MAC address filtering, to prevent unauthorized access to the network. The "Parental Control" allows you to prevent users from viewing inappropriate content. 802.11n Wireless Router also supports encryption standards WEP (128/152-bit), WPA, WPA2. Due to the supported routing functionality and security, wireless router D-Link DIR-620 allows you to create a wireless network for your home or office.

 
The list of supported 3G USB modems
Huawei E150
Huawei E160G
Huawei E169G
Huawei E220
Huawei E1550
ZTE MF626
ZTE MF627
AnyData ADU-300A
Genel Özellikler
Fiziksel Özellikler
System Requirements:
Cable or DSL modem with Ethernet port
The computer is running Windows XP SP2 / Windows 2000 SP4 / MAC OS X (Version 10.4/10.3) / Linux and an Ethernet adapter
Internet Explorer 6, Firefox 1.5 and newer versions of the
Standards:
IEEE 802.11b/g/n
IEEE 802.3, 802.3u
USB 2.0
WAN interface with the user:
1 10/100BASE-TX Ethernet port
DSL and cable modem connectivity
"Always-on (bridged) and PPPoE PPP dial-on-demand support
WiMax USB modem (Maisons) connectivity
LAN interface with the user:
4 10/100BASE-TX Ethernet ports
All ports support auto MDI / MDIX
However ports support 802.3x flow control duplex and back pressure "one-way data transfer mode
WAN connection types:
Static IP
Dynamic IP
PPPoE
L2TP
PPTP
Data transfer rate (with a shift for atomatiniu)
Frequency range:
Antenna:
Two non-detachable dipole antenna
Security:
64/128 bit WEP encryption (user selectable)
Wi-Fi Protected Access (WPA, WPA2)
WPS (Wi-Fi Protected Setup)
Firewall features:
Network Address Translation (NAT)
Stateful Packet Inspection (SPI)
MAC address filtering
URL content filtering
Multicast Streams 
Device Management:
Management implemented Web based interface with the user using Internet Explorer v6, Firefox 1.5 or newer versions of the
Indicators:
Power
Internet
WLAN
LAN (1 to 4)

Physical parameters
Meals:
5V, 2.5A, DC power through an external power source
Dimensions:
Size:
Working temperature:
Working humidity:
10% to 95% without condensation
Certifications: