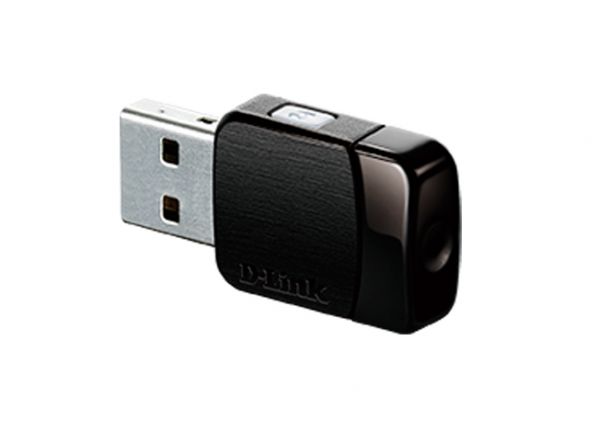 DWA-171
EOL
Traadita kahesageduslik USB-adapter 802.11ac
Kust osta
Kirjeldus
The DWA-171 Wireless AC Dual Band USB Adapter lets you experience faster wireless speeds than ever before by delivering powerful Wireless AC technology to your desktop or notebook computer. Simply plug the adapter into an available USB port and connect to a secure wireless network with an Internet connection, and right away you'll be browsing the web and chatting to your friends. With its integrated dual-band technology, over the 2.4 GHz (150 Mbps) or 5 GHz (up to 433 Mbps) ) bands, you'll have reduced Wi-Fi interference to maximize throughput for faster streaming, gaming, and VOIP calls.
What is Wireless AC?
802.11ac is a new networking standard that produces high-throughput wireless speed on the 5 GHz band. This means that you can enjoy clear, smooth streaming HD video from your favorite websites and services, lag-free online gaming, and clear audio and video calls over the Internet. Wireless AC gives you the smooth, lightning-fast performance you need to get the most out of your Internet connection.
Compatible With All Your Wireless Products
While the DWA-171 Wireless AC Dual Band USB Adapter delivers cutting-edge 802.11ac speed to your home network, it's also backward compatible with all of your current wireless products. Tired of buying a new device only to find that you need to upgrade everything else? Just connect the DWA-171 to your existing hardware, connect to the Internet, and start browsing; saving you both time and money.
Interference-Free Bandwidth
The DWA-171 Wireless AC Dual Band USB Adapter uses dual-band technology for intelligent, versatile, interference-free bandwidth. Check your email and surf the Internet on the 2.4 GHz band; play online games, make calls over the Internet, and stream HD movies to multiple devices using the cleaner, interference-free 5 GHz band. Whatever you like to do online, dual-band technology has you covered.
Easy WPS Push-Button Setup
Use Wireless Protected Setup (WPS) to quickly and easily establish a highly secure home network that will have you browsing, streaming, and interacting in minutes. The latest encryption technology ensures that information transmitted on your network remains safe and secure, while preventing unauthorized access. It's as easy as push and connect! 
Portable Design
Whether you're at home using a desktop computer or out and about with a notebook, the DWA-171 Wireless AC Dual Band USB Adapter's sleek design is perfect for mobility and convenience, so that you can take advantage of Wireless AC's super-fast speed wherever you are. Carry the DWA-171 in your pocket to keep it safe and readily available, or leave it plugged in; its small size keeping it out of your way.
Põhiomadused
Interfaces
• USB 2.0
• The status indicator
• WPS Button
Safety
• Wi-Fi Protected Access (WPA ™ and WPA2 ™)
• Wi-Fi Protected Setup - PIN and PBC
Standards
• IEEE 802.11ac (draft)
• IEEE 802.11n
• IEEE 802.11g
• EEE 802.11b
• EEE 802.11a
Antenna Type
• flush antenna
Output power of the transmitter
• IEEE 802.11a:
   18 dBm at 6 Mbit / s
   15 dBm at 54 Mbit / s
• IEEE 802.11b:
   19 dBm at 1 Mbit / s
   17 dBm at 11 Mbit / s
• IEEE 802.11g:
   18 dBm at 6 Mbit / s
   15 dBm at 54 Mbit / s
• IEEE 802.11n:
• IEEE 802.11ac: 9 dBm/HT-80
Receiver sensitivity
• IEEE 802.11a:
   -65 DBm at 54 Mbit / s
   -66 DBm at 48 Mbit / s
   -70 DBm at 36 Mbit / s
   -74 DBm at 24 Mbit / s
   -77 DBm at 18 Mbit / s
   -79 DBm at 12 Mbit / s
   -81 DBm at 9 Mbits / s
   -82 DBm at 6 Mbit / s
• IEEE 802.11b:
   -82 DBm at 11 Mbit / s
   -85 DBm at 5.5 Mbit / s
   -87 DBm at 2 Mbit / s
   -87 DBm at 1 Mbit / s
• IEEE 802.11g:
   -65 DBm at 54 Mbit / s
   -66 DBm at 48 Mbit / s
   -70 DBm at 36 Mbit / s
   -74 DBm at 24 Mbit / s
   -77 DBm at 18 Mbit / s
   -79 DBm at 12 Mbit / s
   -81 DBm at 9 Mbits / s
   -82 DBm at 6 Mbit / s
• IEEE 802.11n:
• IEEE 802.11ac:
Requirements
• Operating System: Windows 8/7/Vista/XP SP3
• Compatible browsers: Internet Explorer ® v7 or higher, Mozilla ® Firefox ® v3.0 or higher
• Interface: USB-Port
Füüsilised parameetrid
Measurements
• 24.8 x 18.8 x 8 mm
Weight
• 3.9 gr
Nutrition
• Operating Voltage: 5.0 VDC ± 10%
• Power consumption: 1.1 mW
Temperature
• Operating: 0 ° to 40 ° C
• Storage: -20 ° to 75 ° C
Humidity
• Operating: 10% to 90% (non-condensing)
• Storage: 5% to 95% (non-condensing)
Certifications
• FCC
• IC
• CE
• C-Tick
• Wi-Fi
• Wi-Fi Protected Setup