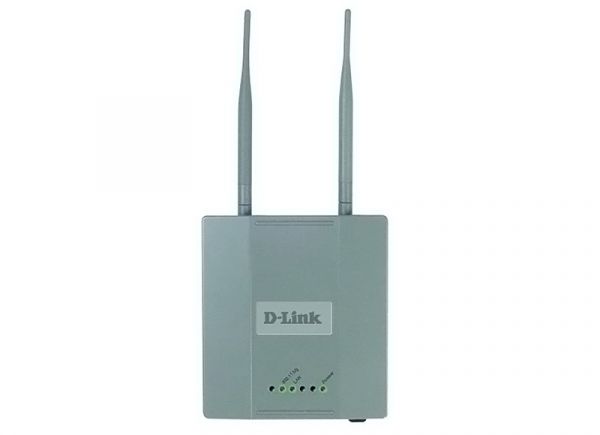 DWL-3200AP
EOL EOS
AirPremier 2.4 GHz (802.11g) hallatav pääsupunkt PoE toetusega
Kust osta
Kirjeldus
The D-Link AirPremier DWL-3200AP is a powerful and reliable wireless access point for business-class enterprise environments. Designed for indoor installation, this access point provides secure options for network administrators to deploy a highly manageable and extremely robust wireless network. This access point supports Power over Ethernet (PoE) and provides two high-gain antennas for optimal wireless coverage.

PoE Support. Enclosed in a plenum metal chassis, the DWL-3200AP adheres to strict fire codes and ensures complete safety. For advanced installations, this high-speed access point has an integrated 802.3af Power over Ethernet (PoE) support to allow installation in areas where power outlets are not readily available.

Up to 108Mbps Wireless Speed. The DWL-3200AP delivers extremely reliable wireless performance with standard 802.11g wireless throughput rates of up to 54Mbps. It has the added capability of reaching maximum wireless signal rates of up to 108Mbps (Turbo mode) powered by D-Link 108G technology. At the same t ime, the DWL-3200AP remains fully compatible with the IEEE 802.11b and 802.11g standards.

Advanced Wireless Security. Since wireless security remains a strong concern among businesses, the DWL-3200AP provides the latest wireless security technologies by supporting both WPA-Enterprise and WPA2-Enterprise to ensure complete network protection. In addition, the DWL-3200AP currently comes 802.11i-ready to fully support industrial grade wireless security.
WDS (Wireless Distribution System) Support. To maximize total return on investment,  the DWL-3200AP can be configured to operate as an access point (AP mode), a point-to-point bridge or a point-to-multipoint bridge (WDS mode). In the WDS/Bridge mode, the DWL-3200AP communicates only with wireless bridges, without allowing for wireless clients or stations to access them.
Increased Network Flexibility and Efficiency. The DWL-3200AP supports multiple SSIDs, allowing you to separate applications based on security and performance requirements. You can enable
encryption and authentication on one SSID to protect private applications and no security on another SSID to maximize open connectivity for public usage. Multiple SSIDs means you can mix and match the broadcasting of SSIDs. For public Internet access applications, you can broadcast the SSID to enable user radio cards to automatically find available access points. For private applications, you can disable SSID broadcast to prevent intruders from identifying your network. You can set the number of users that can associate via a particular SSID to control usage of  particular applications. This can help provide a somewhat limited form of bandwidth control for particular applications.

Cost Saving and Mobile Applications. By supporting multiple SSIDs, the DWL-3200AP allows you to logically divide your access point into several virtual access points all within a single hardware platform. Rather than having two separate WLANs, you can deploy one access point to support more than one application, such as public Internet access and internal network control to increase flexibility and keep costs down.

Advanced Network Management. Network administrators can manage all the DWL-3200AP's settings via its web-based configuration utility or with Telnet. For advanced network management, the administrators can use D-Link's AP Manager or D-View SNMP management module to configure and manage multiple access points from a single location. In addition to a streamlined management process, network administrators can also verify and conduct regular maintenance checks without wasting resources by sending personnel out to physically verify proper operation.
Põhiomadused
Standardid 
IEEE 802.11b
IEEE 802.11g
IEEE 802.3
IEEE 802.3u
IEEE 802.3af

Andmeedastuskiirus*
802.11g:
54, 48, 36, 24, 18, 12, 9 ja 6 Мbit/s
802.11b:
11, 5.5, 2 ja 1 Мbit/s
* Teoreetiline traadita signaali kiirus. Tegelik läbilaskevõime võib muutuda vastavalt keskkonnateguritele. 

Sagedusdiapasoon
2400 kuni 2483.5 MHz

Antenn
Kaks eemaldatavat dipoolantenni, 5 dBi, SMA-ühenduspistik 

Modulatsiooni tüübid 
802.11b:
DSSS:
DBPSK@ 1 Мbit/s
DQPSK @ 2 Мbit/s
CCK @ 5,5 Мbit/s ja 11 Мbit/s
802.11g:
OFDM:
BPSK@ 6 Мbit/s ja 9 Мbit/s
QPSK@ 12 Мbit/s ja 18 Мbit/s
16QAM@ 24 Мbit/s ja 36 Мbit/s
64QAM@ 48 Мbit/s ja 54 Мbit/s 

Saatja võimsus 
802.11b:
1 mW (0 dBm)
5 mW (7 dBm)
10 mW (10 dBm)
20 mW (13 dBm)
30 mW (15 dBm)
50 mW (17 dBm)
100 mW (20 dBm))
802.11g:
1 mW (0 dBm)
5 mW (7 dBm)
10 mW (10 dBm)
20 mW (13 dBm)
30 mW (15 dBm)
63 mW (18 dBm)
100 mW (20 dBm)

Vastuvõtja tundlikkus
802.11b:
1 Мbit/s: -94 dBm
2 Мbit/s: -90 dBm
5.5 Мbit/s: -89 dBm
11 Мbit/s: -85 dBm
802.11g:
1 Мbit/s: -94 dBm
2 Мbit/s: -90 dBm
5.5 Мbit/s: -89 dBm
6 Мbit/s: -90 dBm
9 Мbit/s: -84 dBm
11 Мbit/s: -85 dBm
12 Мbit/s: -82 dBm
18 Мbit/s: -80 dBm
24 Мbit/s: -77 dBm
36 Мbit/s: -73 dBm
48 Мbit/s: -72 dBm
54 Мbit/s: -72 dBm 

Häälestamine ja juhtimine 
Web-juhtimisliides: Internet Explorer v.6 või uuem; Netscape Navigator v.7 või uuem; või muud veebilehitsejad Java toetusega
Telnet
AP Manager
SNMP v.3 

Töörežiimid
Pääsupunkt (Access Point)
Sild punkt-punkt (PtP)
Sild punkt-mitu punkti (PtMP)

Turvalisus
Andmekrüpteerimine 64 /128/152-bit WEP
MAC-aadressite filter 
WPA/WPA2 EAP
WPA/WPA2 PSK
Autentimine 802.1x
AES
802.11i-ready
SSID ringhäälingu sisse-/väljalülitamine
802.1Q Multiple SSID (maksimaalselt 8)

Leviraadius*
(5 dBi antennide täisvõimsusel) 802.11g:
Siseruumis:
30 m @ 54 Мbit/s
34 m @ 48 Мbit/s
39 m @ 36 Мbit/s
47 m @ 24 Мbit/s
56 m @ 18 Мbit/s
66 m @ 12 Мbit/s
79 m @ 9 Мbit/s
99 m @ 6 Мbit/s
Väljas: kuni 400 m
112 m @ 54 Мbit/s
250 m @ 18 Мbit/s
500 m @ 6 Мbit/s
* Leviraadiust võivad mõjutada mitmed keskkonnafaktorid
Füüsilised parameetrid
Indikaatorid 
Power (Toide)
LAN
802.11b/g 

Tööpinge
48 V alalisvool +/-10% РоЕ jaoks

Tarbitav võimsus 
6,24 W (130 мА) (max)

Mõõdud
277,7 x 155 x 45 mm

Töötemperatuur
0° kuni 40° C 

Säilitamistemperatuur
-40° kuni 65° C

Niiskus
Töö: 10% kuni 90% ilma kondensatsioonita
Säilitamis: 5% kuni 95% ilma kondensatsioonita

Sertifikaadid
FCC Class B
CE
Wi-Fi