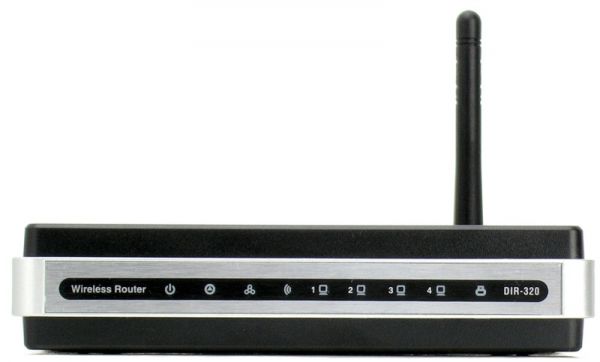 DIR-320
EOL EOS
Juhtmevaba 4-pordine ruuter 802.11g kuni 54 Мbit/s, USB 2.0 printserveriga
Kust osta
Kirjeldus
Wireless Networking
Create a wireless network for your home/SOHO using the D-Link Wireless G Router. Connect the Wireless G Router to a broadband modem to wirelessly share your high-speed Internet connection and enjoy surfing the web, checking e-mail, and chatting with family and friends online. The 'Guest Zone' function provides secondary SSID of wireless connection and secondary routing domain, separating them from the main network domain for better security and management.

Security Protection
The D-Link Wireless G Router includes a built-in firewall that safeguards your network from harmful attacks. It minimizes the threats of hackers and prevents unwanted intruders from entering your network. Additional security features like MAC address filtering prevents unauthorized network access and parental control features prevent users from viewing inappropriate content. The Wireless G Router also supports WPA and WPS encryption for wireless security.

D-Link's easy-to-use Wireless G Router includes basic routing and security features to help you create a simple wireless network for your home and office.

Printer And Ethernet Connections
The Wireless G Router includes a USB port for connection to a USB printer for sharing on the network. It also provides four Ethernet ports ready for you to connect Ethernet-enabled PC, game consoles and other devices to the Internet.

Easy To Install And Use
With D-Link Quick Router Setup Wizard and Wi-Fi Protected Setup (WPS), you can set up your wireless network in minutes. The wizard will guide you through an easy to follow process to install your new hardware and connect to your network. It configures your Internet Service Provider (ISP) settings to quickly establish broadband Internet connectivity, and makes it easy to add new wireless devices onto the network.

What This Product Does
Connect this Wireless G Router to a cable or DSL modem and wirelessly share Internet connection and your USB printer with multiple computers at home or the office. An integrated 4-port Ethernet switch also provides instant connection for computers, game consoles and other Ethernet-enabled devices through the network cables. This router creates a high-speed and completely secure network for you to share photos, files, music, video, printers, storage, and to make Internet phone calls and play on-line games.

Ultimate Connection
This Wireless G Router is designed for easy and robust connectivity among heterogeneous standards-based network devices. Computers can communicate directly with this router for automatic opening and closing of UDP/TCP ports to take full advantage of the security provided without sacrificing functionality of on-line applications.
Põhiomadused
Minimaalsed nõuded süsteemile
Kaabel või DSL-modem Ethernet pordiga
Arvuti Windows XP SP2, 2000 SP4 või Mac OS X (v10.4/v10.3) või Linux operatsioonisüsteemiga ja paigaldatud Ethernet-adapteriga
Internet Explorer 6 või Firefox 1.5 või uuem

Standardid
IEEE 802.11b/g
IEEE 802.3, 802.3u
USB 2.0

WAN liidesed
1 x 10/100BASE-TX Ethernet port 
DSL ja kaabelmodemi toetus
"Always-on" (bridged) toetus ja PPPoE PPP- "on demand" ühenduse jaoks 

LAN liidesed
4 x 10/100BASE-TX Ethernet porti
kõik pordid on MDI/MDIX
Voojuhtimine 802.3x (täisdupleksrežiim) ja back pressure (pooldupleksrežiim)

USB liides
USB 2.0 port A tüüp
Printeri protokollid: TCP/IP, RAW printing, LPR
Windows Connect Now (WCN) toetus

WAN ühenduse tüübid
Static IP
Dynamic IP
PPPoE
L2TP
PPTP
DualAccess PPPoE
DualAccess PPTP 

Andmeedastuskiirus
(automaatne ümberlülitamine)
54, 48, 36, 24, 18, 12, 11, 9, 6, 5.5, 2, 1 Мbit/s 

Sagedusdiapasoon
2.4 kuni 2.462 GHz

Modulatsiooni skeemid 
Orthogonal Frequency Division Multiplexing (OFDM)
Complementary Code Keying (CCK)

Saatja väljundvõimsus
802.11b: 17dBm +/- 2dBm 11, 5.5, 2, 1 Мbit/s
802.11g: 13dBm +/- 2dBm 6~12, 18, 24, 36, 54 Мbit/s 

Vastuvõtja tundlikkus 
802.11b:
81dBm 11 Мbit/s
82dBm 5.5 Мbit/s
84dBm 2 Мbit/s
86dBm 1 Мbit/s
802.11g:
84dBm 6 Мbit/s
83dBm 9 Мbit/s
82dBm 12 Мbit/s
79dBm 18 Мbit/s
77dBm 24 Мbit/s
74dBm 36 Мbit/s
70dBm 48 Мbit/s
68dBm 54 Мbit/s
Antenn
Eemaldatav dipoolantenn, SMA ühenduspesa

Turvalisus
WEP 64/128-bitine andmekrüpteerimine (kasutaja valitav)
Wi-Fi Protected Access (WPA/WPA2)
WPS (Wi-Fi Protected Setup)
SSID
Külalise tsoon 

Tulemüüri funktsioonid 
Network Address Translation (NAT)
Stateful Packet Inspection (SPI)
MAC-aadressite filtreerimine
URL sisu filtreerimine

Seadme juhtimine 
Veebiliidese juhtimine brauserite kaudu: Internet Explorer v6 või uuem; või Firefox 1.5 või uuem 

Füüsilised parameetrid
Indikaatorid
Power
Status
Internet
WLAN
LAN (1 kuni 4)
USB 

Toide sisendil 
5 V alalisvool 2 A, väline toiteadapter

Mõõdud
112.6 x 147.5 x 31.8 mm

Kaal
246 g

Sertifikaadid
CE
FCC

Töötemperatuur
0˚ kuni 40˚ C 

Tööniiskus
10% kuni 90% ilma kondensatsioonita
Sidustooted
DWA-110 Juhtmavaba USB-adapter 802.11g, kuni 54 Мbit/s
DWA-510 Juhtmavaba PCI-adapter, kuni 54 Мbit/s
DWA-610 uhtmavaba CardBus-adapter 802.11g, kuni 54 Мbit/s