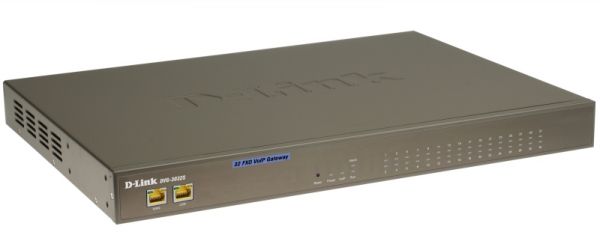 DVG-3032S
EOL EOS
32-pordine VoIP Trunk lüüs
Kust osta
Kirjeldus
The D-Link DVG-3016S/DVG-3032S VoIP trunk gateways connect an IP network to POTS (plain old telephone service) analog lines to send IP voice and data to the conventional phone sets and fax machines. These devices provide 16 or 32 FXO (Foreign eXchange Office) ports for 16 or 32 phone line connections. IP network connection can be through the LAN port or the WAN port, both of which are 10/100BASE-TX Ethernet interfaces.
For Enterprise Use. In a remote IP phone to local analog phone line application, a branch office can take in IP voice calls from a head office, then route them to local destinations equipped with only analog
phones. The long distance calls are sent through the Internet without any phone charge, and the remote office pays only for the local analog phone time. The gateways connect analog callers to the IP network
without involving operators or incurring toll charges from telephone companies

For Service Providers. The DVG-3016S/DVG-3032S VoIP trunk gateways can also be deployed by service providers to interface their VoIP infrastructure with a Public Switched T elephone Network (PSTN). For incoming calls from subscribers, these gateways accept local analog calls and place them on the IP network for sending out over the Internet. The gateways accept dial tone and ring current from the connected equipment, and facilitate the use of conventional phone sets and fax machines on a VoIP network. They allow analog phone callers to place calls, with a small charge, through the long-distance Internet trunk line.

Guaranteed Voice Quality. The DVG-3016S/DVG-3032S gateways deliver clear sound, voice and reliable fax calling through implementation of internationally recognized standards for voice and data networking. They incorporate Quality of Service (QoS) functions to ensure that voice received through the Internet is the same as or even surpasses that received on the ordinary phone.

Convenient Call Features. The DVG-3016S/DVG-3032S gateways support extensive call features, allowing the service providers to offer these functions to their subscribers. Provided that the telephone
sets at the end-users side support these functions, callers can take advantage of these convenient features. Configuration of individual phone connection is easy, using the multi-language Interactive Voice Response (IVR) or the web-based user's interface.
Põhiomadused

Füüsilised parameetrid