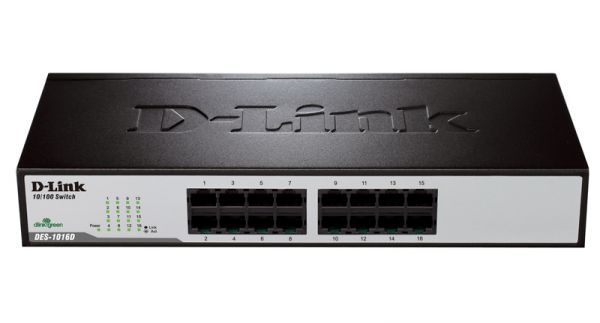 DES-1016D/F1
EOL EOS
מתג שולחני עם 16 פורטים במהירות 10/100Mbps ועם תכונת חיסכון בחשמל (מארז מתכת)
היכן לקנות
תאור
The ideal solution for basic network problems
With the switch D-Link DES-1016D and DES-1024D can easily expand the network by adding a set of computers or devices at speeds of 200 Mbit / s full duplex.
 
Automatic detection port 10/100 Mbit / s
DES-1016D DES-1024D and use auto-detection feature-port 10/100 Mbit / s, allowing small workgroups can easily connect to devices with 10 or 100 Mbit / s to create an integrated network. Each port automatically adjusts for straight-through or crossover
cable for proper connection.
 
Flow control for secure transmission
All ports support flow control, 802.3x. This function prevents packet loss through transmission of a possible buffer overflow.
 
Quality of Service (QoS)
The switches support priority queues 802.1P, allowing users to use the network latency-sensitive applications such as multimedia and Internet telephony (VoIP).
 
Reduction in energy costs
Switches conform IEEE802.3az EEE, consuming less power with a small amount of traffic. This reduces energy costs.
מאפיינים כללים
Key Features
• Cost-effective solution Fast Ethernet for home networks and SOHO
• Auto MDI / MDIX on all ports
• Switching Method: Store-and-forward
• Ethernet / Fast Ethernet: Full duplex / half duplex
• IEEE 802.3x Flow Control
• Plug-and-play
 
Switching matrix
• 3.2 Gb / s
 
Standards
• IEEE 802.3 10BASE-T Ethernet (twisted-pair copper)
• IEEE 802.3u 100BASE-TX Fast Ethernet (twisted-pair copper)
• ANSI / IEEE 802.3 NWay auto speed and mode
• IEEE 802.3x Flow Control
 
Protocol
• CSMA / CD
 
Data transfer rate
• Ethernet:
 - 10 Mbps (half-duplex)
 - 20 Mbps (full duplex)
• Fast Ethernet:
  - 100 Mbps (half-duplex)
  - 200 Mbps (full duplex)
 
Number of ports
• 16-port 10/100Mbps Fast Ethernet
 
Topology
• Star
 
Network Cables
• 10BASE-T:
  - UTP Cat. 3/4/5/5e (100m max.)
  - EIA/TIA-586 100-ohm STP (100m max.)
• 100BASE-TX:
  - UTP Cat. 5/5e (100m max.)
  - EIA/TIA-586 100-ohm STP (100m max.)
 
Media Interface Exchange
• Automatic detection of MDI / MDIX on all ports
 
Indicators
• Port:
  - Link / Activity
• On the device:
  - Power
 
Switching Method
• Store-and-forward
 
MAC-address table
• 8K device
 
Study of MAC-addresses
• Automatic update
 
Filtration rate / packet (half duplex)
• Ethernet: 14,880 packets per second. to port
• Fast Ethernet: 148,800 packets per second. to port
 
Buffer RAM
• 256 KB (2 Mbps)
נתונים פיזיים
Input Power
• 100 ~ 240 V AC, 50/60 Hz, internal universal power supply
 
Power consumption
• Power On. (Standby): Power Input: 0.61 W continuous power, 1.19 W AC
• Max.: Power Input: 1.55 W continuous power, 2.89 W AC
 
Heat release
• Power On. (standby): 4.06 BTU / h
• Max.: 9.86 BTU / h
 
MTBF
• 266,559 hours
 
Operating temperature
• From 0 º to 40 º C
 
Storage temperature
• From -10 ˚ to 70 ˚ C
 
Operating Humidity
• From 10% to 90%, non-condensing
 
Humidity
• 5% to 90%, non-condensing
 
Measurements
• 280 x 125.8 x 44 mm
 
Certificates
• FCC Class A
• ICES-003 Class A
• CE Class A
• C-Tick Class A
• VCCI Class A
• cUL
• LVD