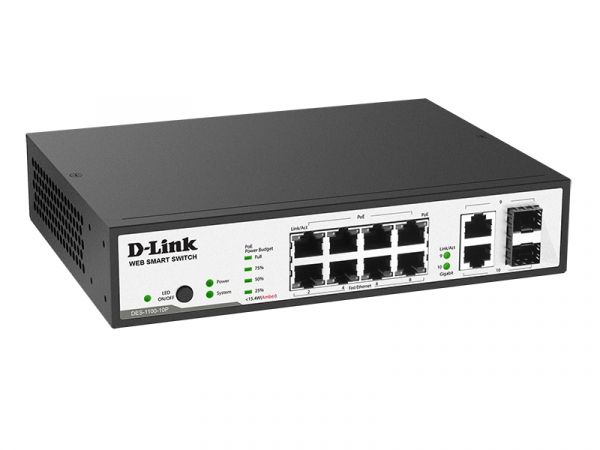 DES-1100-10P
EOL
מתג מנוהל WEB עם 8 פורטים במהירות 10/100Mbps, תמיכה ב PoE ושתי יציאות משולבות ג'יגהביט/אופטי (SFP)
היכן לקנות
תאור
Switch DES-1100-10P is an effective solution with advanced features and a passive cooling system. The Switch is equipped with 8-port 10 / 100Base-TX with PoE and 2 combo port 100 / 1000Base-T / SFP. DES-1100-10P allows you to connect and supply power to network devices with PoE, such as wireless access points (APs) and IP-cameras.

Switch DES-1100-10P supports IEEE802.3at and provides power up to 30 Watts per port at a maximum PoE power budget of 90 watts.

Resilience / Performance Enhancement
The switch supports a number of functions Level 2, including IGMP Snooping, and port mirroring. This switch also supports Loopback Detection. Loopback Detection is used to determine the loops and automatic shut-off port that detected the loop. Switch DES-1100-10P supports 802.1p (QoS), which enables traffic classification in real time on 8 levels of priority and 2 line.

Network Security
DES-1100-10P switch supports 802.1Q VLAN and port-based VLAN. The bandwidth control feature allows network administrators to define the level of bandwidth for each port. This function allows you to set the restriction of incoming / outgoing traffic with a minimum of 32 kbit / s. The function of protection against the storm needed to limit broadcast traffic in case of exceeding a predetermined threshold. The switch blocks or drops packets, a large number of which can lead to network congestion. Port Mirroring helps administrators facilitate traffic diagnostics or track switch performance and alter if necessary.
מאפיינים כללים
Interfaces
• 8-port 10 / 100Base-TX PoE
• 2 combo port 100 / 1000Base-T / SFP

Indicators
• Power (per device)
• Link / Activity / PoE (per port)
• Budget Power PoE: 25% / 50% / 75% / Full

Button
• Power on / off indicator
• Reset

Switching matrix
• 5,6 Gbit / s

MAC-address table
• 4K entries

Packet buffer
• 2,75 MB

Flash-memory
• 2 MB

PoE standards
• 802.3af
• 802.3at

Ports PoE
• Ports 1-8: up to 30 watts per port

PoE power budget
• 90 W

Standards and functions
• IEEE 802.3
• IEEE 802.3u
• IEEE 802.3ab
• IEEE802.3af / 802.3at (Ports 1-8)
• Supports half / full-duplex (for half-duplex 10/100 Mbit / s for full duplex 1000 Mbit / s)
• Auto-negotiation
• Auto MDI / MDIX
• IEEE 802.3x flow control in full duplex mode

Data rate
• Ethernet:
• 10 Mbit / s (half duplex)
• 20 Mbit / s (full duplex)
• Fast Ethernet:
• 100 Mbit / s (half duplex)
• 200 Mbit / s (full duplex)
• Gigabit Ethernet:
• 2000 Mbit / s (full duplex)

VLAN
• VLAN-based port
• 802.1Q Tagged VLAN
• Max. the number of VID: 4094
• VLAN-based port
• Supports 8 groups based VLAN

Features 2 levels
• Flow Control
• 802.3x
• IGMP Snooping
• IGMP v1 / v2 Snooping
• 802.3ad Link Aggregation:
• Max. 3 groups device 4 ports per group
• The Loopback Detection
• Port Mirroring
• One-to-One
• Many-to-One
• Statistics
• Packets Tx / Rx
• Collisions
• Dropped packets
• CRC errors
• Spanning Tree Protocol
• 802.1D STP
• 802.1w RSTP
• DHCP Relay
• Support Option 82

Quality of service (QoS)
• 802.1p
• 2 queues per port
• Bandwidth Management
• Based on the port (with a minimum of a 32 kbit / s)

Security
• Filtering MAC-based
• Protection against broadcast storms

Management
• Web-interface

Technology D-Link Green
• Reduce energy consumption by:
• Turn off the indicator
נתונים פיזיים
Dimensions
• 210 x 160 x 44 mm

Weight
• 638 g

Power
• External power adapter:
• Input supply: from 100 to 240 VAC, 50 Hz ~ 60
• Power output: 54 / 2,23 A

Power consumption
• 14,2 W

MTBF
• 7 years or more

Ventilation system
• Passive

Temperature
• Operating: 0 to 50 ° C
• Storage: -20 to 70 ° C

Humidity
• Operating: 20% to 80% non-condensing
• Storage: 10% to 90% non-condensing

Certifications
• CE
• EAC

Security
• CB

ROHS
• Compliance with the directive ROHS