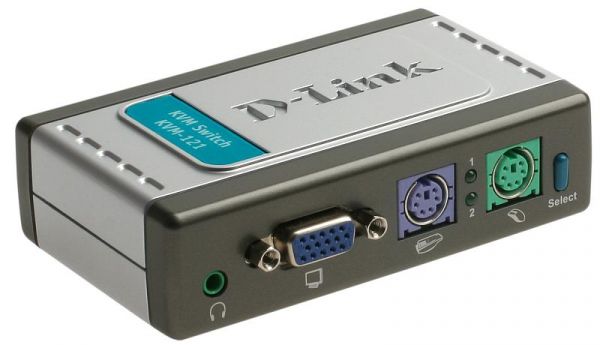 KVM-121
EOL
מתג KVM כולל 2 ערוצים + 2 כבלים PS2 משולבים למקלדת/עכבר/מוניטור
היכן לקנות
תאור
TWO COMPUTERS, ONE SYSTEM
The D-Link 2-Port PS/2 KVM Switch (KVM-121) enables you to control two computers using only a single monitor, PS/2 keyboard, and PS/2 mouse. This PS/2 KVM Switch also allows you to listen to music or download files from one computer while having full access to the other computer's system resources
SAVE TIME AND WORK SMARTER
Ready to work right out of the box, the KVM-121 requires no drivers or power supply and is compatible with any PS/2 enabled computer. This true plug and play device includes hot swapping capability, allowing you to unplug computers from the KVM Switch without having to power down.
EASY SWITCHING AND AUTOSCAN
Use hot keys or a push button to switch between computers, or use the autoscan mode to let the device automatically switch between computers at 10 second intervals. The at-a-glance LED indicators displays your computer status so you can easily determine which computer is active.
Versatile, portable, and convenient, the D-Link 2-Port PS/2 KVM Switch with Audio Support can be easily integrated into your existing desktop environment at home or at work.
WHAT THIS PRODUCT DOES
The D-Link 2-port PS/2 KVM Switch with Audio Support (KVM-121) allows you to control two computers using a single monitor, PS/2 keyboard, and PS/2 mouse. Use the "select" button or keyboard hot keys to easily switch between two computers and perform multiple tasks. Unclutter your desktop and simplify your workspace with the compact D-Link 2-Port PS/2 KVM Switch with Audio Support.
D-LINK WILL HELP YOU…
The built-in audio support allows you to share a set of speakers with two computers. This enables you to listen to Internet radio or voice conferences on one computer while surfing the web or performing other tasks simultaneously on the other. Use one computer as a dedicated music server while having full access to the other computer's system resources
מאפיינים כללים
Console connectors
• Keyboard: 6-pin Mini DIN
• Mouse: 6-pin Mini DIN
• Monitor: 15-pin HD
• Audio: 3.5 mm

Connecting KVM-Cable
• Two 15-pin HDDB
• Two connector 3.5 mm audio

KVM cables
• Two sets of cable length 1.8 m to connect to computers, each of which has the following connectors:
• 15-pin HDDB
• 6-pin Mini DIN connectors for keyboard
• 6-pin Mini DIN to mouse
• 15-pin HD connector monitor
• 3.5 mm audio jack

Indicators
• Two lights ports connected to a PC

PC selection
• By pressing on the switch
• With the help of "hot keys" for:
on / off switch alarm confirmation
Enable / disable the alarm
"Reset" the mouse and keyboard
Scan mode every 10 seconds

OS Support
• Windows 98, ME, NT, 2000, 2003, XP Linux
נתונים פיזיים
Power supply
• From PS / 2 computers that do not require an external power adapter

Power consumption
• 5 The 70 mA

Dimensions
• 104 x 61 x 28 mm (just switch KVM)

Weight
• 565 g (KVM switch and 2 sets of KVM cables)

Operating temperature
• From 0 to 40 ° C

Storage temperature
• -20 To 60 C

Operating humidity
• From 0% to 80% noncondensing

EMI
• FCC
• Class B
• CEC-Tick