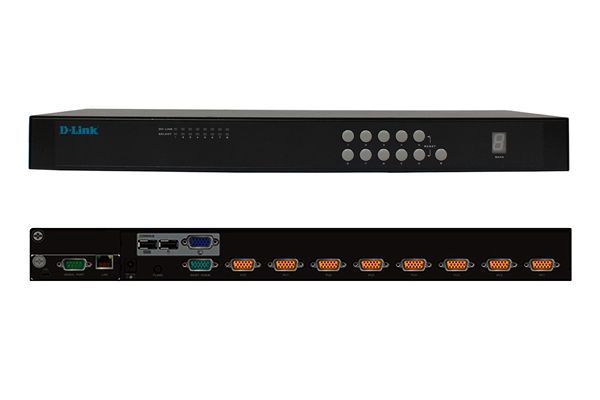 DKVM-IP8
EOL
מתג KVM כולל 8 ערוצים על גבי IP + יציאת קונסול ו/או ניהול WEB +ניתן לשרשור , כולל 2 כבלים KVM - מתאים לשרתים או תחנות מרוחקות
היכן לקנות
תאור
DKVM-IP8 switch provides convenient, remote KVM access and control via LAN or Internet. It captures, digitizes, and compresses video signal and transmits it with keyboard and mouse signals to and from a remote computer. DKVM-IP8 switch provides a non-intrusive solution for remote access and control. Remote access and control software runs on its embedded processors only but not on mission-critical servers, so that there is no interference with server operation or impact on network performance.

Furthermore, DKVM-IP8 switch offers additional remote power management with the help of optional available device.

DKVM-IP8 switch supports consoles consisting of PS/2 style keyboards and mouse and HDDB 15 video output. DKVM-IP8 switch will automatically detect the current video mode of the console, however manual fine-tuning is recommended to receive the best video quality. DKVMIP8 switch will accept video streams up to 110 MHz dot clock. This results in a screen resolution of 1280x1024 pixels with a frame rate of 60 Hz.


מאפיינים כללים
Network / modem interface
• RJ-45 port
• RS-232 DB-9

Console connectors
• Connector 1 mini Din 6-pin connectors for keyboard
• Connector 1 mini Din 6-pin to connect the mouse
• Slot 1 HDDB 15 pin for connection of the monitor

Connectors for the computer or KVM Switches
• 8 slots SPHD 15 pin to switch computers
• Connector 1 mini Din 6-pin connectors for keyboard
• Connector 1 mini Din 6-pin to connect the mouse
• Slot 1 HDDB 15 pin for connection of the monitor

USB
• USB 2.0 port type B

Indicators
• Online
• 10/100 Mbps

Video resolution
• Locally: 1600 x 1200
• Remotely: 1280 x 1024
נתונים פיזיים
Power
• Through the power adapter 5V DC 2.5A

Operating temperature
• From 0 º to 50 º C

Storage temperature
• From -20 º to 60 º C

Humidity
• From 0 to 80%, noncondensing

Size
• 44 * 430 * 220 mm

Weight
• 2.6 kg