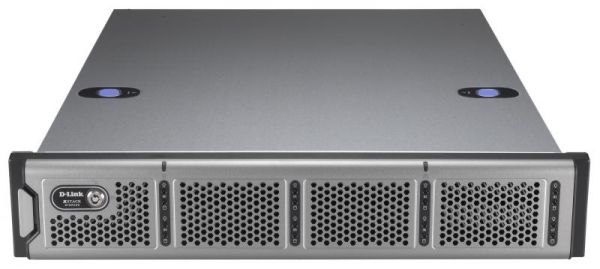 DSN-2100-10
EOL EOS
מערך אחסון iSCSI SAN מסדרת xStack, עד 8 דיסקים נשלפים SATA-II ו- 4 יציאות ג'יגהביט לרשת
היכן לקנות
תאור
The D-Link DSN-2100-10 xStack Storage Area Network (SAN) Array is designed to provide a smaller, more value oriented solution for entry-level and SMB customers. The heart of the DSN-2100-10 SAN Array is based on the same powerful System-on-a-Chip (SoC) design found in larger arrays such as the DSN-3000 series of products, but housed in a smaller chassis. Utilizing a 10Gbit iSCSI SoC solution that can handle over 80,000 I/Os per second and capable of supporting 8TBs of raw capacity using 1TB hard drives (and even higher capacity hard drives as they are introduced), the DSN-2100-10 SAN Array can easily be implemented as nearline storage or as a supplement to your primary backup and recovery device. This evolutionary advancement in performance is a testament to the tightly integrated xStack Storage architecture and is a sharp contrast to the discrete implementation of competing products.

Learn more. Download the D-Link xStack storage Whitepaper

 

 
iSCSI for IP Networks
SAN has been traditionally reserved for Fibre Channel networks until the recent introduction of iSCSI that extends this powerful yet simple centralized backend storage system to IP networks. By utilizing existing Ethernet technology, the cost associated with separate host bus adapters and the per-Gigabyte cost for storage is significantly reduced. iSCSI SANs can leverage the Ethernet infrastructure and standards which are quite familiar to your IT staff.

Four 1GbE Interfaces
The DSN-2100-10 SAN Array implements four 1GbE ports and supports IEEE 802.3ad Link Aggregation Groups (LAG) for full offload capability so that all four ports can be grouped together, totaling up to 425MB/s bandwidth, for increased throughput and redundancy.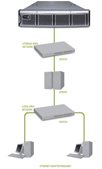 Click to enlarge
System-on-a-Chip (SoC) Implementation
By utilizing a SoC design, the DSN-2100-10 SAN Array combines both networking and storage functions into a single specialized Application Specific Integrated Circuit (ASIC). The SoC solution combines 10Gbps iSCSI, TCP & IP offload, embedded processors, and storage virtualization firmware onto a single chip. The tight integration of these functions eliminate interoperability, timing, and support issues found in competitive products that offer "discrete implementation" wherein a chassis, a main motherboard, a RAID storage controller, iSCSI software or controller, network interface cards, and operating system software are chosen separately and then assembled. The DSN-2100-10 SAN Array outperforms these discrete implementations and does so at a lower price point. It also delivers mission critical data quickly with state-of-the-art reliability.
RAID for Efficiency
The DSN-2100-10 SAN Array platform features 8 hot swappable Serial ATA (SATA) disk drive bays supporting 8TB raw capacity using 1TB hard drives (and even higher capacity hard drives as they are introduced) in RAID level 0, 1, 1+0 and 5 configurations. You can quickly deploy a SAN using inexpensive SATA disk drives and, depending on your growing storage needs, you can simply add more drives as you go.
Recommended hard drives for the DSN-2000 series SAN arrays:
To see a list of compatible drives, please see our Interoperability Matrix documentation (PDF).
Embedded Centralized Storage Management
The embedded user-friendly IP-SAN Device Manager (IDM) provides comprehensive storage network management. Boasting a rich set of management features, this suite of utilities allow monitoring and control of your SAN via the SMI-S (Storage Management Initiative Specification) command set. Combined with an embedded secure server, users will be able to remotely configure and monitor their SAN storage subsystems.
Advanced Management Features
The DSN-2100-10 SAN Array provides additional advanced features for efficient management of network storage and optimal performance.
Cache Management: Provides adaptive and persistent cache management. This provides write-back, write-through, write coalescing, and multi-stream read-ahead on a volume basis. This optimizes cache utilization and performance in an application dependent manner.
VLAN Zoning: Supports IEEE 802.1q VLAN tagging to segregate traffic into isolated zones for secure access and jumbo frames to improve the network throughput and reduce CPU overhead.
Volume Virtualization: The DSN-2100-10 has storage management software that provides volume virtualization features by utilizing the concept of storage Extents. Extents are the fundamental building blocks used to enable features such as RAID, online capacity expansion and volume migration. Drives of disimilar size can be used to create volumes. Growth can occur without volume migration or reconstruction. Single drives can contain multiple and divergent RAID technologies. Volume structure can also provide infrastructure for Snapshot copies.
RAID Support: RAID Levels 0, 1, 1+0 and 5 (striped sets, mirrored sets, striped mirrored sets, and parity sets) are supported, allowing different storage options.
Online Capacity Expansion and RAID Level Migration:: Volumes can be expanded and/or migrated to other RAID levels while online and with minimal impact on users. For example, a mirror volume of two drives can easily be converted to a parity volume of three or more drives while users continue to access this storage.
Micro Rebuilds: Provides protection against unresponsive SATA commands by forcing a response within a preset time limit.
An iSSCSI array can prove to be a valuable tool to supplement your network storage foundation. Whether providing a low- cost block-based solution for data backup and recovery, replacement of Direct-Attached Storage (DAS) drives, or providing a cost-effective entry-level nearline storage solution, the DSN-2100-10 xStack Storage Area Network (SAN) Array can meet your immediate needs.
Works With:

SureSync Continuous Data Protection & Replication Software for xStack Storage
DSN-210-SW

מאפיינים כללים
Drive Bays

Drive Interface Support

System Memory

| | |
| --- | --- |
| • | 256MB to 512MB (512MB standard) |

Cache Memory

| | |
| --- | --- |
| • | 256MB to 4GB (512MB standard) |

Battery Backup for Cache

| | |
| --- | --- |
| • | Standard (approximately 72 hours on full charge) |

Bandwidth

Storage Capacity

| | |
| --- | --- |
| • | 8TB capacity with 1TB hard drives (supports for higher capacity drives as they are introduced) |

Operating Systems Supported

| | |
| --- | --- |
| • | Windows® Vista® 32-bit & x64 (Ultimate & Enterprise) with Built-in iSCSI initiator |
| • | Windows Server 2003® 32-bit & x64 SP1 (Standard & Enterprise) with v2.04 iSCSI initiator |
| • | Windows Server 2003 R2 32-bit & x64 (Standard & Enterprise) with v2.04 iSCSI initiator |
| • | Windows XP Pro 32-bit & x64 with v2.04 iSCSI initiator |
| • | Windows 2000 Advanced Server with v1.6 & v2.01 iSCSI initiator |
| • | Fedora® Core® 6 & 7 |
| • | Red Hat® 7.3 |
| • | Red Hat 9 |
| • | Red Hat Enterprise® WS 3 update 4 |
| • | Red Hat Enterprise ES 4 update 4 & 5 32-bit & x64 |
| • | Red Hat Enterprise AS update 4 |
| • | SuSE® Professional 9.3 32-bit & x64 |
| • | OS® X (10.4.7 | 10.4.8 | 10.4.10)with Intel® and Power PC CPUs |

Supported NICs, iSCSI Accelerators and iSCSI HBAs

| | |
| --- | --- |
| • | Intel® Pro 1000MT & XT [1GbE] |
| • | Intel Pro 10000 CX4 [10GbE] |
| • | Chelsio® S210X-SR-XFP (S2iO) [10GbE] |
| • | Neterion® Xframe® II & Xframe E [10GbE] |
| • | Alacritech® SES2104ET (drivers: SNP 9.1.0.1092 & 7.3.1.0) |
| • | Alacritech SES2102ET (drivers: SNP 9.1.0.1092 & 7.3.1.0) |
| • | QLogic® 4010C |
| • | QLogic 4052C |

iSCSI Network Interface

iSCSI Network Interface

| | |
| --- | --- |
| • | Four (4) 1GbE Copper Ports |

Host Interface

| | |
| --- | --- |
| • | iSCSI Draft 20 compliant initiator |

Connections

CHAP Authentication

Access Control of Management

iSCSI/TCP/IP Full HW Offload

Jumbo Frames Support

LAG Support (Link Aggregation)

| | |
| --- | --- |
| • | Yes – Up to four (4) LAGs (IEEE802.3ad Link Aggregation Group) |

VLAN Support

| | |
| --- | --- |
| • | Up to eight (8). 1-to-1 mapping between IP subnet and VLAN. Multiple VLANs per physical port with VLAN tag. All physical ports in LAG belong to same VLAN (IEEE802.1Q Tag) |

Volume & RAID Support

RAID Controller

| | |
| --- | --- |
| • | Single- Integrated in ASIC |

RAID Support

| | |
| --- | --- |
| • | RAID Levels 0, 1, 1+0 and 5 |

Volumes

| | |
| --- | --- |
| • | 1,024 Virtual Volumes (256 accessible per initiator) |

Target Nodes

Online Capacity Expansion

Hot Swappable Drives

Instant Volume Access

Free Space Defragmentation

Auto-Detection Failed Drive

Auto-Rebuild Spare Drive

RAID Level Migration

Drive Roaming in Power Off
(configured drives are not bay-specific)

Micro Rebuilds

Storage Management

Embedded IP-Based Management GUI

| | |
| --- | --- |
| • | Create, manage, expand and monitor storage pool, volumes and RAID |
| • | Event manager to view and persist events |

Firmware Field Upgradeable

SMI-S Version 1.1

Power

Supply Type

Input Voltage

Input Frequency

Input Current

•

8A Maximum at 100VAC and 4A Maximum at 240VAC
(maximum amps vs. voltage varies linearly throughout this voltage range)

Power Factor Correction

Power Consumption

| | |
| --- | --- |
| • | 360W (full configuration) |

Thermal

| | |
| --- | --- |
| • | 1260 BTU / hour (full configuration) |

Environmental

Operating Temperature

| | |
| --- | --- |
| • | 32° to 104°F (0° to 40°C) |

Storage Temperature

| | |
| --- | --- |
| • | -4° to 158°F (-20° to 70°C) |

Operating Humidity

| | |
| --- | --- |
| • | 20% ~ 90% (Non-condensing) |

Storage Humidity

| | |
| --- | --- |
| • | 10% ~ 95% (Non-condensing) |

Physical (approximate)

Form Factor

| | |
| --- | --- |
| • | 2U industry-standard 19-inch rack |

Dimesnsions (D x W x H)

•

25in x 17.25in x 3.5in (63.5cm x 43.8cm x 8.9cm)
18.75in (47.6cm) wide at the mounting brackets

Weight

| | |
| --- | --- |
| • | 45 lbs / 20.4 Kg (full configuration) |

International Approvals

Emissions

| | |
| --- | --- |
| • | CE Class A, FCC Class A, C-Tick Class A, VCCI Class A |

Safety

| | |
| --- | --- |
| • | CSA 60950-1, UL60950-1, IEC 60950-1, EN 60950-1 |

Warranty and Support

Warranty

| | |
| --- | --- |
| • | 2-Year Limited* (manufacturer's warranty on hard drives) |

Extended Warranty

Support

| | |
| --- | --- |
| • | 1 year, 9 hours per day / 5 days per week Technical Support |

Available Configurations

DSN-2100-10

| | |
| --- | --- |
| • | xStack 4x1GbE iSCSI SAN Array, 8 Bays, 2U, w/o Drives, with Trays |
נתונים פיזיים