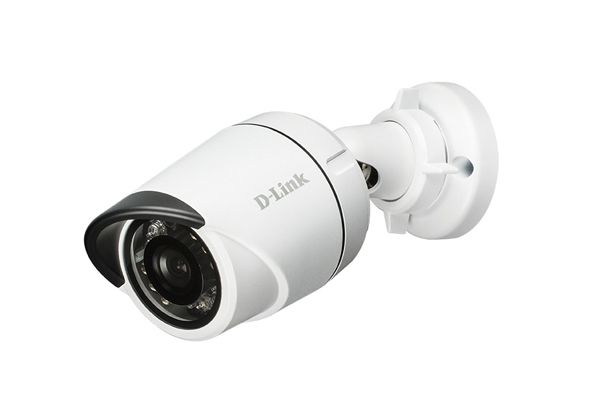 DCS-4701E/UPA
מצלמת מעקב רשת בצורת כיפה באיכות Full HD עם תמיכה ב PoE ו WDR ו LowLight
היכן לקנות
תאור
External network HD-camera with WDR, PoE, LowLights and night shooting D-Link DCS-4701E / UPA is an ideal solution for creating a system of professional HD Surveillance and security for small, medium, large enterprises and public places such as railway stations and airports. High-sensitivity 1.3-megapixel CMOS-sensor with progressive scan provides excellent image quality in different lighting conditions. The compact design of "all in one" makes the camera an ideal solution for reliable installation and requires no additional accessories.

Technology LowLight +
Equipped with high-sensitivity CMOS-sensor, Camera DCS-4701E / UPA provides superior quality shooting in low light allowing you to obtain a color image. Noise reduction function has been updated and expanded to ensure a high level of image detail.

Continuous monitoring
Built-in infrared light turns on automatically depending on lighting conditions, allowing the camera to record videos even in low light or darkness. In conjunction with the ICR-filter, this feature allows the camera to provide a clear black-and-white image in low light conditions. Equipped with a powerful integrated circuit, the camera provides video compression in real-time H.264 and MJPEG. All this makes the DCS-4701E / UPA ideal for day and night surveillance.

Easy connection
Camera DCS-4701E / UPA is equipped with built-in PoE standard 802.3af, simplifies installation by providing power and a network connection on one Ethernet-cable and thus eliminates the need for drilling holes and laying additional power cables.

Reliable management software
Supplied with the camera DCS-4701E / UPA includes software D-ViewCam - complete package software for video, allowing you to view the image, manage and record up to 32 cameras on a single computer. Video recording and email alerts can be triggered by motion detection, informing administrators of unusual activity.
מאפיינים כללים
Interfaces
• Port 10 / 100BASE-TX support with PoE (802.3af Class 2)

Indicators
• Network / Power

Buttons
• Reset button

Power connector
• Power connector (DC)

Housing
• Weatherproof housing (standard IP-66)
• Brackets for cables

Main characteristics
• 1/3-inch 1.3-megapixel CMOS-sensor with progressive scan
• Focal length: 2.8 mm
• Aperture: F2.0
• Viewing angles:
• 96 ° (horizontal)
• 54 ° (vertical)
• 108 ° (diagonal)
• 10x digital zoom
• Minimum illumination:
• Color mode: 0.2 lux
• B / W operation: 0.1 lux
• B / W mode with IR illumination: 0 Lux
• Minimum Object Distance: 0.2 m
• Built-in ICR-filter
• The distance of IR illumination: 30 m
• Waiting time: from 1/8 to 1/10000 with

Features Image
• Adjust image size and quality, frame rate and data rate
• Time stamp and text insertion
• Customizable windows for motion detection
• Customizable privacy zones masks
• Setting the shutter speed, brightness, color saturation, contrast and sharpness
• WDR
• 3D-Filter

Video Compression
• Video compression format H.264 / MJPEG
• H.264 multicast broadcasting
• Compression in JPEG format for still pictures

Video Resolution
• 16: 9 - 1280 x 720, 800 x 448, 640 x 360, 480 x 272 320 x 176 30 frames / sec
• 4: 3 - of 960 x 720 to 800 x 592, 640 x 480, 480 x 352 320 x 240 30 frames / sec

Network Protocols
• IPv6
• IPv4
• TCP / IP
• UDP
• ICMP
• DHCP-Client
• NTP-client (D-Link)
• DNS-client
• DDNS-client (D-Link)
• SMTP-client
• FTP-client
• HTTP / HTTPS
• Samba-client
• PPPoE
• UPnP port forwarding
• RTP / RTSP / RTCP
• IP-address filtering
• QoS
• CoS
• Multicast
• SNMP
• ONVIF

Security
• Protection of the Administrator account and user groups
• Password authentication
• HTTP authentication and RTSP

Event management
• Motion detection
• Event notification and upload still images / video clips via e-mail or FTP
• Support for multiple SMTP servers and FTP
• Multiple event notifications
• Multiple recording methods for backup

Remote control
• Creating still pictures / videos and save to your local hard drive
• Interface settings available through the Web-browser

Additional software D-ViewCam ™
• Remote management / control of up to 32 cameras
• Viewing images on a single screen: Up to 32 cameras
• Supports all management functions available through the Web-based interface
• Record Options for triggering the sensor, scheduled or manually

System requirements for Web-based interface
• Operating System: Microsoft Windows 8/7, Mac OS X 10.7 or higher
• Web-browser: Internet Explorer, Firefox, Safari

System requirements for D-ViewCam ™
• Operating System: Microsoft Windows 8/7
• Web-Browser: Internet Explorer 7 or higher
• Protocol: Standard TCP / IP
נתונים פיזיים
Weight
• 445g ± 5%

Sizes
• 98,1 x65 x65 mm

Power
• The power adapter (not supplied)
• Output: 12V DC 1.5A
• The power cable for Ethernet (PoE) 802.3af (Class 2)

Power consumption
• Max. 4,7Vt ± 5%

Temperature
• Working: -40 ° to 50 ° C
• Storage: -20 ° to 70 ° C

Humidity
• Operating: 20% to 80% (non-condensing)
• Storage: 5% to 95% (non-condensing)

Contents of delivery
• Network Camera DCS-4701E / UPA
• Waterproof connector cable
• CD
• Quick Installation Guide
• Mounting Kit

Certifications
• CE
• CE LVD
• FCC
• C-Tick