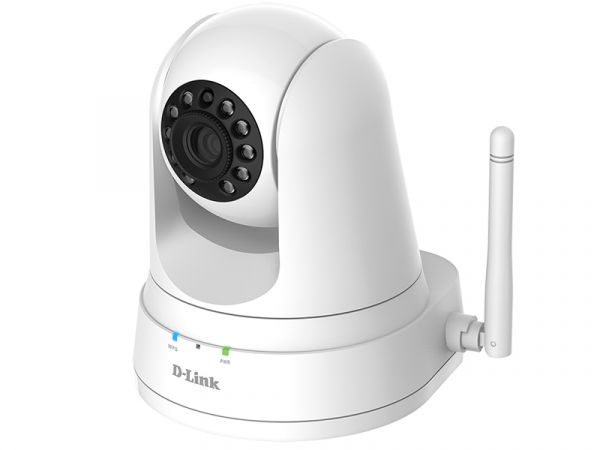 DCS-5030L
EOL
מצלמת מעקב אלחוטית בתקן N עם מנוע PTZ עם צילות לילי באיכות HD ומגביר טווח מובנה
היכן לקנות
תאור
The DCS-5030L HD Pan & Tilt Wi-Fi Day/Night Camera provides a range of features to help you e ectively monitor large areas of your home or small o ce at all hours of the day. The pan/tilt function allows the camera to patrol a wide area, while the built-in IR LEDs provide around the clock surveillance regardless of the lighting conditions. Extra details are captures in 720p high- de nition resolution and H.264 compression saves space without sacri cing performance. Wireless connectivity means there is no need for additional cabling and Micro-USB input lets you power the device using universal cables and power adapters, making setup quick and hassle-free.

Peace of Mind with 24/7 Monitoring of any Environment
The DCS-5030L is a standalone surveillance camera that requires no special hardware or software, and can run independently even without a PC. Send e-mail noti cations with snapshots or video clips whenever motion or sound is detected using just the DCS-5030L and an Internet connection. You can select areas of the video image to monitor for motion, allowing you to e ectively monitor areas such as entryways. You can also set volume thresholds to determine the sound level required to trigger a noti cation, great for detecting the sound of an intruder or vehicle, or the cry of a baby. Night time monitoring is also possible thanks to built-in infrared LEDs which allow for night time viewing of up to 5 meters, enabling round-the- clock monitoring of your home or small office.

Instant Access Anywhere with mydlinkTM Lite
Enhanced with the mydlinkTM Lite app, the DCS-5030L makes it easier and more convenient for you to keep an eye on your family, home or o ce, no matter where you are . You can view your camera's live video through the mydlink website, and also through an optional downloadable mydlink Lite app for your iPhone, iPad, or Android mobile device. With the mydlink Lite app, you can quickly and easily view your camera feed from anywhere using a Wi-Fi or 3G/4G connection, give you peace of mind, anywhere, anytime.

Sharp Image Monitoring from Di erent Angles
By providing you with sharp, responsive pan/tilt movement and digital zoom, the HD Pan & Tilt Wi-Fi Day/Night Camera gives you full control. You can quickly scan a wide area from a variety of angles, and 4x digital zoom lets you zoom in on speci c areas for more detail. The DCS-5030L can also be set to move to speci c preset positions, allowing the camera to focus on particular areas of interest within the surveillance area.

Increased Range with Wireless N Technology
Place the DCS-5030L anywhere in your home or small o ce thanks to the latest Wireless N technology. With 802.11n, you can free yourself from the hassle of running cables to a far location, so you can e ortlessly extend the range where your camera will be installed and start taking advantage of the increased data transfer speeds provided by Wireless N.
מאפיינים כללים
Interfaces
• Port 10 / 100Base-TX
• MicroSD card slot

Indicators
• Power / Connection
• WPS

Button
• Reset Button
• WPS button

Power connector
• microUSB connector for power supply (DC)

Main characteristics
• 1/4-inch megapixel CMOS-sensor with progressive scan technology
• Focal length: 2.38 mm
• Aperture: F2.2
• Viewing angle:
- 94,36 ° (horizontal)
- 59,3 ° (vertical)
- 110,44 ° (diagonal)

• 4x digital zoom
• Minimum illumination:
- Color Mode: 1 suite
- Black and white mode: 0.5 lux
- Black-and-white mode with infrared illumination: 0 Lux

• Built-in ICR-filter
• Distance infrared light: 5 m
• Built-in microphone
• Rotation angle from -170 ° to + 170 ° (total 340º)
• Tilt angle: -20 ° to + 90 ° (total 110º)
• Rotation speed 16 ° per second
• Setting step:
- Rotate: 1 ° / 2 ° / 3 ° / 4 ° / 5 ° (default) / 10 ° / 15 ° / 20 ° / 25 ° / 30 ° per-click
- Tilt: 1 ° / 2 ° / 3 ° / 4 ° / 5 ° (default) / 10 ° / 15 ° / 20 ° / 25 ° / 30 ° per-click

Image
• Setting the image size and quality
• Time stamp and text insertion
• Customizable windows for motion detection
• Flip and mirror image
• Pre / post-record
• 3A Control:
- AGC (Auto Gain Control) (Automatic Gain Control)
- AWB (Auto White Balance) (automatic white balance adjustment)
- AES (Auto Electronic Shutter) (Automatic Electronic Shutter)

Video Compression
• Compression of video in H.264 / MJPEG format
• Compression in JPEG format for still pictures

Video Resolution
• 1280 x 720 (default), 640 x 480, 320 x 240 and 30 frames / s

Audio
• G.711 μ-law

Network protocols
• IPv4
• ARP
• TCP
• UDP
• ICMP
• DHCP-Client
• NTP-client (D-Link)
• DNS-client
• DDNS-client (D-Link)
• SMTP-client
• FTP-client
• HTTP-server
• PPPoE
• UPnP port forwarding
• LLTD

Security
• WPS
• Password authentication
• HTTP Authentication

Wireless module
• 802.11b / g / n
• encryption protocols WPA-PSK / WPA2
• Wireless connection speed of up to 72.2 Mbit / s (1T1R, 20 MHz bandwidth)

Event management
• Event notification and downloading still images / video clips via e-mail or FTP
• Motion Detection
• Detection of sound

Remote control
• Interface settings available through the Web-browser

Mobile device management
• Applications mydlink Lite and mydlink + for mobile devices with iOS and Android

Additional software D-ViewCam
• Remote management / control: up to 32 cameras
• Viewing images on a single screen: Up to 32 cameras
• Supports all management functions available through the Web-based interface
• Recording Options for triggering the sensor, scheduled or manually

System requirements for Web-based
• Operating System: Microsoft Windows Vista / 7/8/101, Mac OS X 10.7
• Web-Browser: Internet Explorer 8, Firefox 12, Safari 6, Chrome 202 (only the mydlink portal) or higher with Java installed and enabled controls and / or ActiveX

System requirements for D-ViewCam ™
• Operating System: Microsoft Windows XP / Vista / 7/8/10
• Web-Browser: Internet Explorer 8 or higher
• Protocol: Standard TCP / IP
נתונים פיזיים
Weigth
• Device: 292.4 g
• Stand: 60.8 g

Dimensions
• 116,4 x 109,1 x 133,6 mm (camera only)
• 116,4 x 109,1 x 230 mm (including mounting bracket)

Power
• Power adapter
- Output: 5V DC 1.5A

Power consumption
• 5.56 W

Temperature
• Operating: 0 ° to 40 ° C
• Storage: -25 ° to 70 ° C

Humidity
• Operating: 20% to 80% non-condensing
• Storage: 5% to 90% non-condensing

Contents of delivery
• Network Camera DCS-5030L
• Power adapter
• Ethernet-Cable
• A set of rubber feet (4 pcs.)
• Mounting kit
• Quick Installation Guide
• Warranty Card

Security
• CE
• CE LVD
• FCC Class B
• ICES