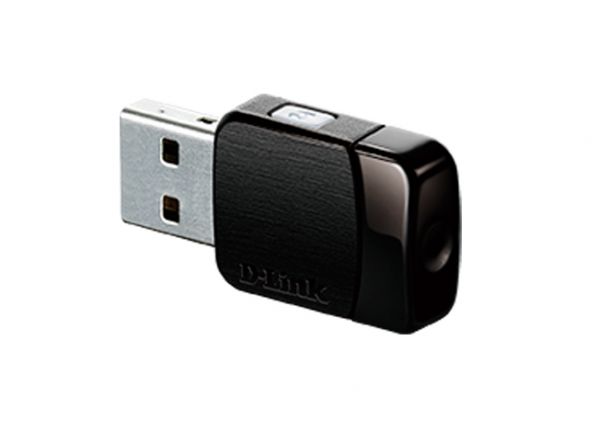 DWA-171
EOL
מתאם אלחוטי USB בתקן אלחוטי AC600
היכן לקנות
תאור
Wireless USB-Adapter DWA-171 standard 802.11ac provides enhanced data rate wireless network. Simply insert the adapter into a free USB-port and connect to a secure wireless network with Internet access. Once connected to the network via an adapter DWA-171, you can view web-pages, and chat with friends online. Dual-band adapter supports 2.4 GHz (150 Mbit/s1) or 5 GHz (up to 433 Mbit/s1). Furthermore, the ability of 5 GHz to reduce interference from outside Wi-Fi networks, bandwidth, and hence increase the speed of data streaming, gaming and VoIP-telephony.
 
802.11ac standard
802.11ac - a new wireless standard that provides a high data rate in the 5 GHz band. Because of this, guaranteed no distortions or delays when transferring HD-video streaming, video calling, VoIP-telephony work or play. 802.11ac standard provides data transmission without delay and at a high speed.
 
Compatible with all wireless devices
Adapter DWA-171 supports the latest standard 802.11ac, which provides backward compatibility with all existing wireless devices. Therefore, there is no need to replace the old or the use of additional devices. Simply plug the DWA-171 and go to the Internet, it saves you time and money.
 
Bandwidth without interference
The use of technology in dual band adapter DWA-171 provides interference-free bandwidth. Check your mail and visit Web-sites can be in the 2.4 GHz band, and play online games, make Internet phone calls, and view streaming HD-video - in this interference-free 5 GHz band.
 
Easy setup with one click
Wireless Protected Setup (WPS) allows you to quickly and easily establish a secure connection to the wireless network. The latest encryption technology ensures the safety of data transferred in the network and prevents unauthorized access to them. To connect the touch of a button.
 
Compact and easy to install Size
Compact USB-Adapter DWA-171 is an ideal solution for high-speed connectivity wherever you are: at home, for a desktop computer, or on the go with a laptop. Due to the compact size of the adapter can be stored in a pocket or left connected to the notebook.
 
1 Maximum wireless signal rate derived from standard specifications draft IEEE 802.11ac and 802.11n. Company D-Link does not guarantee compatibility with any future standards or draft 802.11ac compatibility with devices from other manufacturers. The data rate may differ significantly from the speed of wireless connections. The conditions under which the network operates, as well as environmental factors, including volume of network traffic, building materials and construction, and network overhead, lower actual throughput. On the range of a wireless network can be affected by environmental factors. Wireless transmission speeds up to 867 Mbit / s is achieved when connecting to other 802.11ac devices. Data rate may also be limited by interface devices (less than 480 Mbit / s interface USB 2.0). Your computer must meet the recommended system requirements for Microsoft.
מאפיינים כללים
Interfaces
• USB 2.0
• The status indicator
• WPS Button
 
Safety
• Wi-Fi Protected Access (WPA ™ and WPA2 ™)
• Wi-Fi Protected Setup - PIN and PBC
 
Standards
• IEEE 802.11ac (draft)
• IEEE 802.11n
• IEEE 802.11g
• EEE 802.11b
• EEE 802.11a
 
Antenna Type
• flush antenna
Output power of the transmitter
• IEEE 802.11a:
   18 dBm at 6 Mbit / s
   15 dBm at 54 Mbit / s
• IEEE 802.11b:
   19 dBm at 1 Mbit / s
   17 dBm at 11 Mbit / s
• IEEE 802.11g:
   18 dBm at 6 Mbit / s
   15 dBm at 54 Mbit / s
• IEEE 802.11n:
• IEEE 802.11ac: 9 dBm/HT-80
 
Receiver sensitivity
• IEEE 802.11a:
   -65 DBm at 54 Mbit / s
   -66 DBm at 48 Mbit / s
   -70 DBm at 36 Mbit / s
   -74 DBm at 24 Mbit / s
   -77 DBm at 18 Mbit / s
   -79 DBm at 12 Mbit / s
   -81 DBm at 9 Mbits / s
   -82 DBm at 6 Mbit / s
• IEEE 802.11b:
   -82 DBm at 11 Mbit / s
   -85 DBm at 5.5 Mbit / s
   -87 DBm at 2 Mbit / s
   -87 DBm at 1 Mbit / s
• IEEE 802.11g:
   -65 DBm at 54 Mbit / s
   -66 DBm at 48 Mbit / s
   -70 DBm at 36 Mbit / s
   -74 DBm at 24 Mbit / s
   -77 DBm at 18 Mbit / s
   -79 DBm at 12 Mbit / s
   -81 DBm at 9 Mbits / s
   -82 DBm at 6 Mbit / s
• IEEE 802.11n:
• IEEE 802.11ac:
 
Requirements
• Operating System: Windows 8/7/Vista/XP SP3
• Compatible browsers: Internet Explorer ® v7 or higher, Mozilla ® Firefox ® v3.0 or higher
• Interface: USB-Port
נתונים פיזיים
Measurements
• 24.8 x 18.8 x 8 mm
 
Weight
• 3.9 g
 
Nutrition
• Operating Voltage: 5.0 VDC ± 10%
• Power consumption: 1.1 mW
 
Temperature
• Operating: 0 ° to 40 ° C
• Storage: -20 ° to 75 ° C
 
Humidity
• Operating: 10% to 90% (non-condensing)
• Storage: 5% to 95% (non-condensing)
 
Certifications
• FCC
• IC
• CE
• C-Tick
• Wi-Fi
• Wi-Fi Protected Setup