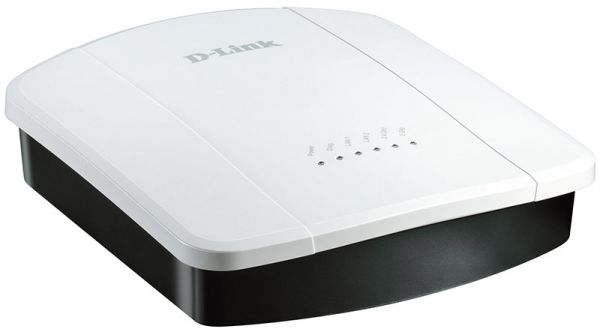 DWL-8610AP/A1A
EOL
נקודת גישה אוניברסלית אלחוטית בתקן 802.11AC עד 1750Mbps, עם שני פורטים במהירות ג'יגהביט ותמיכה ב PoE
היכן לקנות
תאור
The DWL-8610AP is D-Link's next generation Unified Wireless Access Point. Intended for the small/medium enterprise market, the DWL-8610AP provides unparalleled bandwidth and flexibility for administrators looking to deploy a medium/large scale Wi-Fi network. Featuring the latest 802.11ac technology on its 5GHz band, the DWL-86100AP brings you to the forefront in cutting edge wireless technology.
 
Greater Reach and Flexibility
The DWL-8610AP provides unparalled connectivity by using 3x3 implementation, allowing for over 1 Gbps of throughput over the air. Beamforming technology enables the DWL-8610AP to have even greater reach than its predecessor, the DWL-86100, thereby allowing even more flexibility in any deployment scenario. Based on 3x3 802.11n technology, the DWL-8610AP provides the highest possible level of performance in the 2.4GHz band.
 
Centrally Manage your Wireless Network
When working in conjunction with D-Link Unified Switch/Controllers, the DWL-8610AP, like other UAPs in the product line, may be centrally managed. This allows a large number of APs to be deployed and managed easily and efficiently. Once the APs are discovered by the switch/controller, the administrator can push specific set of configurations onto them, rather than having to do so one by one. In addition, RF resource management and security are also managed centrally, thus allowing the administrator to pre-emptively identify potential deficiencies and weaknesses in the network.
 
Self-Configuring Cluster
For small businesses that need to deploy multiple APs but lack the resources to tackle the complicated task of network management, the DWL-8610AP's self-configuring cluster feature offers the ideal solution. When a small number of DWL-8610APs are deployed on the network, they may be configured to form a self-configuring cluster. Once the administrator configures one access point, the same configuration can then be applied to all remaining APs. Up to 16 APs may be used to form a cluster, making setting up your business wireless network a breeze.
 
Upgraded for Superior Performance
The DWL-8610A features a more powerful CPU, giving it a performance boost over its predecessor. The high gain internal omni-directional antenna increases its reach, eliminating dead spots and filling hard to reach places. Bandsteering technology enables the AP to balance the load between its two radios, rather than having all users crowd into the 2.4GHz band allowing for smooth streaming of video, instant SMS and emails and fast downloads on mobile devices.
 
Automatic RF Management Saves Power and Money
When a number of access points are deployed close to each other, interference may result if proper RF management isn't implemented. When a DWL-8610AP senses a neighbor nearby, it will automatically select a non-interfering channel. This greatly reduces RF interference and will allow the administrator to deploy APs more densely. To further minimize interference, when a nearby AP is operating on the same channel, the DWL-8610AP will automatically lower its transmission power.** When, for whatever reason, thenearby AP is no longer present, the DWL-8610AP will increase its transmission power to expand coverage.
 
Quality of Service for Increased Connectivity
The DWL-8610A supports 802.1p Quality of Service (QoS) for enhanced throughput and better performance of time-sensitive traffic like VoIP and streaming DSCP. The DWL-8610AP is WMM-certified, so in the event of network congestion, time-sensitive traffic can be given priority ahead of other traffic. Furthermore, when a number of DWL-8610APs are in close proximity with each other, an access point will refuse new association requests once its resources are fully utilized. Instead, the association request will be picked up by a neighboring unit. This feature ensures that no single AP is overburdened while others nearby sit idle.
 
מאפיינים כללים
Wi-Fi Interface
• 802.11b/g/n 2.4 GHz Power Jack
• Factory Reset Button
• 1 RJ45 console port
• 802.11ac 5 GHz
• 1 power switch
 
LAN Interface
• 2 x auto-sensing 10/100/1000M Base-T
 
Antenna
• Internal omni-directional antennas
• 6.5 dBi for 5 GHz, 5 dBi or 2.4 GHz
 
Power Method
• Powered by PoE or 12 V / 1 A
 
Wireless Frequency
• 802.11b/g/n: 2.4 GHz - 2.4835 GHz
• 802.11a/n/ac: 5.15 GHz - 5.35 GHz, 5.65 GHz - 5.85 GHz
 
Data Transfer Rate
• 802.11n: 6.5 Mbp s-450 Mbps
• 802.11b: 11, 5.5, 2, and 1 Mbps
• 802.11g: 54, 48, 36, 24, 12, 9, and 6 Mbps
• 802.11ac: 6.5 Mbps - 1300 Mbps
 
Operation Channel
• 2.4 GHz:
• 5 GHz
• 11 channels for United States
• 13 channels for Europe
• 13 channels for Japan
 
Web-based User Interface
• HTTP / HTTPS
 
Command Line
• RJ45 Serial Console
• Telnet / SSH
• SNMP
 
SSID Security
• 16 SSID
• 802.1Q VLAN
• Station Isolation
 
Wireless Security
• WPA Personal / Enterprise
• PSK and TKIP
 
Detection & Prevention
• Rogue and Valid AP Classification
 
Authentication
• MAC Address Filtering
נתונים פיזיים
 Dimensions
• 198 x 171 x 40 mm
 
Weight
• 240 grams
 
Power Adapter
• Input: 100 to 240 V AC
• Output: 12 V DC, 1 A
 
Power over Ethernet
• 10/100/1000 Mbps PoE (802.3at) input
 
Enclosure
• Bottom cover – metal
• Top cover – plastic
• UL2043 certified
 
Temperature
• Operating: 0° to 40°C
• Non-operating: -20° to 65°C
 
Humidity
• Operating: 10% to 90% non-condensing
 
Certifications
• CE
• FCC
• IC
• cUL
• LVD
• UL2043 (for plenum-rated SKU only)
• C-Tick
• VCCI
• NCC
• Wi-Fi
• TELEC