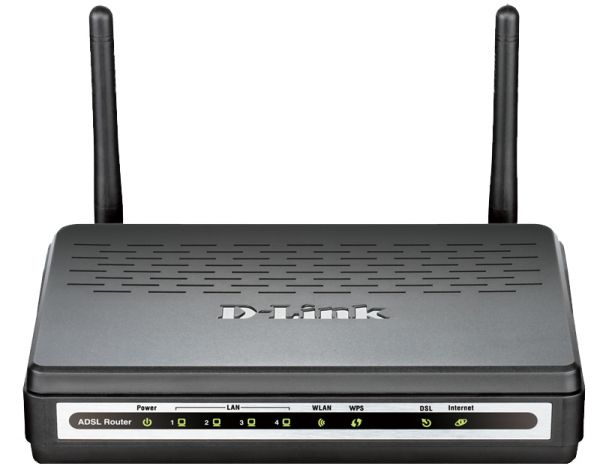 DSL-2740U
EOL EOS
מודם-נתב +ADSL/ADSL2/ADSL2 אלחוטי בתקן 802.11N בעל 4 יציאת רשת ועם תמיכה ב-QOS
היכן לקנות
תאור
DSL-2740U/NRU - is an affordable high performance ADSL/Ethernet-router for a small office and home networks. It allows you to quickly and easily get access to broadband Internet technology as ADSL, and Ethernet, and organize the sharing of a communication channel among multiple users.

DSL-2740U/NRU implements all necessary functions for a secure, high-speed wireless and wired networks: support for standards ADSL/ADSL2/ADSL2 +, support for Fast Ethernet standard , built-in firewall mechanism to ensure data quality (QoS), as well as many additional features .

The router is equipped with ADSL-port for connecting to the ADSL-line and 4 Ethernet-ports for connecting workstations. With this DSL-2740U/NRU is an economical solution to create a wired network and eliminates the need to install a separate switch. In addition, any Ethernet-port devices can be used to connect to a dedicated Ethernet-line.

DSL-2740U/NRU can serve as a base station to connect to a wireless network devices that run on standard 802.11b, 802.11g and 802.11n *. The Router provides many functions for the wireless interface. The device supports several security standards (WEP, WPA/WPA2), filter plug-in device MAC-address, and allows the use of technology to WPS. Wireless Router DSL-2740U/NRU provides firewall. Enhanced security features allow you to minimize the effects of hackers and prevent intrusion into your network and access to undesirable Web sites for users on your LAN. To manage and configure DSL-2740U/NRU used a simple and convenient built-in web-based interface.
* Maximum wireless speed is limited to 135 Mbps.
מאפיינים כללים
Interfaces
• ADSL: 1 port with RJ-11
• LAN: 4 ports 10/100BASE-TX Ethernet with RJ-45 connector with auto MDI / MDIX cross
• WLAN: built-in 802.11b/g/n wireless interface standard

Wireless Network
• Standard IEEE 802.11n *, compatible with current standard IEEE 802.11b / g
• Support for guest wireless network
• WEP-encryption
• WPA/WPA2 encryption technology with the mechanisms of TKIP, AES and TKIP + AES
• Access to a wireless network based on the MAC-address
• PIN and PBC methods WPS function
• Advanced Settings

ADSL standards
• ADSL: multi-mode, ANSI T1.413 Issue 2, ITU-T G.992.1 (G.dmt) Annex A, ITU-T G.992.2 (G.lite) Annex A, ITU-T G.994.1 (G . hs)
• ADSL2: ITU-T G.992.3 (G.dmt.bis) Annex A / L / M, ITU-T G.992.4 (G.lite.bis) Annex A
• ADSL2 +: ITU-T G.992.5 Annex A / L / M

Types of WAN-connection
• ADSL: PPPoA, PPPoE, IPoE, IPoA, Bridge
• Ethernet: Static IP, DHCP, PPPoE

ATM / PPP
• Encapsulation of Ethernet in bridge and router
• Multiplexing-based VC / LLC
• ATM Forum UNI3.1/4.0 PVC (up to 8 PVC)
• ATM Adaptation Layer Type 5 (AAL5)
• The principles and functions of OAM ITU-T I.610, including F4/F5 loopback
• ATM QoS
• PPP over ATM (RFC 2,364)
• PPP over Ethernet (PPPoE)
• Support for Keep-alive for PPP-protocol

Network Protocols and Features
• Static IP-routing
• The mechanism of NAT
• DHCP-server/klient/relay
• DNS relay
• Dynamic DNS (DDNS)
• UPnP
• VLAN support
• IGMP proxy

Firewall and Access Control
• NAT firewall
• Monitor status of network connections (SPI)
• Filtering by MAC-addresses from the time of day and day of the week
• URL-filter
• Packet filtering (IP / ICMP / TCP / UDP)
• Virtual Servers
• Prevent DoS-attacks
• Intrusion detection and logging
• Technology to protect DMZ
• Supports Port Triggering

QoS
• Grouping interfaces
• 3 priority queues

Configuring and Managing
• Web-based configuration and management in two languages ​​(Russian and English)
• Update the router's internal software via web-interface
• Save and load configuration
• Support for remote logging
• SNMP-agent
• Automatic synchronization of system time from NTP-server
נתונים פיזיים
Power
• No external power adapter
• The power switch is ON / OFF
• Switch wireless ON / OFF
• Reset button to restore factory default settings
• WPS Button