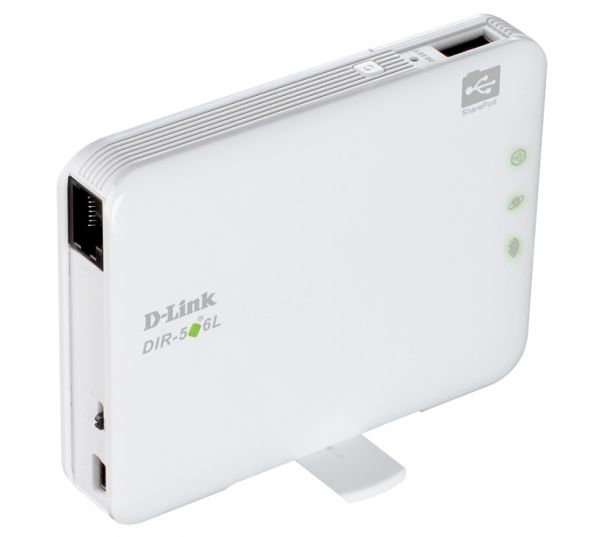 תאור
Portable Pocket Router Cloud DIR-506L provides shared access to an Internet connection and files. With its compact size, it combines the functionality of a router, access point, wireless repeater and network storage devices. DIR-506L is equipped with a rechargeable battery and optional power supply via mini-USB, and are, therefore, an excellent portable device.
 
Portability and versatility
DIR-506L is ideal for the user who is on the way, giving him the ability to easily connect and share files. The compact design allows the unit to fit in a pocket, and a rechargeable battery eliminates the need for an outlet for sharing an Internet connection or a network. DIR-506L can also be connected to the power USB port to recharge the battery. Rotating stand to use the device in an upright position, and tilted during transportation.
 
File sharing and streaming files
Connect the USB-storage device to a pocket router Cloud, to create a shared storage space for computers and devices connected to network.1 Connect the hard drive USB, to make streaming video and music libraries on a laptop computer, or use a USB flash drive to provide file sharing presentations to other members of the band. Thanks to the convenient Web-based, you can access, download and play files stored on the USB-drive and SharePort ™ Mobile application for mobile devices allows you to create backup copies of your photos and videos stored on the device. You can also perform custom configuration of the shared disk space by creating separate user accounts to control access to USB-drive. Thus, we can give all users access to music, but at the same time maintain their reach their personal.
 
Easy to install, easy to use
Installing Pocket Cloud router is easy. Just power it on, connect it wirelessly to a computer or mobile device and follow the steps built by the installer to configure the DIR-506L. Thus, you can easily install the router and use it immediately in any place and at any time.
 
Several modes of operation
Pocket Router Cloud supports several modes of operation that allows you to apply it to any situation. Router mode enables shared access to wireless high-speed Internet connection, simply plug the DIR-506L to your cable or DSL-modem to provide high-speed Internet access for a home or office. AP mode allows you to create a private wireless network, providing the ideal environment for sharing files during business meetings. Repeater mode increases the coverage area of ​​the wireless network, and to this end DIR-506L can be placed anywhere in the house. Mode Wi-Fi Hot Spot allows you to share the Internet connection from your wireless access point hotspot. With this mode, the device can Share the wireless connection in a hotel or cafe.
 
In addition, the repeater mode and Wi-Fi Hot Spot makes it possible to connect any device with Ethernet-port to a wireless network. Connect your Xbox 360 ® or the equipment with Smart TV to DIR-506L in order to enable them to connect to the wireless router at the same time increasing the coverage area of ​​your wireless home network.
מאפיינים כללים
Device Interfaces
• Wireless N150
• Port WAN / LAN 10/100 Mbit / s
• WPS button
• Reset Button
• USB 2.0 port
• mini-USB port
• Power switch
• Built-in battery
 
Indicators
• Status / WPS
• USB
• Ethernet
• Wi-Fi
 
Standards
• IEEE 802.11g / b, compatible with devices that support the 802.11n standard
• IEEE 802.3
• IEEE 802.3u
• USB 2.0
 
Modes of operation
• Router
• Access point
• Repeater mode
• The Wi-Fi Hot Spot
 
Frequency band
• From 2.4 GHz to 2.4835 GHz
 
Antennas
• Flush antenna
 
Battery
• Removable, rechargeable lithium-ion battery
 
Safety
• Wi-Fi Protected Access (WPA/WPA2)
• 64/128-bit WEP-encryption
• WPS (PBC / PIN)
 
Advanced features
• Support application SharePort ™ Mobile (iOS, Android)
• Support for SharePort ™ Web File Access
• DLNA Media Server
• Support for guest zony5
• Supports UPnP
• Wi-Fi WMM Quality of Service (QoS)
 
Advanced Firewall Features
• Network Address Translation (NAT)
• Stateful Packet Inspection (SPI)
• MAC-address filtering
• Filtering Web-sites
 
SharePort function
• Web-interface to access, download and play files stored on a USB-drive
• Customization of the shared space through the creation of individual accounts
• Sharing with guests to the music, but keeping their reach personal files
• SharePort Mobile app for iOS and Android
   - Play videos, music and photos
   - Document Preview
   - Backup media data to the device
 
Support for mobile applications
• SharePort Mobile
נתונים פיזיים
Measurements
• 102,9 x 79,8 x 22,3 mm
 
Weight
• 125 g
 
Temperature
• 0 to 40 C
 
Humidity
• From 0% to 90% (non-condensing)
 
Certificates
• CE
• Wi-Fi Certified
• FCC
• IC