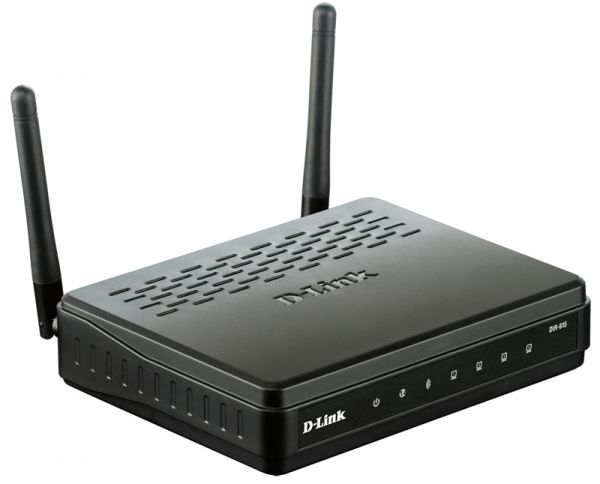 DIR-615/FB1/U1A
EOL EOS
נתב אלחוטי הכולל גם 4 יציאות רשת קוויות ויציאה אופטית, פועל בתקן 802.11n במהירות עד 300Mbps
היכן לקנות
תאור
4-port switch
Built-in 4-port switch allows you to connect computers equipped with Ethernet-adapters, game consoles and other devices to your network.
 
Wireless Interface
Using a wireless router DIR-615, you can quickly create a wireless network at home or in the office, which will allow your employees or members of your family to connect to your wireless network virtually anywhere (within range of a wireless network). The Router can serve as an access point to connect to the wireless network devices operating on the standards 802.11b, 802.11g and 802.11n (at speeds of up to 300 Mbit / s).
 
In the router supports multiple functions for the wireless interface. The device supports several security standards (WEP, WPA / WPA2), filtration devices to be connected to MAC-address, and allows you to use the WPS and WMM.
 
Security
Wireless Router DIR-615 is equipped with a built-in firewall. The advanced security functions minimize threats of hacker attacks, prevent unwanted intrusions into your network and access to unwanted websites for users of your LAN.
 
Easy setup and update
To set up a wireless router DIR-615 uses a simple and user-friendly web-interface (available in several languages). Now you can easily update the firmware - the router itself is a proven software version on the update server D-Link and notifies the user ready to install it.
מאפיינים כללים
WAN interface
• 1 SFP-port 10/100 Mbit / s to connect fiber optic cable
 
LAN interface
• 4-port 10 / 100BASE-TX Ethernet
 
WLAN interface
• IEEE 802.11n (up to 300 Mbit / s)
• IEEE 802.11b / g
Network functions
• Types of WAN-connection
   ◦ PPPoE
   ◦ Static IP
   ◦ Dynamic IP
   ◦ PPTP / L2TP
   ◦ PPTP / L2TP + Static IP
   ◦ PPTP / L2TP + Dynamic IP
• DHCP-server / client / relay
• DNS relay
• Skip VPN-tunnel (PPTP / L2TP)
• Dynamic DNS
• Static IP-routing
• Remote Access
• Network statistics for each interface
• IGMP Proxy
• UPnP
• VLAN support
• Flow control (flow control)
• Client TR-069
• Supports ping from the external network (WAN ping respond)
• Support for SIP
• Support for RTSP
 
Wireless connection
• Supported security standards
   ◦ WEP
   ◦ WPA / WPA2 Personal
   ◦ WPA / WPA2 Enterprise
• MAC-filter
• Management of connected devices
• PIN and PBC methods of WPS
• The WMM (Wi-Fi QoS)
• Advanced Settings
• Supports the "client"
 
Firewall Features
• Network Address Translation (NAT)
• Stateful Packet Inspection (SPI)
• IP-filters
• MAC-filter
• URL-filter
• DMZ-zone
• The protection ARP- and DDoS-attacks
• Virtual Servers
 
Configuration and Management
• Web-based interface for configuration and management of multiple languages
• Access via TELNET
• Update the firmware of the router through the web-interface
• Automatic notification when a new software version
• Saving and loading configuration
• Support for remote logging
• Automatic synchronization of system time with a NTP-server and manually configure the date and time
• The utility traceroute
נתונים פיזיים
Indicators
• Power
• Internet
• Wireless network
• 4 LAN indicator

Power
• Power supply: External power adapter DC 12V / 1A

Button
• RESET button to return to the factory default settings

Working temperature
• From 0 to 40 C

Storage temperature
• From -20 to 65 C.

Operating humidity
• From 10% to 90% non-condensing

Storage humidity
• From 5% to 95% non-condensing