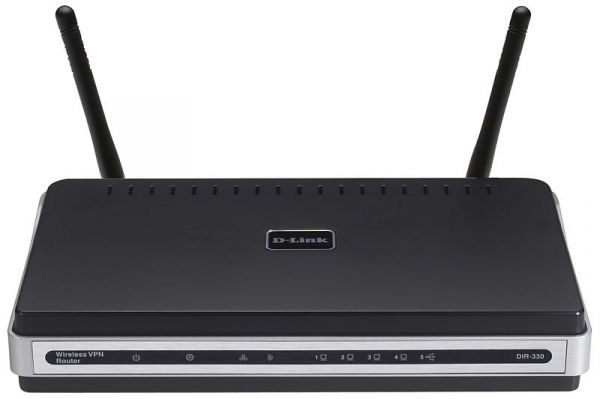 DIR-330
EOL EOS
נתב VPN בעל 4 יציאות רשת קווית ונקודת גישה אלחוטית הפועלת בתקן 802.11g
היכן לקנות
תאור
D-Link answers the need for a Wireless G VPN Router with the DIR-330. The DIR-330 is an easy-to-deploy wireless VPN router solution designed specifically for the Small Office/Home Office (SOHO) market that demands superior performance and security.

Watch episode on an overview of the DIR-130 & DIR-330 VPN Firewalls.
User Configurable Interface
The DIR-330 features an intuitive user interface that can easily be configured and monitored via the D-Link Web-based management utility. These configuration options can be managed through Administrator rights.
Advanced Hardware Features
The DIR-330 can be connected to a cable or DSL modem to share high-speed Internet access. It also provides a 4-port full-duplex 10/100 switch to connect up to four Ethernet-enabled devices. Simply add more switches to expand your wired network. This router also functions as a wireless 802.11g/802.11b access point to connect wireless devices onto your network. In addition, you can create a Virtual Private Network (VPN) with the DIR-330 and allow up to 25* off-site or traveling users to securely access your central network through the Internet at the same time.
VPN Performance
For optimal VPN configuration, the DIR-330 has an integrated VPN Client and Server to support almost any required VPN policy. This device has a hardware VPN engine to support and manage up to 25* VPN configurations. The DIR-330 can support IPSec, PPTP, and L2TP protocols, and can handle pass-through traffic as well. Advanced VPN configuration options include: DES/3DES/AES/Twofish/Blowfish encryption, IKE/ISAKMP key management, Main/Aggressive Negotiation modes, and VPN authentication support using the internal 150*-user database.
Enterprise-class Security
The DIR-330 can encrypt all wireless transmission using WPA™ or WPA2™ to protect your network. It also protects your network from online intruders and potential attacks with Dual Active Firewall protection using Network Address Translation (NAT) and Stateful Packet Inspection (SPI).
With small businesses becoming increasingly network- dependent, the need to invest in a reliable security solution is crucial. The D-Link NetDefend SOHO Wireless G VPN Router (DIR-330) offers high return on investment through robust security features, flexible configuration, and superb network protection for small offices and home networks.
מאפיינים כללים
Standards
• IEEE 802.3
• IEEE 802.11g
• IEEE 802.3u
• IEEE 802.11b

Ports
• 4-port LAN 10/100 Mbit / s
• 1 USB 1.1 port
• 1 WAN port

Mode firewall
• Mode 3 levels: the regime of the router, NAT mode
• Port Forwarding
• Network Address Translation (NAT)
• Port Address Translation (PAT)

WAN connection types
• Static IP
• Dynamic IP
• PPPoE
• L2TP
• PPTP
• DualAccess PPPoE
• DualAccess PPTP

Security
• The number of tunnels: 100 (IPSec, PPTP, L2TP)
• IPSec NAT-Traversal
• IPSec LAN-to-LAN / Roaming User
• IPsec Dead Peer Detection
• PPTP/L2TP server
• Encryption algorithms: DES
• IPSec/PPTP/L2TP Pass-through
• XAUTH/X.509 (Extended Authentication) for IPSec Authentication

Security Features Firewall
• Stateful Packet Inspection (SPI)
• Database of internal users (150 entries)
• Network Address Translation (NAT)

Network Services
• Static IP-addresses
• Dual Access PPTP / PPPoE
• PPPoE for xDSL
• Static Routing
• DHCP-client for the WAN-interface
• DNS Resolving of Remote Gateway
• Built-in DHCP-server
• Dynamic DNS

Managment
• Internet Explorer v6 or higher, Firefox 1.5 or higher

Indicators
• Power
• LAN
• Status
• WLAN
• WAN
• USB

Antenna
• Two removable external omnidirectional antenna with a gain of 2dBi

Frequency band
• 2400 - 2497 MHz

Wireless Speed ​​*
• 802.11b: 11, 5.5, 2 and 1 Mbit / s
• 802.11g: 54, 48, 36, 24, 18, 12, 9 and 6 Mbit / s

Transmitter output power
(A typical output power at room temperature)
802.11b
• 19 dBm (+ /-2dB) for 11, 5.5, 2 and 1 Mbit / s
802.11g
• 17 dBm (+ /-2dB) for 6 to 36 Mbit / s
• 16 dBm (+ /-2dB) for up to 48 Mbit / s
• 15 dBm (+ /-2dB) for 54 Mbit / s

Receiver Sensitivity
(Typical at PER <8% packet size of 1000 bytes, and room temperature)
802.11b
• -86dBm for 11Mbps @ 8% PER
• -87dBm for 5.5Mbps @ 8% PER
• -88dBm for 2Mbps @ 8% PER
• -90dBm for 1Mbps @ 8% PER
802.11g
• -84dBm for a 6 Mbit / s
• -82dBm for 9 Mbit / s
• -80dBm for 12 Mbit / s
• -78dBm for 18Mb / s
• -77dBm for 24 Mbit / s
• -74dBm for 36 Mbit / s
• -70dBm for 48 Mbit / s
• -68dBm for 54 Mbit / s

Certificates
• FCC Class B
• IC
נתונים פיזיים
Operating temperature
0 ° C to 40 ° C

Operating humidity
10 to 90% (no condensation)

Dimensions
116.8 (W) x 193 (D) x 30.5 (H) mm

Weight
904 g

* Data transfer rate can be significantly different from the speed of wireless connections. The conditions under which the network operates, as well as environmental factors, including volume of network traffic, building materials and construction, and network overhead, lower actual data throughput rate. On the range of your wireless network factors may adversely affect the environment.