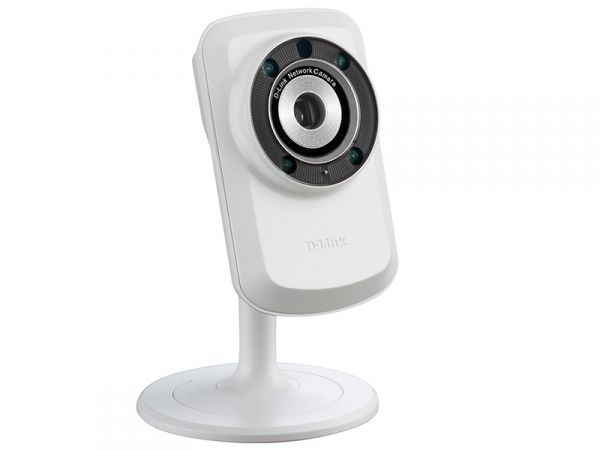 DCS-932L
EOL
Wireless N Day/Night Network Camera
Kur įsigyti
Aprašymas
The DCS-932L Wireless N Day/Night Network Camera is a complete surveillance solution for your home or small office. The built-in night vision gives you 24 hour surveillance complete with motion and sound detection. It's mydlink enabled too, so you can check on your camera anytime, anywhere from any PC, tablet, or mobile phone.
Peace Of Mind With 24/7 Monitoring Of Any Environment
The DCS-932L is a standalone surveillance camera that requires no special hardware or software, and can run independently even without a PC. Send e-mail notifications with snapshots whenever motion or sound is detected using just the DCS-932L and an Internet connection. You can customize areas of the video to monitor for motion to keep watch over entryways, and you can set volume limits to detect when a loud sound is picked up by the camera. Night time monitoring is possible with the built-in infrared LEDs which allow for night time viewing of up to 5 meters, enabling round-the-clock monitoring of a home or small office.
Instant Anywhere Access With mydlink Cloud Service
Enhanced with mydlink™ support, the DCS-932L makes it easier and more convenient for you to look after your family and home or office environment. With a mydlink service enabled camera, you can stay connected to everything you love from anywhere, anytime. Access your camera through the mydlink website or the mydlink mobile app that lets you view and manage your camera through your tablet or mobile phone, no matter where you are.
Create a Comprehensive Surveillance System
Included with the DCS-932L is the D-ViewCam software, which adds enhanced features and functionality that helps you create a full surveillance system. D-ViewCam enables centralized management of multiple network cameras, supporting up to 32 network cameras and up to 64 users. With a dedicated computer it offers digital monitoring and recording with a wide array of features, including scheduled, motion and manual recording options for individual needs.
Bendros charakteristikos
Camera
Camera Hardware Profile
• 1/5" VGA progressive CMOS sensor
• Fixed length 3.15 mm
• Aperture F2.8
• Angle of view
  • (H) 45.3°
  • (V) 34.5°
  • (D) 54.9°
• Exposure Time: 1/3.75 to 1/14,640 sec.
• 4X digital zoom
• Minimum object distance: 500 mm
• Built-in microphone
• 5 meter IR illumination distance
• Minimum illumination: 0 lux with IR LEDs on
• Built-in Infrared-Cut Removable (ICR) Filter module
Image Features
• Configurable image size, quality, and frame rate
• Time stamp and text overlays
• Configurable motion detection windows
• Configurable brightness, saturation, contrast
Video Compression
• MJPEG format compression
• JPEG for still images
Video Resolution
• 640 x 480 at 20 fps
• 320 x 240 / 160 x 112 at 30 fps
Audio
• PCM
Connectivity
• 10/100 BASE-TX Ethernet port
• 802.11n/b/g wireless with WEP/WPA/WPA2 encryption
• Operates over 2.4 GHz frequency band
• Single-band 1T1R mode supports a maximum data rate of 72.2 Mbps (PHY rate) using 20 MHz bandwidth
Network
Network Protocols
• IPv4
• ARP
• TCP
• UDP
• ICMP
• DHCP Client
• NTP Client (D-Link)
• DNS Client
• DDNS Client (D-Link)
• SMTP Client
• FTP Client
• HTTP Server
• PPPoE
• UPnP Port Forwarding
• LLTD
Security
• Password authentication
• HTTP digest encryption
System Integration
System Requirements for Web Interfaces
• Operating system: Microsoft Windows 8/7/Vista or Mac OS X 10.6 or higher
• Browser: Internet Explorer 7, Firefox 12, Safari 6, or Chrome 20 or higher with Java installed and enabled         
Event Management
• Motion detection
• Event notification and sending snapshots via SMTP
• Sound level detection           
Remote Management
• Configuration accessible via web browser       
Mobile support
• mydlink Lite app for iPhone/iPad/iPod touch, Android, and Windows Phone        
D-ViewCam™ System Requirements
• Operating System: Microsoft Windows 8/7/Vista/XP
• Web Browser: Internet Explorer 7 or higher        
D-ViewCam™ Software Functions
• Remote management/control of up to 32 cameras
• Scheduled motion triggered, or manual recording
• Viewing of up to 32 cameras on one screen options
• Supports all management functions provided in web interface
Dimensions
• Camera only: 60 x 32.15 x 96 mm (2.36 x 1.27 x 3.78 in)   
• With base: 80 x 80 x 126.6 mm (3.15 x 3.15 x 4.98 in.)
Weight
• Camera only: 57.8 grams (2.04 ounces) ± 5%
• With base: 91.8 grams (3.24 ounces) ± 5%
Power
• 5 V DC 1 A, 50/60 Hz   
Power Consumption
• 2.84 watts maximum ± 5%    
Temperature
• Operating: 0 to 40 °C (32 to 104 °F)
• Storage: -20 to 70˚ C (-4 to 158 ˚F)
Humidity
• Operating: 20% to 80% non-condensing
• Storage: 5% to 95% non-condensing
Certifications
• CE
• IC
• FCC Class B
• C-Tick
Dimensions Diagram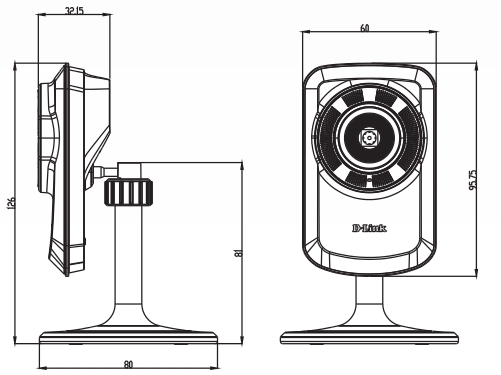 Fiziniai parametrai
Informacija užsakymui
DCS-932L
  Wireless N Day/Night Network Camera