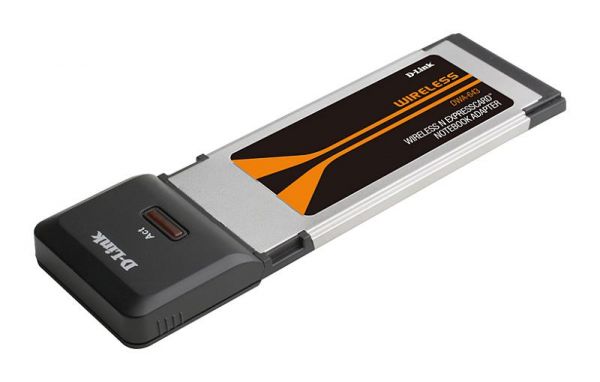 Apraksts
ULTIMATE PERFORMANCE
The D-Link Xtreme N Notebook ExpressCard DWA-643 is a draft 802.11n compliant wireless client for notebook PC with available ExpressCard slots. This wireless adapter delivers much faster speeds and many times farther range than 802.11g while staying backward compatible with 802.11g and 802.11b networks. Once connected, you can share a high-speed Internet connection, photos, fles, music, printers, and more. In addition, the ExpressCard interface provides much faster performance and better reliability than the legacy CardBus interface. Having an ExpressCard/34 form factor, the DWA-643 will ft into any standard ExpressCard slot.
GET CONNECTED, STAY CONNECTED
The Xtreme N Notebook ExpressCard is powered by Xtreme N technology to provide superior wireless performance in the home or offce. This adapter is designed for use in larger homes and offces, or for users running multiple bandwidth-intensive applications. This adapter enables you to simultaneously make or receive Internet phone calls (VoIP), surf the Web, transfer fles, and stream High-Defnition (HD) media when connected to a draft 802.11n router, such as the DIR-655 router. The DWA-643 ExpressCard supports WEP, WPA, and WPA2 encryption that allow you to connect securely to a wireless network.
EASY TO SET UP, EASY TO USE
D-Link's Quick Adapter Setup Wizard guides you step-by-step through the installation process. Confgure this notebook ExpressCard without having to call a networking expert to help you. The D-Link Wireless Manager is also included with this product to keep track of your most frequently accessed networks so that you can join them quickly and easily. With unmatched wireless performance, reception, and security, the DWA-643 D-Link Xtreme N Notebook ExpressCard is the best choice for easily adding or upgrading wireless connectivity to your ExpressCard-enabled notebook PC.
Īpašības
STANDARDS
+ IEEE 802.11n (draft)
+ IEEE 802.11g
+ IEEE 802.11b

HOST INTERFACE
ExpressCard/34
FREQUENCY RANGE
+ 2.412GHz to 2.462GHz (North America)
+ 2.412GHz to 2.472GHz (General Europe)
DATA RATES
+ 802.11g: 6/9/12/18/24/36/48/54Mbps
+ 802.11b: 1/2/5.5/11Mbps
+ 802.11n: 30/60/90/120/180/240/270/300Mbps

EMISSION SCHEMES
+ DSSS
+ OFDM
TRANSMIT OUTPUT POWER
17dBm (typical)
MINIMUM SYSTEM REQUIREMENTS
+ Computer with
    - Windows XP or Windows 2000
    - CD-ROM Drive
    - 20MB Hard Disk Space
    - ExpressCard Slot

SECURITY
+ 64-128-bit Wired Equivalent Privacy (WEP)
+ Wi-Fi Protected Access (WPA & WPA2)

LED
Act
OPERATING VOLTAGE
3.3 VDC +/- 10%
CURRENT CONSUMPTION
Max. 3.3W
DIMENSIONS
112 x 33.4 x 8 mm (4.41 x 1.31 x 0.31 inches)
OPERATING TEMPERATURE
0°C to 40°C (32°F to 104°F)
STORAGE TEMPERATURE
-20°C to 65°C (-4°F to 149°F)
OPERATING HUMIDITY
10% to 90% non-condensing
STORAGE HUMIDITY
5% to 95% non-condensing
CERTIFICATIONS
+ FCC Class B           + CE
+ IC                            + C-Tick

RECOMMENDED SYSTEM REQUIREMENTS
For Optimal Wireless Performance:
Use with Xtreme N Gigabit Router (DIR-655)
O.S. SUPPORT
Windows 2000, XP, Vista *
Fiziskie raksturlielumi
Informācija pasūtījumam
DWA-643 802.11 draft N Notebook ExpressCard adapter