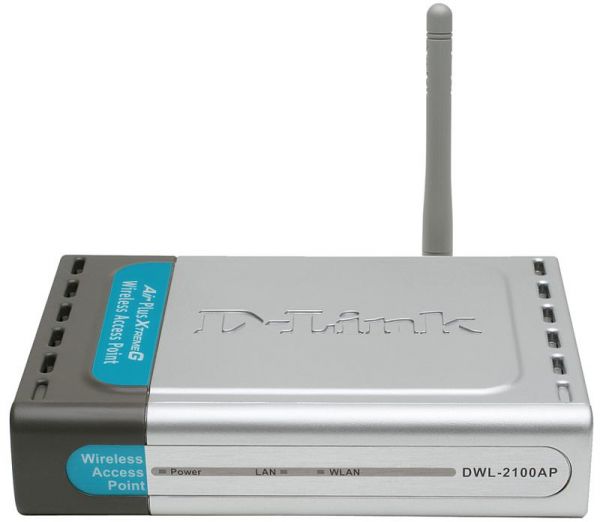 DWL-2100AP
EOL EOS
High Speed 2.4GHz (802.11g) Wireless 108Mbps Access Point
Kur iegādāties
Apraksts
The DWL-2100AP is a powerful wireless access point for business-class enterprise environments. Designed for indoor installation, this access point provides advanced functions including 108Mbps Turbo speed, security and Quality of Service (QoS) and flexible operation modes for network administrators to deploy a highly manageable and robust wireless network.
Up to 108Mbps Wireless Speed. Complying with the 802.11g WLAN standard, the DWL-2100AP provides speeds of up to 54Mbps when used with other 802.11g wireless products, and 108Mbps
when operating with other D-Link wireless devices supporting this Turbo mode. Delivering throughput capable of handling heavy data payloads, this device is an ideal solution for bandwidth intensive applications. It is backward compatible with 802.11b wireless devices and provides seamless interoperability with the earlier standard equipment.

Advanced Network Security.  The DWL-2100AP supports 64/128-bit WEP data encryption and WPA/WPA2 security functions. In addition, it provides MAC Address Filtering to control user access, and the Disable SSID Broadcast function to limit outsiders' access to the internal network.
Increased Network Flexibility and Efficiency.  The DWL-2100AP can be configured to operate as an access point (AP), an AP client, a bridge (Wireless Distribution System or WDS), a WDS with
AP, or a repeater . It supports up to 8 SSID, allowing the administrators  to logically divide the access point into several virtual access points all within a single hardware platform. Rather than having two separate networks with two access points, administrators can deploy one single AP to support more than one application, such as public Internet access and internal network control to increase flexibility and keep costs down. The DWL-2100AP supports 802.1Q VLAN T agging, operating with multiple SSID to segment traffic to enhance performance and security. For Quality of Service (QoS), the DWL-2100AP is WMM (Wi-Fi  Multimedia) certified.
The DWL-2100AP provides WLAN STA partitioning, a function useful for deployments like at hot spots. With station-to-station partitioning enabled, security is enhanced, since wireless users cannot peek at each other, and the possibility for data thievery is reduced. Administrators can, however, disable this function, so wireless users at an office can share hard disks and information, and peripherals such as wireless printers. The DWL-2100AP also supports AP grouping, allowing several access points to balance wireless network traffic and wireless clients among the AP with the same SSID and different non-overlapping frequency channels.

Advanced Network Management. Network administrators can manage DWL-2100AP's settings via web-based configuration or Telnet.  Administrators can use a Windows-based utility called AP Manager to automatically discover all wireless devices installed on the network and do bulk configuration of multiple AP to save time and effort. Strict protection is provided by limiting management access to two pre-set administrator IP addresses and by implementing SSL/SSH protocol-based security.
Īpašības
Standards
- IEEE 802.11b/g wireless LAN
- IEEE 802.3/u Ethernet

Network Data Transfer Rate
(With auto-fall back) *
For 802.11g:
- 108 (Turbo), 54, 48, 36, 24, 18, 12, 9 and 6Mbps
For 802.11b:
- 11, 5.5, 2, and 1Mbps

Media Access Control
CSMA/CA with ACK

Wireless Frequency Range
- 802.11b: 2400 to 2483.5MHz ISM band
- 802.11g: 2400 to 2483.5MHz ISM band

RF Modulation Schemes
- 802.11b: DQPSK, DBPSK and CCK
- 802.11g: BPSK, QPSK, 16QAM, 64QAM, OFDM

Receive Sensitivity (802.11b)
@ 8% PER (packet error rate)
- 11 Mbps: -83 dBm
- 2 Mbps: -89 dBm

Receive Sensitivity (802.11g)
Frame: 1000byte PDUs, @ 10% PER (packet error rate)
- 54 Mbps: -66 dBm
- 48 Mbps: -71 dBm
- 36 Mbps: -76 dBm
- 24 Mbps: -80 dBm
- 18 Mbps: -83 dBm
- 12 Mbps: -85 dBm
- 9 Mbps: -86 dBm
- 6 Mbps: -87 dBm

Transmit Output Power
16 dBm (typical)

Antenna
2dBi Gain detachable dipole antenna with reverse SMA connector
Operation Modes
- Access Point
- WDS With AP
- WDS (Bridge)
- AP Repeater
- AP Client

Security
- 64/128/152-bit WEP data encryption
- WPA-PSK, WP A2-PSK
- WPA-EAP , WPA2-EAP (AP mode only)
- TKIP , AES
- MAC address filtering
- WLAN STA partitioning
- 8 SSID for network segmentation
- SSID broadcast disable function
- 802.1Q VLAN Tagging

QoS & Performance Enhancement
- WMM (Wi-Fi Multimedia) certified
- AP grouping for load balance

Device Configuration/Management
- Web-based management: Internet Explorer v.6 or later; Netscape Navigator v.7 or later; or other
- Java-enabled browsers
- SNMP v.1, v .3
- MIB-I, MIB-II
- Telnet
- Windows-based AP Manager utility
- SSL/SSH protocol support
- Factory reset button

LEDs Power
- WAN
- LAN (10/100Mbps)
- WLAN
Fiziskie raksturlielumi
Power Input
- DC 5V, 2.0A
- Through external power adapter

Power Consumption
5 watts (max.)

Dimensions
142 (L) x 109 (W) x 31 (H) mm

Operating Temperature
0 to 55 C 

Storage Temperature
-20  to 75 C

Humidity
95% maximum (non-condensing)
Informācija pasūtījumam
DWL-2100AP 802.11g Wireless 108G Access Point