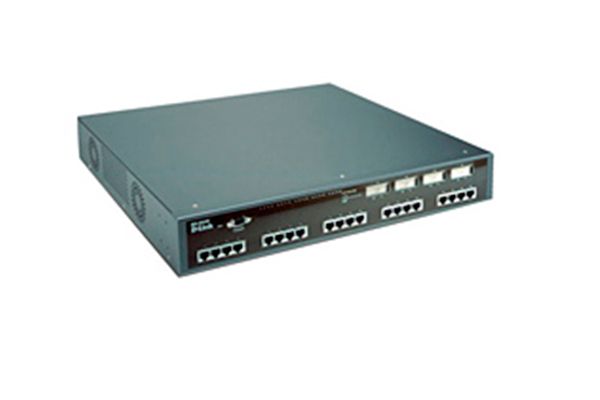 DGS-3224TG
EOL EOS
Managed Layer 2 Switch with (20) 10/100/1000BASE-T Ports + (4) GBIC Ports
Where to buy
Description
D-Link's DGS-3224TG is a high performance managed Layer 2 Gigabit switch that provides an ideal solution for Enterprise Gigabit applications. With (20) 10/100/1000BASE-T Gigabit Ethernet ports and (4) Open GBIC-Based ports, the DGS-3224TG is designed to meet the needs of the most demanding departmental and enterprise connectivity applications.
High Performance Wire-Speed Architecture
The DGS-3224TG supports full duplex wire-speed forwarding, 32K MAC addresses and the ability to prioritize traffic into (4) priority queues. The DGS-3224TG can be used as a cost effective Gigabit wiring closet solution or a high performance backbone aggregation device.
Network Management
D-Link's DGS-3224TG looks to address today's diverse business and IT requirements through its robust support of standards based network management protocols (SNMP/RMON/BOOTP/Telnet/ Web) and port mirroring. By supporting standards-based network management protocols, the DGS-3224TG can be easily integrated into most third-party network management products.
Advanced Enterprise Features
The DGS-3224TG brings advanced enterprise functions to a new level of affordability without compromising advanced features like: QoS/CoS, Multicast, VLANs, Port Trunking & Network Management. These features facilitate the deployment of applications across an enterprise like: VOIP, streaming media, and multicast content delivery (IP video, software deployment…etc).
Investment Protection
With support for up to (4) GBIC modules, the DGS-3224TG can easily adapt to changes in customer media requirements without the need to perform an expensive "fork-lift" upgrade. By supporting GBIC modules, customers can migrate to other more advanced solutions in the future, while still protecting a portion of their original investment.
General features
MAC Address Table Size
32K

Switch Fabric
24Gbps Capacity

Transmission method
Store-and-forward

Interface Options
RJ-45
10BASE-T, 100BASE-TX & 1000BASE-T

SC
- 1000BASE-SX Multimode fiber cable; 62.5/125 or 50/125 microns
- 1000BASE-LX Multimode fiber cable; 62.5/125 or 50/125 micron or Singlemode fiber cable: 9/125 micron

Network Management
In Band & Out of Band
Telnet, CLI/console, RMON, Web-based HTTP, SNMP Compatible & Port Mirroring


Network Protocol and Standards
IEEE
- 802.3 Ethernet, 802.3u Fast Ethernet, 802.1d Spanning Tree802.1p Priority tags, 802.1q VLAN, 802.1ac VLAN tagging, 802.1ad Link aggregation control, Protocol, 802.3x
- Flow Control & 802.3z Gigabit Ethernet

IEFT
- RFC 1157 SNMP, RFC 1112/2236 IGMP v1/v2, RFC 1757 RMON (4 Groups), RFC 1493
- Bridge MIB, RFC 1213 MIB II, RFC 793 TCP, RFC 826 ARP, RFC 854 Telnet

Emissions
CE Mark, FCC Class A, BSMI, VCCI Class I, C-Tick

Power Supply
100-240VAC, 50/60 Hz Internal universal power

Safety
UL/CUL, TUV/GS

Temperature Operating
0° - 50° C (32° - 122° F)

Storage
-25° - 55° C (-13° - 131° F)

Humidity Operating
5% to 95%

Dimensions
441 x 388 x 66 mm (17.36 x 15.28 x 2.6 inches) 19-inch rack-mount width, 1.5U height

Weight
6.0 kg (13.23 lb.)
Order info
DGS-3224TG Managed Layer 2 Switch with (20) 10/100/1000BASE-T Ports + (4) GBIC Ports