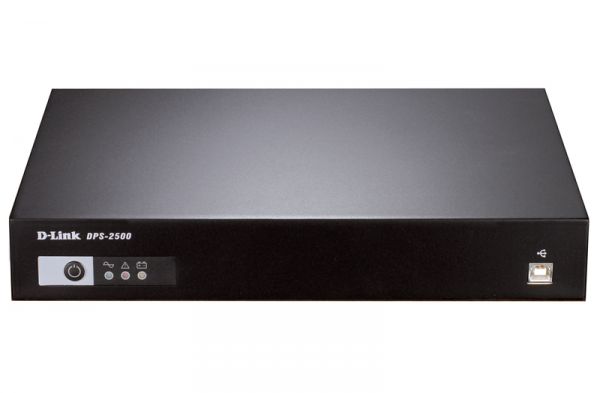 DPS-2500
EOL EOS
Offline/Standby Uninterruptible Power Supply (UPS)
Where to buy
Description
D-Link DPS-2500 Offline/Standby Uninterruptible Power Supply (UPS) is an efficient and reliable power system for networking applications. With external battery packs, it can back up network devices for long-term operation and will continue providing stable power to connected equipment and helps administrators to shut down networking devices safely during power failure to prevent any data loss. Its embedded microprocessor controller guarantees high reliability and is ideal for any network devices such as routers, switches, and access points. Audible alarm and front panel LEDs offer status information regarding line and battery power operation.
Management Options
The DPS-2500 includes a power management software to provide optimized management and protection for networking equipment. Remotely monitor and control this UPS by connecting it directly to the network. In addition, the DPS-2500 can be managed via a USB port.
Compact Design
The DPS-2500 comes in an attractive compact housing and offers uninterrupted power protection against surges and spikes while encountering a power failure.
Battery Options
The DPS-2500 does not include any internal batteries. D-Link recommends using a standard 12-volt battery with any amperage.
Tip: Most car batteries can be used with the DPS-2500.
General features
Communication Interface
Type: USB
Power Rating (VA)
500 VA
Power Rating (W)
300 W
Power Factor
0.6
Input
• Input: Sine, Step Wave (43% - 80% Duty)
• Nominal Voltage: 220 VAC
• Line Low Detect: 170 VAC ± 5%
• Line Low Come Back: 180 VAC ± 5%
• Line High Detect: 260 VAC ± 5%
• Line High Come Back: 250 VAC ± 5%
• Nominal Frequency: 50/60 Hz (Note: Abnormal input frequency > = 40 Hz will not cause UPS to switch to battery mode)
Output
• Line Mode: Sine, Step Wave (43% - 80% Duty)
• Battery Mode: Modified Sine Wave
• Line Mode Voltage: Input voltage
• Battery Mode Voltage: 220 VAC ± 10%
• Battery Mode Frequency: 50/60 Hz ± 1 Hz
• Pure XII Capacitance Load: 1.2 uf
• Transient Response (10% -> 90% steady state): < 150 ms (Load take on, 100% RCD load, 2 uF/W)
• Battery Mode (Output peak voltage): 230 V < Vp < 400 V
Short Circuit & Input Protection
• Line Mode: 220 VAC, 5 A AC fuse
• Battery Mode: Fault in 3 cycles
• MOV RMS AC Voltage: 350 V 400 j
Thermal Protection
Battery Mode: Active @ converter>130 ± 5 degree, comeback @ converter < 75 ± 5 degree
Efficiency
• AC Line Mode: > 97% (Rated SPS load, battery full charged)
• Battery Mode: > 80% (Rated SPS load)
Audible Noise
• Line Mode: < 40 dB
• Battery Mode: < 45 dB
Transfer
Transfer Time: 13 ms max
Battery
• Battery Type: 12 V
• Acceptable Manufactory: Rechargeable lead-acid battery, Deep discharge battery
• Floating Voltage: 13.7 V ± 1.5%
• Pre-alarm Level: 11 ± 0.5 Vdc
• Overcharge Protection: >14.5 V ± 1.5% charger stop
Fan Controller
Fan will turn on when the load is > 180 W, and turn off when the load is < 150 W
Operating Temperature
0 to 50°C
Storage Temperature
0 to 50°C
Operating Humidity
0% to 90% non-condensing
Altitudes
0 to 2000 m
Dimensions (D x W x H)
207 x 280 x 44.5 mm
Weight
1.98 kg
Safety Requirements
EN62040-1-1
EMC Requirements
EN62040-2
Order info
DPS-2500 Offline/Standby Uninterruptible Power Supply (UPS)