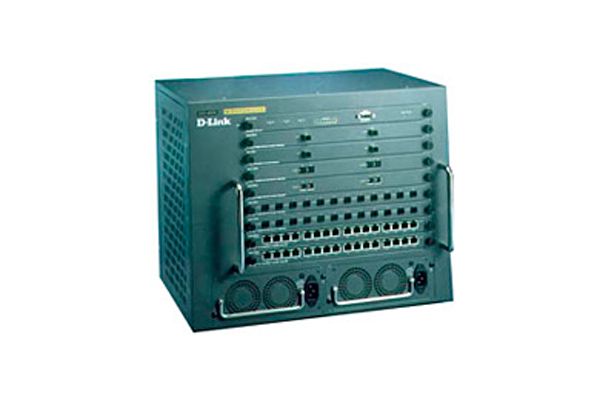 Description
10/100/1000Mbps Scalability
With a modularized design and port selection of Ethernet/Fast Ethernet twisted-pair, Fast Ethernet fiber and Gigabit, this switch provides the easy scalable expansion. Bandwidth migration is simple with 10/100Mbps dual-speed support and 1000Mbps module swapping capability. This architecture provides for great flexibility and investment protection.

128 10/100Mbps Ports
Up to 128 10/100Mbps dual-speed ports can be configured for the switch. The 10/100Mbps ports are densely populated, each 10/100Mbps module for an open slot provide 16 ports. With full/half-duplex, flow control and port trunking support, these ports are ideal for departmental applications, providing flexible and adequate bandwidth for both workstations and servers running OS like Windows NT, 2000 and NetWare.

96 100Mbps Fiber Ports
Up to 96 100BASE-FX fiber ports can be configured for the switch. However, a combination of 100Mbps fiber, twisted-pair and Gigabit ports may be a more common configuration. The 100BASE-FX ports are fit with MT-RJ connectors, each 100Mbps module provides 12 ports. These ports are suitable for departmental applications where secure transmission with long distance coverage is an issue.

16 Gigabit Ports
The chassis can also be configured as an all-Gigabit switch. In this configuration, all 8 open slots are fit with Gigabit modules, each module providing 2 Gigabit ports. 3 types of Gigabit modules are available for selection: 1000BASE-SX ports fit with SC connectors, 1000BASE-SX ports with MT-RJ connectors, and 1000BASE-LX ports (for longer cable distance coverage) with SC connectors. The Gigabit ports are capable of handling very large amounts of data in a secure topology. With these ports, a fiber backbone linking departments and high-power servers together can be established for
simultaneous access from multiple clients.

Backup Redundancy
Users can configure the switch with or without redundant backup power supplies. The standard configuration comes with a single power supply and a management/monitoring module for departmental applications. For campus/enterprise application, users can opt to install dual power supplies CPUs to maximize network uptime.
General features
Standards
-IEEE 802.3 10BASE-T Ethernet (twisted-pair copper)
- IEEE 802.3u 100BASE-TX Fast Ethernet (twisted-pair copper)
- IEEE 802.3u 100BASE-FX Fast Ethernet (fiber)
- IEEE 802.3z 1000BASE-SX Gigabit Ethernet (fiber)
- IEEE 802.3z 1000BASE-LX Gigabit Ethernet (fiber)
- ANSI/IEEE Std 802.3 NWay auto-negotiation

Protocol
CSMA/CD

Data Transfer Rates
- Ethernet:
10Mbps (half duplex)
20Mbps (full duplex)
- Fast Ethernet:
100Mbps (half duplex)
200Mbps (full duplex)
- Gigabit Ethernet:
1000Mbps (half duplex)
2000Mbps (full duplex)

Topology
Star

Network Cables
- 10BASE-T:
2-pair UTP Cat. 3, 4, 5 (100m max.)
EIA/TIA-568 100-ohm STP (100m max.)
- 100BASE-TX:
2-pair or 4-pair UTP Cat. 5 (100m max.)
EIA/TIA-568 100-ohm STP (100m max.)
- 100BASE-FX:
62.5/125 micron multimode fiber-optics (2km max.)
- 1000BASE-SX:
62.5/125um multimode fiber-optics (275m max.)
50/125um multimode fiber-optics (550m max.)
- 1000BASE-LX
62.5/125um multimode fiber-optics (550m max.)
50/125um multimode fiber-optics (550m max.)
10um multimode fiber-optics (5km max.)
- Long Haul
Single-mode fiber-optics (70km max.)

Full/half Duplex
- Full/half duplex for 10/100Mbps twisted-pair and 100Mbps fiber ports
- Full duplex only for Gigabit ports

Flow Control
- IEEE 802.3x compliant flow control in full duplex
- Back pressure in half duplex

Auto-negotiation
- 10/100Mbps speed
- Full/half duplex
- Flow control

LED Report
- Management module: CPU (system boot) status, console port
status, power status, bandwidth utilization%
- 10/100Mbps port module: link/activity (per port) 10/100Mbps
speed (per port)
- 100Mbps fiber port module: link/activity (per port)
- Gigabit port modules: link/activity (per port)

Performance
Transmission Method
Store-and-forward

MAC Address Filtering T able
12K entries per device

VLAN Table
2K entries per device

Packet Filtering Rates
- Ethernet: 14,880 pps per port
- Fast Ethernet: 148,810 pps per port
- Gigabit Ethernet: 1,488,100 pps per port

Packet Forwarding Rates
- Ethernet: 14,880 pps per port
- Fast Ethernet: 148,810 pps per port
- Gigabit Ethernet: 1,488,100 pps per port

RAM Buffer
- 10/100Mbps ports: 0.5MB per port
- 100Mbps fiber ports: 0.5MB per port
- Gigabit ports: 2MB per port

Management
Standards
- Management: SNMP , web-based
- Spanning Tree Protocol: IEEE 802.1D
- VLAN: IEEE 802.1Q
- RMON group 1, 2, 3, 9 statistics, history, alarms, events
- Telnet

MIBs
- MIB-II RFC 1213, 1215
- Bridge MIBs RFC 1493
- RMON MIBs RFC 1757
- D-Link proprietary enterprise MIBs

Management Functions
- Port Security
- Bootp, DHCP client
- Log file upload
- Config file upload/download
- TFTP firmware upgrade support

MAC Address Filtering
- Automatic address learning/update
- Dynamic and static filtering support

Console Port
- DB-9 RS-232 DCE x 1
- SLIP support

Redundant Power Supplies
- Dual power supply module design
- Current sharing design
- Redundant backup for continuous operation
- Hot-swappable capability
- Power management function enabled (power alarm ON/OFF)
- Revolving handles for easy removal
- AC input: 9 - 264 VAC, 47 - 63 Hz
- DC output: 3.3V , 4A - 60A
- 12V: 0.1A - 2A
- 60 x 60 mm DC fan x 2 (per power supply)

Power Consumption
260 watts (max.)

Ventilation
80 x 80 mm DC fan x 4 (built into chassis)

Operating Temperature
0 - 50 C (32 - 1 22 F)

Storage Temperature
-25 - 55 C (-13 - 131 F)

Relative Humidity
0% - 90% non-condensing

Chassis Dimensions
440 x 294 x 356 mm (8 U height) (excluding rubber feet)
(17.32 x 11.57 x 14.01 inches)
19-inch rack-mount width

Weights
20 kg (44.09 lb.) (chassis only)

Emission (EMI)
- FCC Class A
- CE Class A
- VCCI Class A
- C-Tick
- BSMI Class A

Safety
- UL/CUL (UL 1950)
- TUV/GS (EN60950)
Order info
10/100/1000Mbps Switch Chassis
Base Unit
DES-6000 Chassis with backplane, DES-6002 and DES-6011

Optional Modules
DES-6003 16 10/100Mbps ports
DES-6004 12 100BASE-FX fiber ports (MT-RJ connectors)
DES-6005 2 1000BASE-SX Gigabit fiber ports (MT-RJ connectors)
DES-6006 2 1000BASE-SX Gigabit fiber ports (SC connectors)
DES-6007 2 1000BASE-LX Gigabit fiber ports (SC connectors)
DES-6011 100 - 240VAC 50/60Hz 4.5A max. universal redundant power supply