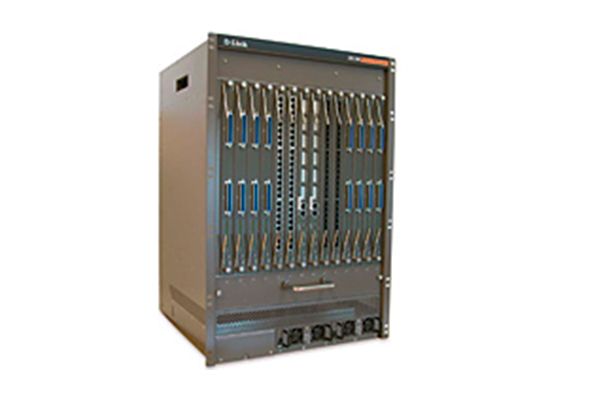 Description
As a CO (central office) devices, this switch provides Ethernet Over VDSL (EoVDSL) access to the CPE (consumer premise equipment) such as the EoVDSL modems from the subscribers in the multi-unit, multi-tenant buildings. This switch connects to the service provider's public optical network (PON) through its Gigabit Ethernet fiber interfaces. The switch thus provides the last-mile connection by extending the public high-bandwidth network to people living and working in business parks, apartments, dormitories, campus and hospitals.

This switch has 14 slots, where first 2 slots (CPU-A and CPU-B) are used to install management modules. You configure the switch with a single management module, or 2 management modules for redundancy backup. The remaining slots can be used to install EoVDSL modules, with the port density able to reach 288 ports per switch.

You can also configure this switch with both EoVDSL and Fast Ethernet modules. This configuration gives you connections to both EoVDSL CPE (modems) and LAN workstations. Gigabit uplinks to the service provider side or to the PON are through the GBIC slots provided on the management modules. LAN server connections can also be through these GBIC slots.

Modules for EoVDSL installation are:

- Management module, with CPU, management agent, memory, a console port and an SNMP out-band management port for control of the switch. This module also provides 6 GBIC slots for Gigabit uplinks.

- EoVDSL module, with 24 EoVDSL ports through 1 RJ-21 (Telco-50) connector . 24 EoVDSL to POTS splitters are built into this module, eleminating for you the need to install separate splitters. Connections to PSTN is through another RJ-21 connector on the module.

- Power supply module. Each power supply module provides power for up to 10 EoVDSL modules. If you install 12 EoVDSL modules, you'll need 2 power supply modules. An additional power supply module can also be installed for redundant power backup, bringing the number of power supply modules up to 3 in this configuration.

- External power supply. An alternative to installing power supply modules in the chassis is to connect the switch to external power supplies. Up to 3 such power supplies can be connected.

For a mixed EoVDSL/LAN configuration, you can additionally select from the following modules:

- 10/100Mbps module, with 24 10/100Mbps ports (24 RJ-45).

- 100BASE-FX module, with 24 Fast Etherent fiber ports (SFF connectors).
General features
Key Features
- Up to 15Mbps asymmetrical throughput (EoVDSL)
- Up to 1.5 km distance on phone line (EoVDSL)
- 14-slot high port density chassis
- 24Gbps backplane bandwidth capability
- Up to 288 EoVDSL ports installable
- Management module with 6 built-in GBIC slots for Gigabit uplinks
- Configurable with 2 redundant backup management modules
- Configurable with mixed EoVDSL/Fast Etherent ports
- QoS: 802.1p priority queues & per-port bandwidth control
- 802.1Q VLANs for complete tenant-to-tenant isolation &
performance enhancement
- Multicast with IGMP snooping for home on-line video
- Power back-off algorithm support
- Built-in EoVDSL/POTS splitter for each EoVDSL port
- 802.1x and other management access security
- SNMP and Web-based management & RMON monitoring
- Module hot-swappable capability with default setting reset button on each
module
- Configurable with redundant backup power supplies

Technical Information
- Management module provides 1 RJ-45 console port (connection to console
through RS-232 conversion cable) and 1 RJ-45 in-band management port
- Traffic utilization LEDs, system and port status LEDs
- IEEE 802.1D Spanning Tree support
- Switching method: store-and-forward
- MAC address table: 32K entries per management module
- RAM buffer: 2MB per management module
- RMON groups: 1, 2, 3, 9
- Event reporting: by log file
- Firmware upgrade: TFTP
- Internal universal power supply/External universal power supply
- Standard 19-inch rack-mount size
- EMI: FCC Class A, CE Class A, BSMI Class A, C-Tick
- Safety: CSA International
Order info
VDSL Chassis Switch
DES-7000 Chassis with 1 DES-7003 management module & 1
DES-7011 power supply module

Optional Modules
DES-7003 Management module with 6 GBIC slots
DES-7005 24 RJ-45 10BASE-T/100BASE-TX ports
DES-7006 24 SFF 100BASE-FX Fast Ethernet fiber ports single mode, (-15 km max.)
DES-7010 24 EoVDSL ports, 24 EoVDSL/POTS splitter ports (2 Telco 50 connectors)
DES-7011 Internal Power supply module
DES-7012 External power supply

Optional GBIC Transceivers
DGS-703 For 1000BASE-LX, single-mode fiber, 10 km max., 3.3V power
DGS-704 For 1000BASE-LHX, single-mode fiber, 30 km max., 3.3V power
DGS-707 For 1000BASE-SX, multi-mode fiber, 550 m max., 3.3V power
DGS-708 For 1000BASE-LX, single-mode fiber, 70 km max., 3.3/5V power
DGS-711 For 1000BASE-T , Cat. 5 cable, 100 m max.