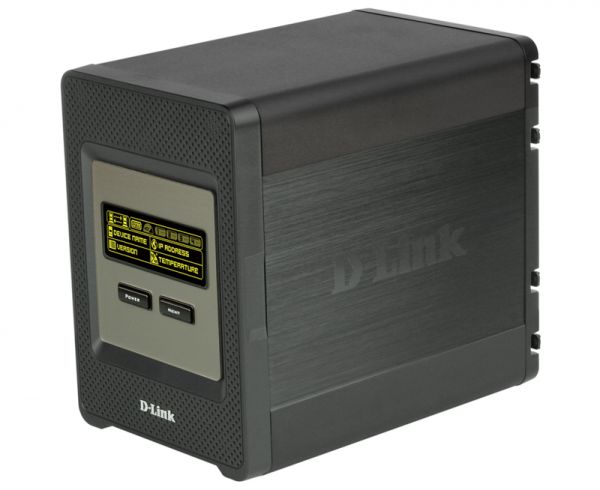 DNS-346
EOL EOS
ShareCenter Duo Network Storage with 4 drive bays, 10/100/1000Base-T Port and USB Port
Where to buy
Description
The Speed of iSCSI Combined with The Convenience of NAS
The D-Link 4-Bay ShareCenter Duo (DNS-346) combines NAS and iSCSI technology in a single unit. This hybrid system allows for separate dedicated NAS and iSCSI volumes. High transfer rates are attainable via the iSCSI interface in addition to NAS features such as FTP access. On a conventional iSCSI-only device, such NAS features are not possible, since iSCSI does not use file-based storage. The 4-Bay ShareCenter Duo iSCSI/NAS hybrid provides you with the best of both worlds.
Protection, Performance and Reliability
Five different hard drive modes (Standard, JBOD, RAID 0, RAID 1, RAID 5) allow you to choose the configuration best suited to your needs. Standard mode createsfour separately accessible hard drives. JBOD combines the drives together in linear fashion for maximum space efficiency. RAID 0 combines the drives in a "striped" configuration, and is the choice offering the highest performance. RAID 1 causes the drives to mirror each other, providing maximum protection. If one drive fails while configured as RAID 1, the unaffected drive continues to function as a single drive until the failed drive is replaced. The new drive will then be remirrored, allowing the 4-Bay ShareCenter Duo to return to its previous state. RAID 5 allocates data across three or more drives and combines storage efficiency with reliable file protection
High-speed DataTransfers with iSCSI
In addition to conventional NAS features, the 4-Bay ShareCenter Duo offers the option for block-level data transfer through the use of the iSCSI protocol. On average, iSCSI data transfer rates are two to three times faster than NAS transfer rates. Once a hard drive is partitioned and formatted for iSCSi, it can be directly mapped from the client operating system. Additional partitions on the 4-Bay ShareCenter Duo can be reserved for traditional NAS functions.
General features
Networking
• IEEE 802.3
• IEEE 802.3ab
• IEEE 802.3u
• TCP/IP
• CIFS/SMB
• iSCSI
• DHCP Server/Client
• DDNS
• NTP
• FTP
• HTTP/HTTPS
• Jumbo Frames
• USB 2.0
• SNMP
• Remote replication
• Volume snapshot
• NFS (Network File System)
• VLAN Tag
• Active Directory support
Supported Hard Disk
• SATA - Any capacity
• 3.5" Internal
Ports
• 1 10/100/1000 Gigabit Ethernet Port
• 1 USB Port
• Power
Drive Management
• Multiple Hard Drive Configurations: RAID 0/1/10/5/5+spare, JBOD, Standard
• SMART/Scandisk
• User/Folder Quota management 
Device Management
• Internet Explorer v6 or any modern Java-enabled browser
• Easy Search Utility
• UPS Monitoring
• E-mail Alerts
• Power Management
• File Sharing
• Max. User Accounts: 64 users
• Max. Groups: 10 groups
• Max. Shared Folders: 32
• Max. Concurrent Connections: 64 (Samba)/10 (FTP)
Multi-language File Name Support
• Samba: Unicode
• FTP Client: Croatian, Cyrillic (Kyrgyz Republic), Czech, Danish, Dutch, English, Finnish, French, German, Greek, Hungarian, Italian, Japanese, Korean, Norwegian, Polish, Portuguese, Romanian, Russian, Simplified Chinese, Slovenian, Spanish, Swedish, Traditional Chinese, Turkish
PoWer Supply
• External Power Supply
• DC 19 V/4.74 A Switching
PoWer Consumption
• Standard mode: 45.33 W
• Sleep mode: 26.42 W
Temperature
• Operating: 0° to 55°C
• Storage: -20° to 70°C
Operating humidity
• 5% ~ 90% (non-condensing)
Dimensions
• Item: 128 x 200 x 178 mm
• Packaging: 270 x 320 x 260 mm
Weight
• Item: 2.7 kg 
• Packaging: 4.5 kg 
Certifications
• CE
• C-Tick
• FCC
Order info
DNS-346   ShareCenter Duo Network Storage with 4 drive bays, 10/100/1000Base-T Port and USB Port