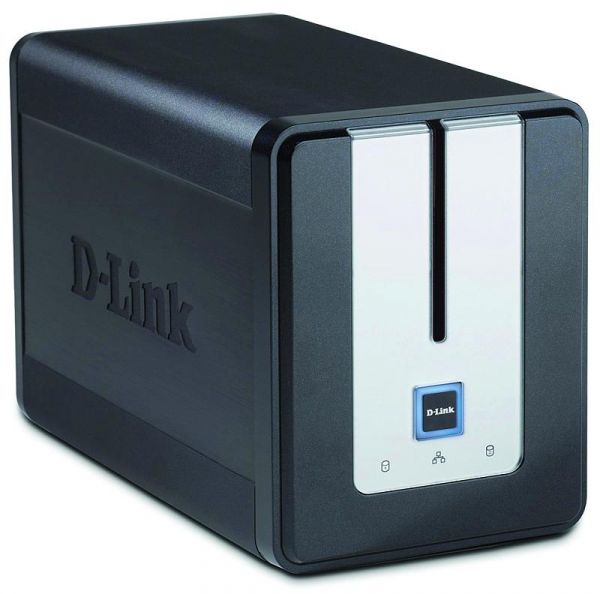 DNS-323
EOL EOS
2-BAY SATA NETWORK STORAGE ENCLOSURE
Where to buy
Description
SAFELY SHARE DIGITAL FILES LOCALLY AND OVER THE INTERNET
The DNS-323 2-Bay SATA Network Storage Enclosure, when used with internal SATA drives*, enables users to share documents, fles, and digital media such as music, photos, and video with everyone on a home or offce network. Remotely accessing fles through the Internet is also possible with the built-in secure FTP/SSL server. Whether allowing access locally or over the Internet, keep data safe by only giving rights to specifc users or groups and assigning them to folders with either read or read/write permissions. This is ideal for an offce environment with employee-specifc sensitive data or for the home, where children's access can be restricted to only age-appropriate materials.

STREAM DIGITAL MEDIA CONTENT WITH BUILT IN MEDIA SERVER
After backing up your digital media fles to the DNS-323 for safekeeping, enjoy the benefts of the built-in UPnP AV media server as you stream digital content to compatible media players such as the PlayStation®3, Microsoft® Xbox 360™, and D-Link's MediaLounge product line. This feature is highly convenient as it allows you to turn off a computer that would normally be needed for the same function.

DOWNLOAD AND MANAGE YOUR TORRENTS
The DNS-323 features a built-in, offcially licensed BitTorrent™ client that lets you download fles without even switching on a computer. Users can confgure their torrents, port settings, bandwidth management and seeding options in the web-based manager. Adding torrents to your download list is easy; simply upload the torrent or enter its web address and you're ready to go.

PROTECTION, PERFORMANCE, AND FLEXIBILITY
The availability of four different hard drive modes (Standard, JBOD, RAID 0, RAID 1) allows users to choose the confguration best suited to their needs. Standard mode creates two separately accessible hard drives. JBOD combines both drives to create a single, easy to use volume. RAID 0 combines both drives in a "striped" confguration, which provides the highest performance, enabling speeds up to 184Mbps-read and 120Mbps-write when using a Gigabit Ethernet connection. RAID 1 creates a copy of your data on both drives, providing maximum protection; if one drive fails while confgured as RAID 1, the unaffected drive continues to function as a single drive until the failed drive is replaced. The new drive will then be remirrored, allowing the DNS-323 to return to its full level of protection.