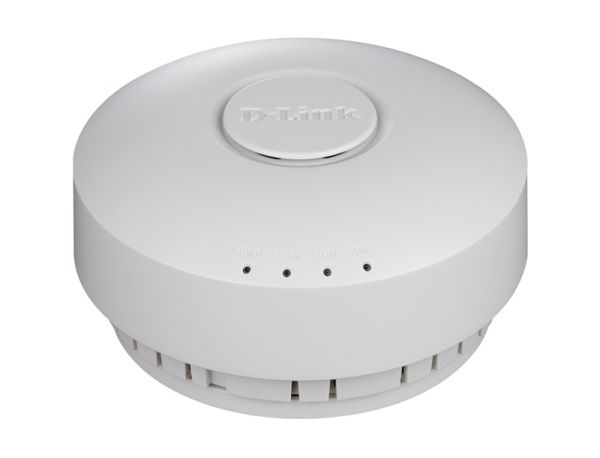 DWL-6600AP
EOL EOS
Unified N Concurrent Dual-band PoE Access Point
Where to buy
Description
The DWL-6600AP Unified N Dual-band PoE Access Point is a best-in-class indoor access point designed specifically for business-class environments. With high data transmission speeds and access point load balancing, the DWL-6600AP offers high-quality and reliable wireless service. Versatile and powerful, the DWL-6600AP can be flexibly deployed as a standalone wireless access point or as a managed access point controlled by a D-Link Unified Wireless Switch or Wireless Controller. Businesses can start with standalone mode deployment, then migrate to a centrally managed system anytime later.
Enhanced Performance
The DWL-6600AP delivers reliable wireless performance with maximum wireless signal rates of up to 300 Mbps in either the 2.4GHz or 5GHz mode. Support for Wi-Fi Multimedia™ (WMM) Quality of Service features makes the DWL-6600AP an ideal access point for audio, video, and voice application. In addition, the load balancing feature ensures maximum performance and best service quality in the wireless environment.
Self-Configuring Cluster
For small businesses that need to deploy multiple access points (APs) but lack the resources to tackle the complicated task of network management,
the DWL-6600AP's self-configuring cluster feature offers the ideal solution. When a small number of DWL-6600APs is deployed on the network, they may be configured to form a self-configuring cluster. Once the administrator is through with configuring one access point, the same configuration can then be applied to all remaining APs. Up to 16 APs may be used to form a cluster.
Unified Management
Alternatively, the DWL-6600AP can operate in conjunction with a D-Link Wireless Switch and Wireless Controller. In this mode, multiple DWL-6600APs can connect directly or indirectly to one of these switches/ controllers to provide unparalleled security and wireless mobility for wireless clients. Each DWL-6600AP will be continually tuned by these switches to provide the optimal RF channels and transmission power for all mobile clients, giving them the best wireless signals in both 2.4GHz and 5.0GHz bands and uninterrupted wireless connectivity.
Security
The DWL-6600AP supports the latest standards in Wi-Fi security, including WEP, WPA, WPA2, and 802.1X. In addition, the DWL-6600AP supports up to 16 virtual access points (VAP) per radio, for a total of 32 VAPs, which allows the administrator to assign different access privileges to different groups of users. When Station Isolation is enabled, the AP blocks communication between wireless clients on the same radio and VAP. Rogue APs in the network may be easily detected, and the administrator will be immediately notified of any security threat. When used together with D-Link's line of Unified Wireless Switches and Wireless Controllers, the security can be raised to a new level.
Convenient Installation
With an embedded antenna and simple styled exterior, the DWL-6600AP can be installed on a wall or ceiling and blends in with most interior decorations in an office. Enclosed in a plenum-rated chassis*, the DWL-6600AP adheres to strict fire codes for placement in air passageways. For easy installation, the DWL-6600AP has integrated 802.3af Power over Ethernet (PoE) support, allowing installation of this device in areas where power outlets are not readily available.
* Plenum-rated sku only.
General features
System
• Wi-Fi Interface: 802.11a/b/g/n 2.4/5.0GHz
• LAN Interface: 10/10/100 Gigabit Ethernet
• Console: RJ-45
• Antenna: 2x2 MIMO embedded antenna with 4 external antenna connectors
• Power Method: IEEE 802.3af Power Over Ethernet or external power adapter
Wireless Frequency
• 802.11n: 2.4 to 2.497GHz and 4.9 to 5.85GHz
• 802.11b/g: 2.4 to 2.4835GHz
• 802.11a: 5.15 to 5.35GHz and 5.725 to 5.825GHz
Data Transfer Rate
• 802.11n:
6.5 to 130 Mbps (20MHz)
6.5 to 300 Mbps (40MHz)
• 802.11a/g: 54, 48, 36, 24, 18, 12, 9, and 6 Mbps
• 802.11b: 11, 5.5, 2, and 1 Mbps
The Output Power of Transmitter
• 802.11a/g: 11 (+/-2) dBm at 54, 48, 36, 24, 18, 12, 9 and 6 Mbit/s
• 802.11b: 13 (+/-2) dBm at 11, 5.5, 2 and 1 Mbit/s
• 802.11n (2.4GHz/HT-20): 11 dBm at MCS0/8, MCS1/9, MCS2/10, MCS3/11, MCS4/12, MCS5/13, MCS6/14, MCS7/15
• 802.11n (2,.4GHz/HT-40): 11 dBm at MCS0/8, MCS1/9, MCS2/10, MCS3/11, MCS4/12, MCS5/13, MCS6/14, MCS7/15
• 802.11n (5GHz/HT-20): 11 dBm at MCS0/8, MCS1/9, MCS2/10, MCS3/11, MCS4/12, MCS5/13, MCS6/14, MCS7/15
• 802.11n (5GHz/HT-40): 11 dBm at MCS0/8, MCS1/9, MCS2/10, MCS3/11, MCS4/12, MCS5/13, MCS6/14, MCS7/15
Receiver Sensitivity
• 802.11a
-86 (+/-2) dBm at 6 Mbit/s
-86 (+/-2) dBm at 9 Mbits/s
-84 (+/-2) dBm at 12 Mbit/s
-81 (+/-2) dBm at 18 Mbit/s
-77 (+/-2) dBm at 24 Mbit/s
-75 (+/-2) dBm at 36 Mbit/s
-68 (+/-2) dBm at 48 Mbit/s
-67 (+/-2) dBm at 54 Mbit/s
• 802.11b
-92 (+/-2) dBm at 1 Mbit/s
-90 (+/-2) dBm at 2 Mbit/s
-88 (+/-2) dBm at 5.5 Mbit/s
-85 (+/-2) dBm at 11 Mbit/s
• 802.11g
-87 (+/-2) dBm at 6 Mbit/s
-87 (+/-2) dBm at 9 Mbits/s
-85 (+/-2) dBm at 12 Mbit/s
-82 (+/-2) dBm at 18 Mbit/s
-79 (+/-2) dBm at 24 Mbit/s
-76 (+/-2) dBm at 36 Mbit/s
-71 (+/-2) dBm at 48 Mbit/s
-67 (+/-2) dBm at 54 Mbit/s
• 802.11n
2.4GHz/HT-20
-85dBm at MCS0/8
-82dBm at MCS1/9
-80dBm at MCS2/10
-77dBm at MCS3/11
-74dBm at MCS4/12
-69dBm at MCS5/13
-68dBm at MCS6/14
-65dBm at MCS7/15
2.4GHz/HT-40
-82 DBm at MCS0/8
-79 DBm at MCS1/9
-77 DBm at MCS2/10
-74 DBm at MCS3/11
-71 DBm at MCS4/12
-66 DBm at MCS5/13
-65 DBm at MCS6/14
-62 DBm at MCS7/15
5GHz/HT-20
-85dBm at MCS0/8
-79dBm at MCS1/9
-77dBm at MCS2/10
-74dBm at MCS3/11
-70dBm at MCS4/12
-66dBm at MCS5/13
-65dBm at MCS6/14
-64dBm at MCS7/15
5GHz/HT-40
-79 DBm at MCS0/8
-76 DBm at MCS1/9
-74 DBm at MCS2/10
-71 DBm at MCS3/11
-67 DBm at MCS4/12
-64 DBm at MCS5/13
-63 DBm at MCS6/14
-62 DBm at MCS7/15
Security
• SSID: 16 SSID per frequency band, 32 SSID per AP Station Isolation
• Wireless Security: WEP, Dynamic WEP, WPA Personal/ Enterprise, WPA2 Personal/ Enterprise
• Detection & Prevention: Rogue and Valid AP Classification
• Authentication: MAC Address Filtering, 802.1X
System Management
• Web-based User Interface: HTTP/HTTPS
• Command Line: SNMP, SSH, Telnet
Order info
DWL-6600AP Unified N Concurrent Dual-band PoE Access Point